Euan's Guide officially opens Changing Places Toilet in Johnnie Walker Princes Street
Ahead of International Day of Disabled People on Friday 3 December representatives from disabled access charity, Euan's Guide, officially opened the new Changing Places toilet facility in Johnnie Walker Princes Street.
Situated on the ground floor, the toilet features a ceiling hoist, changing bench and provides additional space for disabled visitors who are unable to use conventional accessible toilets.
With less than 2,000 Changing Places toilets across the UK, of which less than 250 are in Scotland and only 10 in Edinburgh, the opening of this new facility will connect with the 250,000 Changing Places users in the UK and their friends and families who rely on these facilities to take part in everyday life. Building a modern visitor experience that was inclusive was one of the core aims at Johnnie Walker Princes Street from the outset. Throughout the planning stages, Euan's Guide was involved and consulted, looking at plans, meeting architects and testing out the building's access before opening to the public in September 2021.
Paul Ralph, Access and Inclusion Director at Euan's Guide, said: "Never in my wildest dreams, but always in my imagination, did I believe my newfound friends at Johnnie Walker Princes Street would create such a fabulous place to visit and then top that with the inclusion of a Changing Places Toilet."
Barbara Smith, Managing Director at Johnnie Walker Princes Street said: "Accessibility was integral to the planning of Johnnie Walker Princes Street. Very early on we realised the benefits of working as a team with Euan's Guide and we have collaborated to ensure the best possible welcome for everyone. Euan's Guide have been integral to creating the visitor experience we have today at Johnnie Walker Princes Street, and we are extremely grateful for their support and collaboration. We look forward to continuing this partnership as we strive to create an exceptional experience for all, in the heart of Scotland's capital."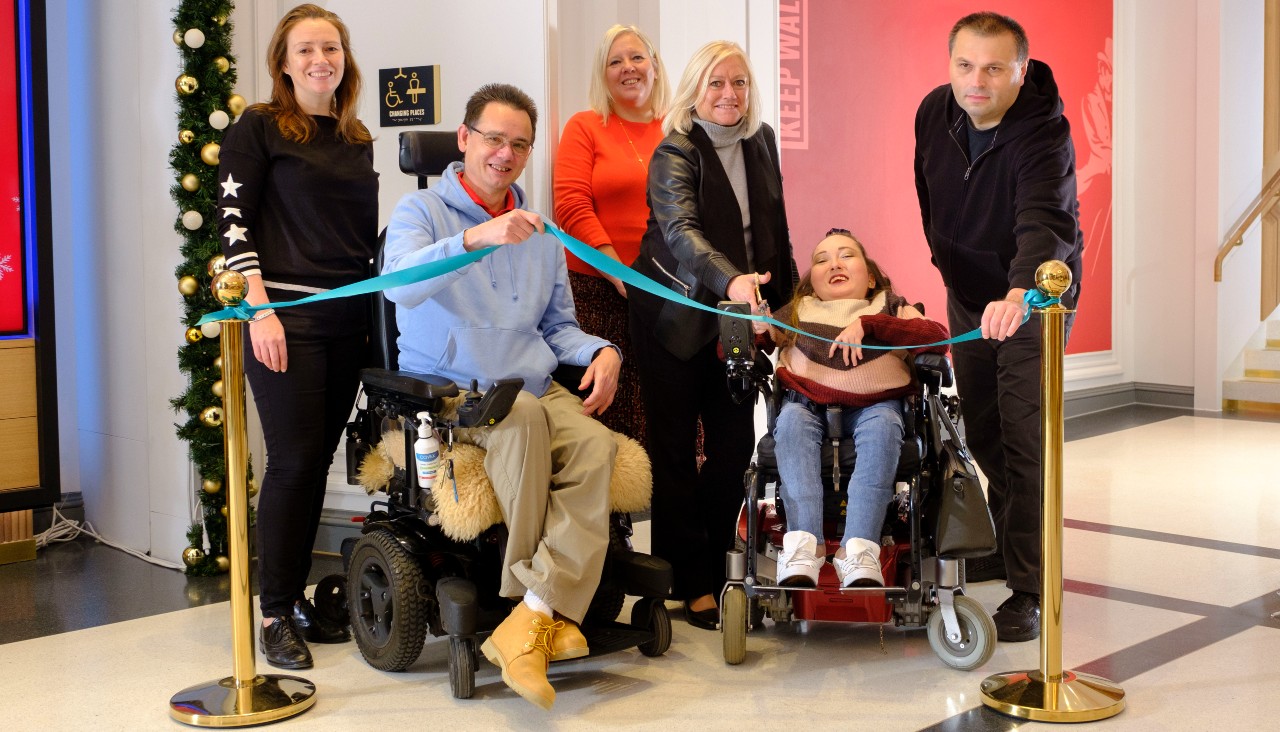 Photo of: The Euan's Guide team and Johnnie Walker Princes Street team meet to cut the ribbon outside the Changing Places Toilet.
Speech by Paul Ralph, Access and Inclusion Director, at Johnnie Walker Princes Street
"I will always remember the planning and the odd things we'd speak about. I recall sitting around the table and talking about the design and the decor. Expecting another 'out of the box' design and a clinical approach; imagine the joy of gently opening the door for the first time and slowly peering in. Beautiful tiles, lovely chrome grab rails and stylish fittings, just like all the other toilet facilities in the building!
It gives me a great sense of joy to see this facility opened today and it'll take a while to wipe the smile off my face as I think about what this means for over 250,000 people in the UK and their friends, their families and so many more people.
This achievement was a first for Diageo but the journey hasn't stopped either. With a programme to look at the accessibility of the Brand Homes and some amazing experiences already in place.
Maybe, on this eve of International Day of Disabled People, it is appropriate to announce that another first is soon to be achieved as The Singleton of Glen Ord will be the first whisky distillery in the World to have a Changing Places Toilet. How cool is that?"
Facts about Johnnie Walker Princes Street visitor experience:
Set over 71,500 sq ft, it takes the concept of personalisation to a scale never before seen in a global drinks visitor experience.
Visitors on the Johnnie Walker Journey of Flavour tour will have their personal flavour preferences mapped with drinks tailored to their palate.
With more than 800 flavour combinations available in the innovative dispensation systems, one person could visit Johnnie Walker Princes Street every day for more than two years and not have the same experience twice.
Over 150 diverse and talented new employees, speaking 23 languages between them, will bring to life the 200-year story.
The cellar has become a true whisky treasury with some of the most unique whisky casks in the world gently maturing and waiting to be sampled by guests. 
The building – formerly a traditional department store for almost 100 years – will contain a state-of-the-art experiential retail space where shoppers can select from rare and exclusive whiskies, fill their own bottles and have them personalised.
Johnnie Walker Princes Street opened its doors with a Green Tourism Gold Award – the highest sustainability accolade for a visitor attraction. The building includes roof terrace planters to provide herbs for garnishes and infusions for drinks, a sedum roof covering and bird boxes to encourage biodiversity.