COVID's lasting side effects? Disabled access is worse in the post lockdown world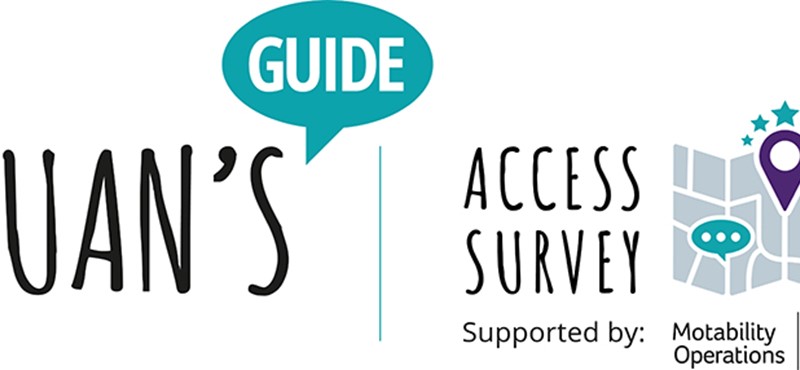 Landmark survey finds that disabled people have been disadvantaged post-lockdown
Two years to the day since the UK went into lockdown for the first time, new research by Euan's Guide (www.euansguide.com), the UK's leading disabled access charity, has revealed that 59% of disabled people believe that COVID has made disabled access worse.
The latest results of its annual access survey of over 2400 disabled people and their friends, families and carers reveals that disabled peoples' biggest COVID concerns when visiting venues are:
Places and spaces are people not respecting social distancing (75%)
People not wearing masks (68%)
Toilets being shut (68%)
It is unsurprising that the solutions respondents suggested to make it safer and easier to visit places were:
Providing accessible routes that disabled people can navigate independently (67%)
Clear markings to encourage people to keep their distance (61%)
The requirement for staff and visitors to wear masks (53%)
It was also unsurprising that disabled people were more likely to visit outdoor areas (55%) and less likely to visit predominantly indoor or covered events (61%) or indoor attractions (49%).
Euan MacDonald, co-founder of Euan's Guide said: "We started the Access Survey to find out what disabled people thought about disabled access in the UK and with the support of Motability Operations this has enabled us to amplify the voice of disabled people. The pandemic has had a massive impact on everyone but especially disabled people. The majority of respondents thought disabled access got worse due to COVID, we have heard and continue to hear concerns from our community about social distancing, mask wearing and access to accessible toilets. However, there have also been things that have changed for the better, such as remote working and studying becoming an accepted norm and online screenings meaning that events and performances can be more accessible to many disabled people."
Covid and lockdowns aside, the survey continued to gauge people's opinions on disabled access generally. Information remains key and 92% of respondents stated that they try to find disabled access information before visiting somewhere new, with 56% avoiding visiting a venue if it has not shared their disabled access information.
73% of respondents reported that they have found information on a venue's website to be misleading, confusing or inaccurate and this was echoed by 73% of respondents who had experienced a disappointing trip or had to change plans due to poor accessibility.
Accessible parking and accessible toilets remain a top priority for disabled visitors with 81% and 80% of respondents respectively reporting that they would help improve confidence when visiting new places.
2021 was the 7th Access Survey from the award-winning disabled access charity Euan's Guide, and the first time that the survey was supported by Motability Operations, the company behind the Motability Scheme. The organisations united to ask everyone who has ever had to consider disabled access to share their opinion on accessibility.
Lisa Thomas, Chief Marketing Officer at Motability Operations, said: "At Motability Operations we're passionate about providing worry-free mobility, for disabled people, through the Motability Scheme. We were delighted to support the Euan's Guide Access Survey this year and while there are positives in the results, some findings are a bit disappointing. We know from our customers that the benefits of being able to get out and about and enjoy freedom, cannot be understated and particularly after the last two years of COVID lockdowns. We hope that the results of this survey help to highlight where improvements need to be made and drive real change."
Euan MacDonald added: "These results emphasise that we at Euan's Guide still have a lot of work to do. We can't do it alone though and we need your help. If you are a disabled person, friend or family member, please share your disabled access experiences so more people can find accessible places to go. Likewise, if you own, run or work with a venue please ensure that you are promoting your welcome to disabled visitors".
The Access Survey 2021 included the opinions of over 2400 people. The respondents were primarily disabled people (97%), with the remainder a combination of carers, friends and healthcare professionals. To view the full report and results, visit: www.euansguide.com/AccessSurvey
-ENDS-

Notes to editors
For further information please contact Antonia Lee-Bapty, Managing Director on antonia@euansguide.com or call 0131 510 5106.
Euan's Guide
Euan's Guide is the award winning disabled access charity. We're best known for EuansGuide.com, the disabled access review website where disabled people, their family, friends and carers can find and share reviews on the accessibility of venues around the UK and beyond. The website now holds thousands of reviews and is an invaluable tool for many disabled people. We also make tens of thousands of accessible toilets safer through our Red Cord Card scheme and run the UK's largest and longest running Access Survey.
The charity was founded in 2013 by Euan MacDonald MBE, a powerchair user and his sister Kiki after Euan was diagnosed with Motor Neurone Disease and a lack of disabled access made everyday experiences stressful. Having access to good quality disabled access information inspires confidence and removes the fear of the unknown. It breaks down the barriers of exclusion and makes it easier for disabled people to find great places to go.
We are active on Facebook, Twitter and Instagram under the handle @EuansGuide.
About Motability Operations and the Motability Scheme:
The Motability Scheme is the UK's leading car scheme for disabled people. It provides affordable, convenient, worry-free motoring to over 630,000 disabled customers and their families. Scooters and powered wheelchairs can also be leased through the Motability Scheme.
The Scheme is available to anyone who receives the Higher Rate Mobility Component of the Disability Living Allowance, the Enhanced Rate of the Mobility Component of Personal Independence Payment or the War Pensioners' Mobility Supplement or the Armed Forces Independence Payment. Customers transfer their mobility allowance to Motability Operations Ltd to lease a car, scooter or powered wheelchair.
When leasing a Motability Scheme car, insurance for three named drivers, servicing and maintenance, full RAC breakdown assistance, tyre and windscreen replacement and 60,000 mileage allowance over three years are all included in the cost of the lease. A range of popular car adaptations are also available at no additional cost.
When leasing a scooter or powered wheelchair, insurance, breakdown assistance, servicing, maintenance and repairs and tyre and battery replacement are all included in the cost of the lease. Pricing is standard nationwide.
A wide range of 'green' vehicles with emissions of 100g of CO2 per km or less are available through the Scheme.

Motability is a Registered Charity in England and Wales (number 299745) and a Registered Charity in Scotland (number SC050642) and is authorised and regulated by the Financial Conduct Authority (reference number 736309)

. Motability provides a range of grants to individuals and organisations, including Scheme customers, who would otherwise be unable to afford the mobility solution they need.
Motability Operations Ltd is an independent company that operates the Motability Scheme under contract to Motability (the charity). Any profits are non-distributable and are reinvested or donated for the benefit of disabled people. Motability Operations Ltd is authorised and regulated by the Financial Conduct Authority under reference number 735390.