Exploring the V&A Dundee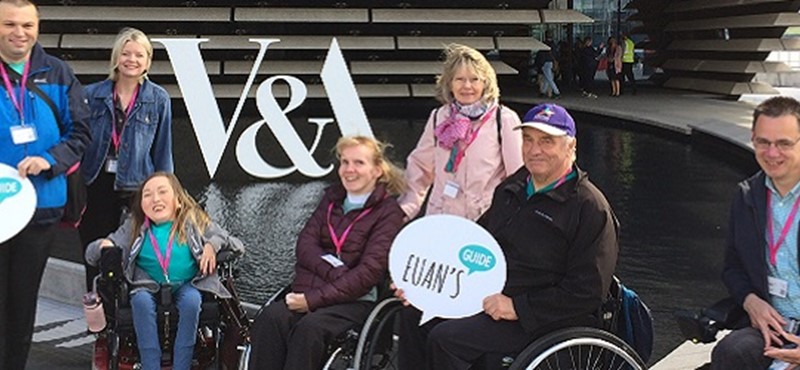 The museum that looks like a majestic ship or, from some angles, a jagged cliff on Dundee's waterfront, V&A Dundee  is Scotland's first design museum and a breath-taking addition to the city's waterfront. Euan's Guide Ambassadors were among the first to tour the new museum ahead of its opening in September 2018, and what a tour it was!
We began by circling the exterior of the building, following the curving path underneath the museum where water features made us feel like we were beneath the bow of a futuristic ship.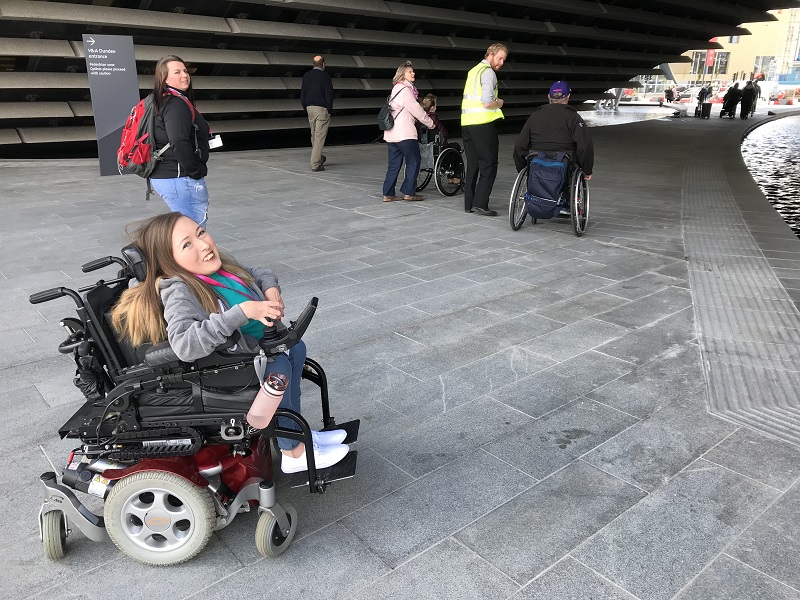 Next, we followed our guides inside through a spacious entryway with a curious floor; it's filled with hundreds of fossils! Automatic doors lead through to the main hall where there are ticket desks and a shop. The interior is mesmerising, and there were two lifts to reach the upper floors.
We were lucky enough to visit the permanent gallery and see the highly anticipated diamond-winged tiara and the lost Charles Rennie Mackintosh tearoom. It was equally as fascinating to see the museum gallery objects being measured, positioned, and adjusted by the curators and museum staff. There was the odd post-it note with an idea pencilled down which was fun to see!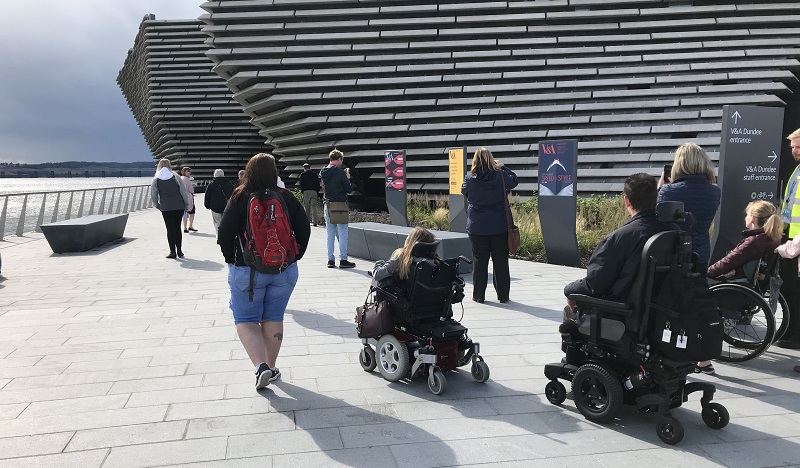 While exploring, we spotted where the large print interpretation will go, explored the touch table, and experienced the audio-visual displays about gaming. There was plenty of seating inside the building, and lots of natural light. We did wonder if there would be more interactive elements appearing as the finishing touches are added, as right now much of the interpretation is through reading (or listening through a headset). It would also be nice to see more captioned video screens perhaps, or maybe a greater number of tactile exhibits. However, it looks like there are going to be regular touch tours and handling opportunities for visitors once the museum opens!
When you go below ground, things get even more interesting, although, there are no galleries on the lower floor. Instead, you'll find the museum's Changing Places toilet, quiet room and picnic area. The picnic area has been included so that a free day out at the museum is a real possibility, and that families have somewhere comfortable to eat their own 'packed lunches'.
Will you be visiting the V&A Dundee in the future? Check out reviews of the museum here and send us yours! Write a review.
See more: Take a closer look at the V&A Dundee with this video made by Euan's Guide Ambassador, Claire!
Locations: Dundee