Fringe Interview - Backstage in Biscuit Land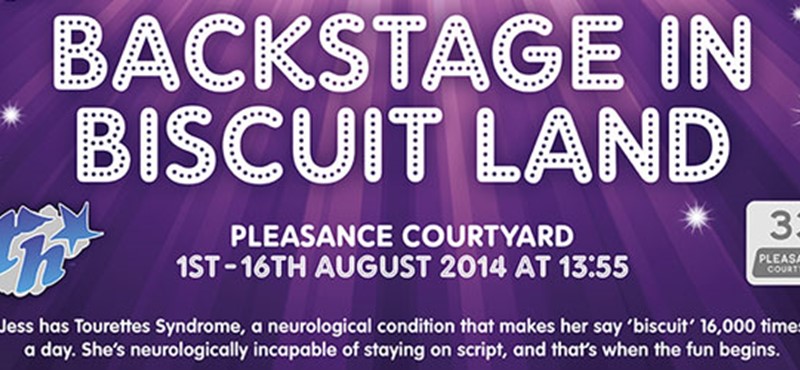 Backstage in Biscuit Land is a unique insight into what it is like to have Tourette's syndrome. Premiering at the Fringe this year, the show is a funny and perceptive tour of Jess Thom's life. Jess' condition means that she says 'biscuit' involuntarily 16,000 times a day. The show has already received a four star review from the Scotsman. We caught up with Jess as she begins her first run at the Edinburgh Fringe.
Where did the idea for the show come from?

The idea came from having poor experiences at the theatre and wanting to, biscuit, create a show that was accessible and inclusive and builds Tourette's into it. It was quite a creative challenge developing a show that allowed room for all the chaos and spontaneity that Tourette's adds to my life, it would be a shame not to make it adapt. Also I've had some difficult experiences at the theatre. I've been asked to move and sit separately to everyone else and I wanted to talk about that. It felt right to talk about it. It was a slow process for me. Biscuit. I went from never wanting to go to the theatre ever again to being on stage.
What is Biscuit Land?

Biscuit Land is a place that is quite chaotic but it is full of laughter. Sometimes things can get tough. There are definitely biscuits. There is a lot of weird stuff, biscuits, that pops in and out. It's a world that people get involved with and it is a world full of joy. Hedgehog. Cats.
How would you describe the show? Is it comedy? Activism? Drama?

Biscuit. Well I hope that it is a range of those things. I hope that it's funny and it will make people laugh. Biscuit. One of the aims of Touretteshero [Jess' website] is to celebrate the humour and creativity of Tourette's. I think humour is a really powerful way of engaging people and encouraging people to think differently. I think that is also activism. Biscuit.
I think creating things that are interesting and engaging for people can help to change their perception and make them think about things in a way that they wouldn't before. I think that theatre has the potential to do that.
Tourette's is certainly a condition that really needs that because it is surrounded by myth and stereotype. Biscuit. If I was flyering today and I said that I had Tourette's, biscuit, people will still laugh. There is a big difference between laughing at someone and laughing with them. The show is all about inviting the audience to laugh and enjoy my tics and be part of Biscuit Land which is the surreal world Tourette's creates around me.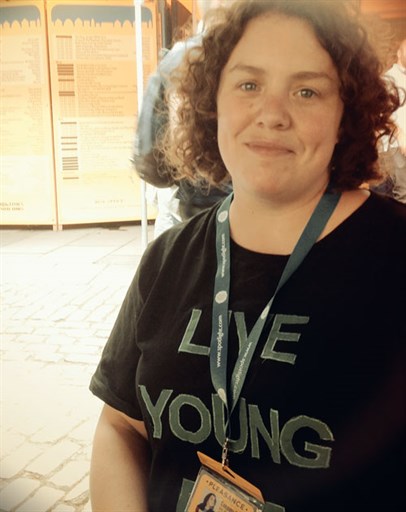 All of your shows are relaxed performances, is that something that is important to you?

It would be really difficult for them not to be relaxed with me as the performer! I wouldn't want anyone to feel not able to come to the show because they make extra noise. So all our shows are relaxed and the show has been created in a way to help all of the audience feel relaxed. I think that's not just to the benefit of people who find observing traditional theatre etiquette difficult. Biscuit. I also think it adds a lot to everyone's experience and can mean that all of the audience can have a very different experience to what they might usually have. I think that has been something we have learnt through developing the show.

Do you think there are now more relaxed performances in theatres?

I think 'relaxed performances' is still quite a new term. I think relaxed performances are important but I don't think they are the only answer. I certainly don't just want to go to relaxed performances. If I just went to relaxed performances here at the Edinburgh Fringe I would basically only be going to kids' shows. I'm an adult and I want to see grown up performances as well as kids' shows. We will do an uptight performance if there is enough demand! Hedgehog. Cats.
What do you wish your careers advisor had told you at school?

I think my biggest piece of advice, in terms of careers or employment, is be confident in explaining your condition or needs. Biscuit. And if something isn't working for you, know that you can change it. Biscuit. It can be very easy to feel like you shouldn't speak up or you shouldn't explain what you need for fear of that limiting you. My experience is the one thing that has made the biggest difference to my quality of life is being able to articulate my experiences and to tell people about them and what I need. Do that and you'll be fine. Don't feel like you need to change yourself. Expect the world to change to meet your needs.
You've appeared on TV, on the radio and now on stage. Do you ever get nervous?

No, not really. Talking about Tourette's is a sort of tool for living. Whether I'm doing that on the bus explaining what Tourette's is or whether I'm doing that on stage. Biscuit. It's something that I've found that is quite important to have a quiet, easy, good quality of life. Biscuit. Hedgehog. Cats.
Backstage in Biscuit Land is on at the Edinburgh Fringe from the 5th to the 16th of August. There are BSL interpreted shows on the 7th and 14th of August and all shows are relaxed performances. The show will also be in the Unlimited Festival in London in September.
Locations: Edinburgh