Fringe Interview - Laurence Clark: Moments of Instant Regret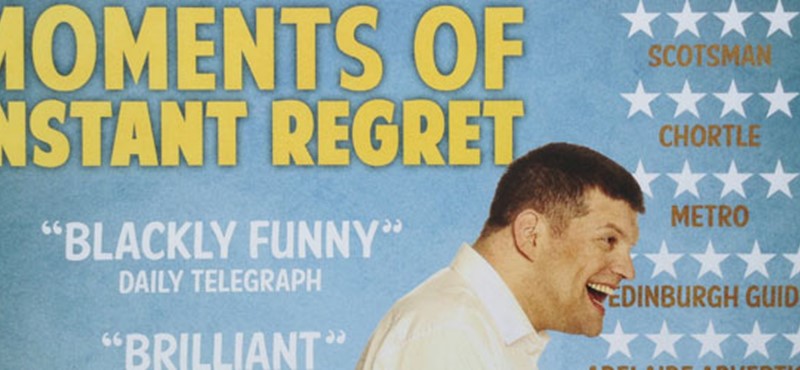 Laurence Clark has returned once again to the Fringe with an act to impress. His new act recounts moments of instant regret. Clark enthralls audiences with tales which most people would try very hard to forget. Instead Clark has combined his moments of embarrassment to make a delightfully witty show. Set in an accessible portacabin, the walls echoed with laughter throughout the show. We caught up with him after his first show.
You have acted, made a documentary about your life and done stand-up. How would you describe yourself?

I'm a stand-up comic, that's what i've always wanted to do. It wasn't the obvious choice. At school the careers advisor never mentioned it. There's nothing like it. It is such an adrenaline rush, when it's going well and you're on stage holding an audience.
What would your advice be to someone who wants to be a comedian?
Have a go! I honestly didn't think this would be a career. I started off thinking of it as a hobby. I was doing a Disability Arts Cabaret night, I wrote some stuff, tried it out and one thing led to another. I think if you want to do it, great, try it and see if it's for you.
What do you think of Edinburgh?

Really inaccessible! I love Edinburgh; I hate the cobbles. I think the worst was three years ago, I was trying to get into the Gilded Balloon. Every year the lift breaks down with someone in it. That year, it was me.
Coming in here today, I had to argue a bit with the guy on the door because he wanted me to come in the lift. I said 'no way!'. There is a back entrance but they have to unlock it.

It is a lovely city, it is a beautiful city. Unfortunately where I am this year, there seems to be no way of approaching it without going over at least some cobbles. It has got four accessible parking bays right next to it, though, which are quite handy.
What is your Fringe show about this year?

It's called Moments of Instant Regret. I've spent the last ten years doing shows about discrimination and people being an a******e to me. So I wanted to do a show about how much of an a******e I can be.
Do you have any interesting fan mail?

Yes, lots. You get all sorts of bizarre stuff. I get invites to do stand-up in weird places. People think it's a real novelty to do stand-up in weird places. It's not. There is a reason why people do stand-up in theatre with a stage. Years ago someone had the bright idea that it would be good if I did stand-up comedy on a bus to demonstrate how accessible buses are now days.
If you get on a bus and a random bloke in a wheelchair starts talking quite loudly, you just look like a mad bloke on a bus. I just remember all these faces of people thinking what the hell is going on. It's still on Youtube. I can't bloody get rid of it.
Do you think social media is changing stand-up?

Massively. It sounds odd but I think I am quite a private person. Social media does not come naturally to me. I don't feel the need to inform people of what i'm doing all the time. I guess that is quite odd in that my show is a one hour confession of all the terrible things I've done.
When you are looking at venues do you consider their accessibility?

Totally. I need to be able to get in there, for one thing. It's really hard. It's got a lot better at the Fringe and I've noticed that this year that on the Fringe website you can tick a box and just venues that are accessible will come up. Which is really good but I put my own name in, as you do, and ticked the box but nothing came up! I think the venue hasn't entered their accessibility information. It is in a portacabin, so it is quite accessible.
What is it like being a dad and a comic?

My older son is a bit bemused by it. He saw the last show but he's not allowed to see this show because there are some very bad words in there that he's not going to hear for another few years. He watched the live show and his review was he 'liked the swearing bits'. He quite likes the Youtube videos and I discovered he's showed some of them to his mates at school and his mates have copied some of the bad words in them. I guess there are a lot worse jobs your dad could do.
You can see 'Laurence Clark: Moments of Instant Regret' at the Edinburgh Fringe from the 4th to the 24th of August.
Locations: Edinburgh