How to Find Reviews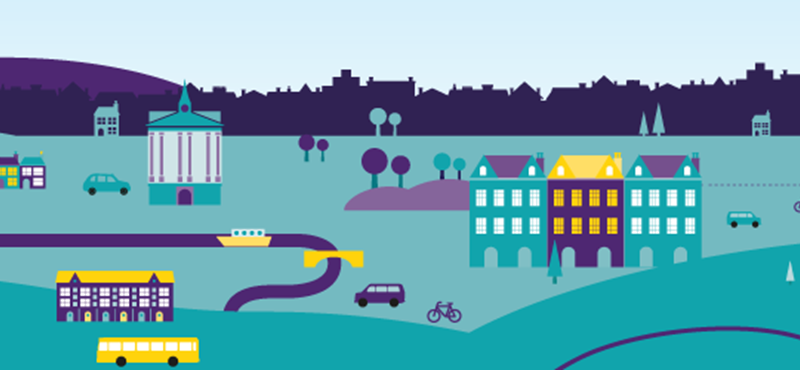 We are proud to have tons of reviews on our site for a variety of places here in the UK and from further afield, but we know that the sheer number of reviews can be a little daunting to begin narrowing them down to find somewhere, especially if you don't have a location or venue already in mind. We've compiled a step by step guide to help you navigating the reviews on our website to find your perfect next adventure.
Step 1: Search by location, category or venue name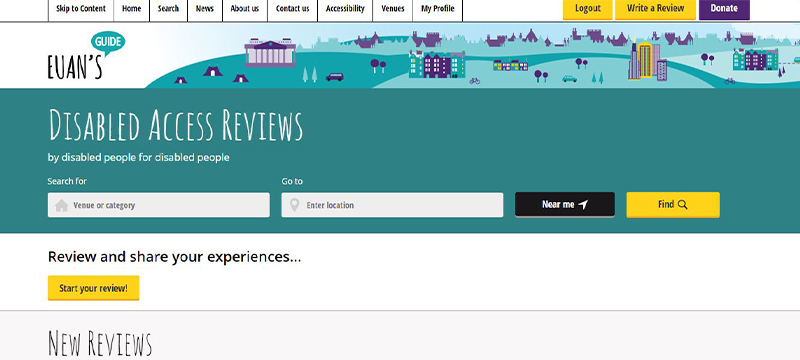 Search for reviews and venue listings by using the two search boxes you'll find near the top of every page on our website. You don't have to enter text into both boxes. By entering only 'accommodation' you will find a list of all accommodation reviewed or listed on Euan's Guide. If you enter 'accommodation' in the first box and 'London' in the second box this will narrow down the search to accommodation options in London.
In our example we have searched by location of Edinburgh only, though you can just as easily search for a specific venue or by the category of what you are searching for, for example, 'restaurants' or 'attractions'.
Step 2: Narrowing down results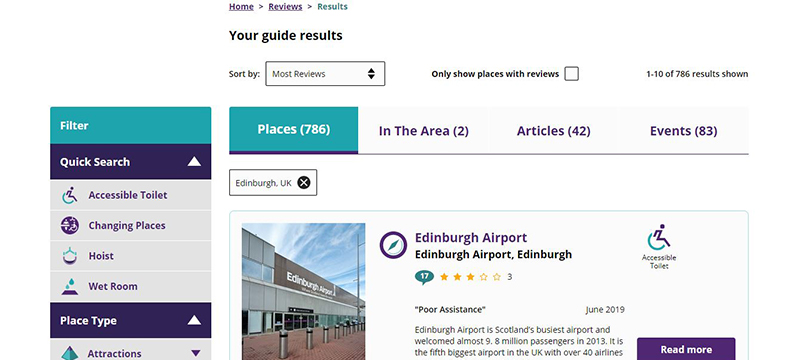 After you have entered your search you will receive a list of results. If you find you have no results, try to broaden your search.
Your screen will look similar to the image above. On the left of the screen is the filter. There are many criteria by which you can narrow down your search for the perfect location or venue for you. With a few clicks you can find out which venues in a city have an accessible toilet, a Changing Places, a hoist, or a wet room.
Other categories by which you can filter are by 'Place Type' which fall into one of the following categories: Attractions, Socialising, Activities, Accommodation, Events and Other Places. These can be further narrowed down to find venues such as restaurants, hotels, zoos, theme parks, and a whole host of other groups.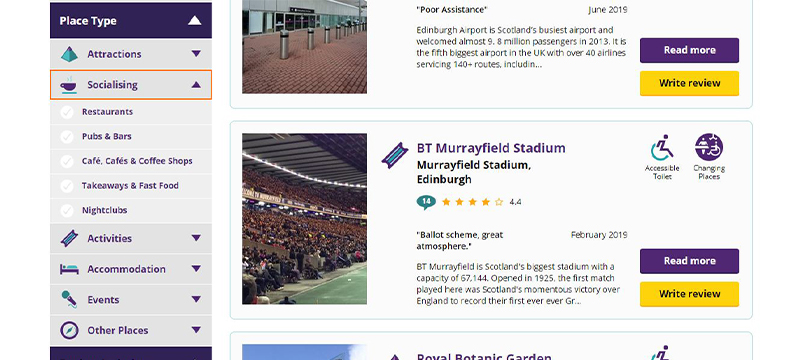 The filter section also includes other accessibility features to narrow down your search, such as to find reviews which are helpful for someone who has an assistance dog or ones that will be helpful for a powerchair user, and if a venue had sign language or braille options available.
Step 3: Viewing the results
The results will automatically be displayed as a list, with each place in a box with the venue name, rating, information and an image. By clicking on the venue name, the image or the 'read more' box you will get additional information and be able to read any reviews left by other visitors.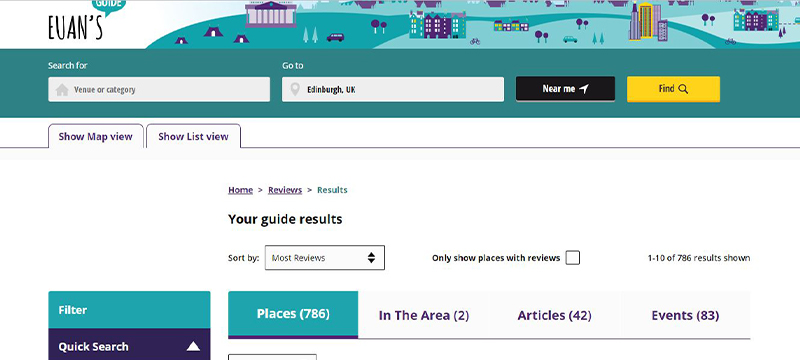 Changing how the results are ordered
The example above shows that the reviews have been ordered by 'most reviews', this can be changed to order the results according to the following categories; 'top rated', 'recently reviewed', 'recently added', 'alphabetical' or 'closest'. Select your preference by clicking on the box to the right of the words 'sort by'. You can also select to only see places who have reviews, this will eliminate all the venues listed which have not been reviewed.
Changing how you view the results
You can change how you view the results, if you'd see the results on a map simply click 'show map view' immediately under the search bar. This can be handy if you are looking for places near you or near to where you are staying.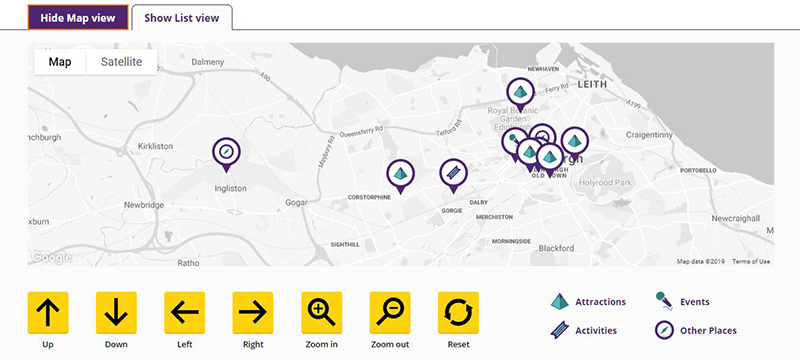 To the right of 'show map view' you'll find 'show list view', this gives the list of results in a plain text format with only the venue name and its location.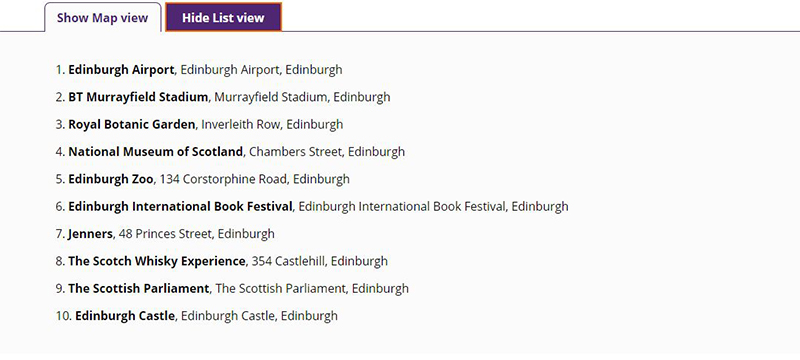 Other bits
Above the list of places, you may notice tabs such as 'In the Area,' 'Articles,' and 'Events.' These each serve a unique purpose on the Euan's Guide website.
In the Area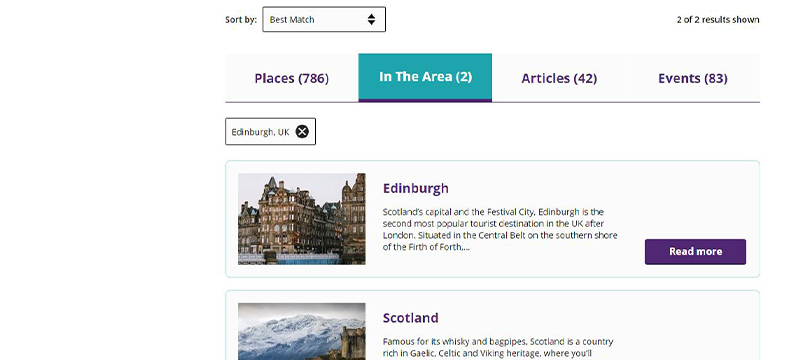 This tab shows you an overview of location pages. We have many of these pages on our site, to give you an overview of certain areas, including the best food, accommodation, and attractions in the area based on our reviewers' ratings.
Articles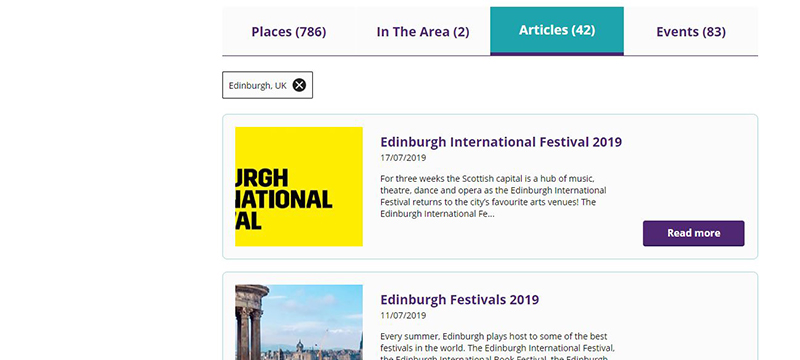 Here you can find news pages relevant to the area you are searching.
If we have posted about the 5 best accessible cottages, for example, and include a cottage from the searched location, it will show under this tab. In the Edinburgh example above, you can also find pages full of useful access information for the Festivals Edinburgh hosts every August.
Events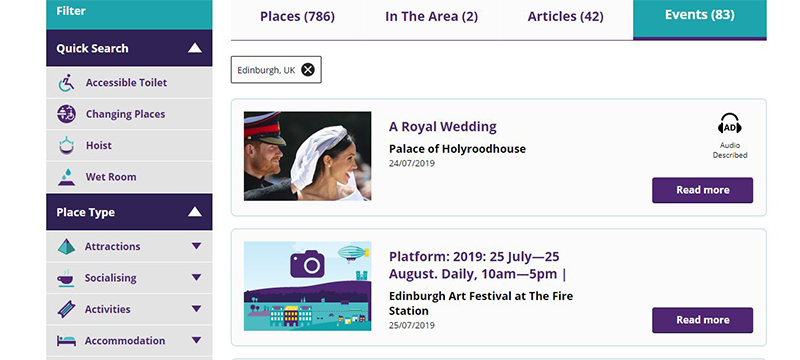 Upcoming events in the location you have searched they will appear under this tab. This is a great place to find things to do around an area to get involved and meet new people.
Step 4: Review pages
Once you've found a venue you like the look of, you will be taken to a page with all the reviews that venue has. There is also an overview of their access information (found in 'details'), and a map for ease of navigation (under 'location'), and a collection of photos so you can have a visual illustration of the venue (under 'gallery').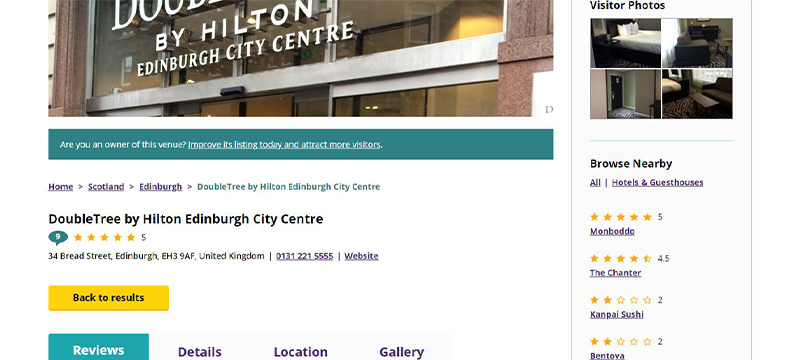 To get back to the list of results you can click the 'back to results' button.
Happy searching!
While you are here
We'd love it if you could spare some time to leave your own recommendation of places with good disabled access. Your review can be as detailed as you wish, click here to get started and leave your first review!