Last night at Parliament & our official launch!
So... It's true... We officially launched yesterday!
The day started with a endorsement from JK Rowling which we were absolutely thrilled to receive. This adds to the fantastic support from Professor Stephen Hawking.

We also featured in the Daily Mail "Euan's high-tech guiding hand for disabled people"... All this before 9am!

We were then straight into final preparations for last night's event "Euan's Guide Reception Promoting Scotland's Disabled Access" at the Scottish Parliament.

Photo of Euan MacDonald at the soundcheck and one of our goody bags. More photos to follow soon.
It was fabulous to see so many old and new friends at the event. As users, charities, venue groups and MSPs mingled/chatted, we were entertained by Drake Music Scotland's band Audibility.  We heard from Christina McElvie MSP's and her views on the site and disabled access, followed up with a speech from Euan via his Tobii computer and some words from Kiki about the aims of our site.   There was also plenty for our guests to do whether that was demo-ing the website or adding their favourite accessible place to our map of Scotland.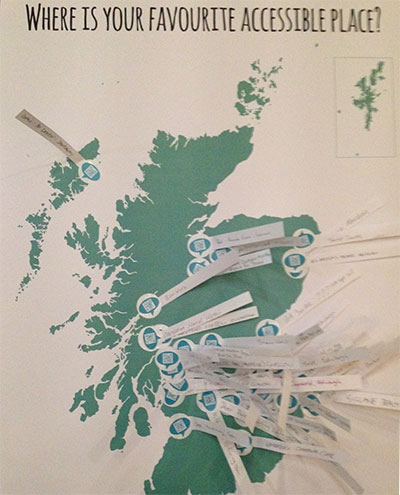 We were asked a couple of times "Why is this your launch when you went live in November?" Well... Since we went live we've been working hard to tweak, update, improve and ensure that the user experience is as good as it can be. We've had lots of feedback from you, dear users, and hope that you keep telling us what you think... We'll be putting the next version of the site live this week - so stay tuned!