Meet Our Ambassadors: Eileen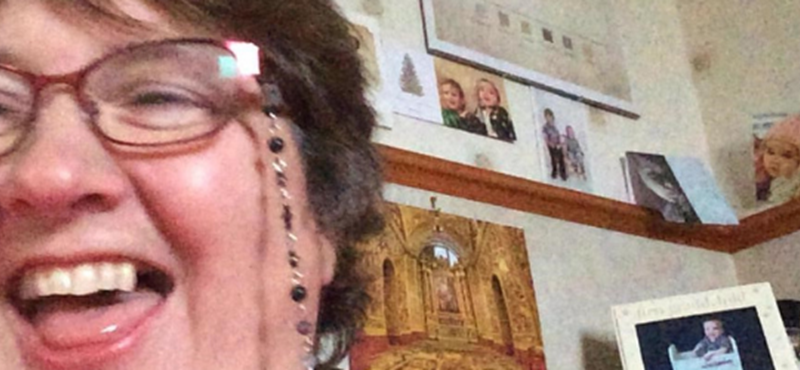 It was great to hear from Eileen for our next Ambassador interview, we've not been able to meet in person before due to the distance of where we both live, but it's been good to meet over Zoom. Eileen had a left sided stroke in February 2014 which left her with paralysis of her left side but no other problems, thankfully. She lives in a small village called Sandness on the west side of the mainland of Shetland. She is a Euan's Guide Ambassador for Shetland.
How did you find out about Euan's Guide and how long have you been an Ambassador?
I found out about Euan's Guide through a publication called 'ABLE' for people with disabilities. I found it great to be able to look up venues on Euan's Guide, to see if a review had been done by someone needing the same aids as myself and to see if it was possible to visit. I became an Ambassador in the summer of 2017, I think.
What review would you say is your most favourite that you have written?
I think my favourite review was Langass Lodge in North Uist. This is because it was located in such a remote place and our previous accommodation had been very poor. I was quite anxious as I had been put in charge of accommodation on the holiday as I was the one with accessibility needs. However, this Lodge was exceptional. The accommodation was perfectly designed for disabled access, the food was brilliant, and the staff were friendly and very helpful. This was part of a holiday that my husband and me had with a couple of friends about 3 years ago. I had wanted to tour all the Outer Hebrides for about 40 years, and we managed to visit them all at this time except for Barra due to weather conditions. I'm still hoping to visit there as on my 'bucket list' is to land on the beach on Barra by plane! This was indeed a very enjoyable and memorable holiday.
I understand you do some work as a practice nurse in Shetland. How do you find working as a nurse on a Scottish island? And what are some of the challenges you face, especially during this current pandemic?
I do work part-time, 2 days a week in a small practice in Walls, which is on the main island in Shetland. We are 30 miles away from the only hospital, which is in Lerwick, the capital. The biggest challenge I think is that you know everyone very well and you might be seeing them as a patient in the morning and then meet them socially in the community in the evening. It can be difficult for both myself and the patients. Also, you know EVERYTHING about them but it's just how it is, and I have actually worked there for over 30 years now which is a long time!! so it's obviously not too bad. I really didn't think I would be able to return to work after having had my stroke however I viewed it as a challenge and have had a positive return supported by my family and work colleagues. Since the pandemic started, I have been working from home as I couldn't put on the appropriate PPE and practices were limiting the footfall anyhow, so it actually benefited me. The NHS provided me with a laptop, 2nd screen and a mobile so I am able to do a lot of consultations via the phone or via a virtual waiting room. This has become the more normal way of consulting for all Practice Nurses, so I have been able to successfully work from home and help out other practices where their nurses were doing Covid vaccination clinics etc, so I am able to do more work than previously.
You joined our virtual cooking hackathon on Zoom last year and shared some great recipes, have you been cooking anything nice recently?
I now quite enjoy cooking as it was always just fitted into the day before, so I like to try out different things. My husband is a very good cook, so we often make meals together. I have recently made a Christmas cake, different types of bread, crispy pancake rolls and various curries.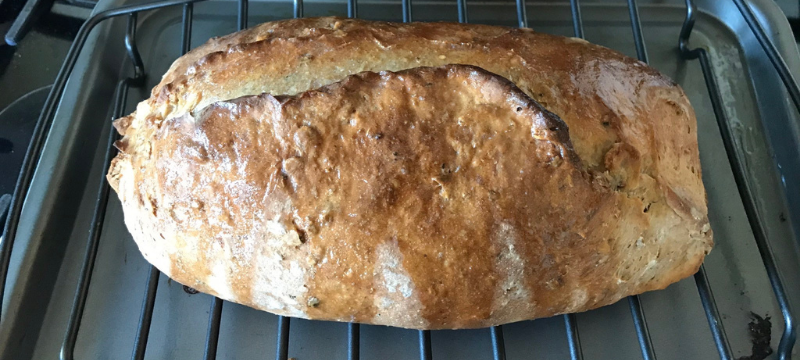 Image of: A loaf of bread Eileen has made.
When you feel it's safer to go out, where are you looking forward to visiting and why?
Before the pandemic my friend in Aberdeen (who has MS) and myself had looked at a list on the internet of 'The Hundred Best Things to do in Scotland' which we had agreed that we would each try to do a couple of things, at least, every year. She seems to be less enthusiastic than me, but I have tackled the list with great enthusiasm! I still have quite a lot of things to do. 2 of our sons got us a voucher for a meal in a Michelin star restaurant in Anstruther, so I feel a trip to Fife, and the Edinburgh area might be on the cards after things return to some kind of normality to tick off a few more places on my list and to use our voucher. The list is a great way to highlight places of interest that you might not otherwise know about.
Can you please tell us something people might not know about you?
Our 3 sons, 1 daughter in law and 2 grand daughters are very much part of our lives. They all live away from Shetland, so it has been very difficult during the pandemic. However, they all keep in regular contact and Face Time is a great way of communicating - we are very lucky to have all the technology these days. I have lots of hobbies and interests which keeps me busy, and I am never bored or short of things to do. I read a lot and have a very kind and helpful local library that delivers books of my choice to our house every month. I like to do cross stitch and knitting. The local famous knitting is Fair Isle which I didn't used to do. However, a lady in Shetland designed a Fair Isle knitting pattern for a hat to raise funds for the community to help to get an MRI scanner for the hospital. I was challenged by my sister to try to knit this hat, so it took me a wee while and it's not perfect, but I got it done so wear it when I go out in my electric wheelchair with my dog, Skye, for a walk. I also completed a cross stitch for our granddaughters to remind them of Shetland. Finally, I have a greenhouse so grow a few things during the summer, e.g. cucumbers, courgettes, tomatoes and aubergines. I love my greenhouse and can never spend enough time out there in the better weather.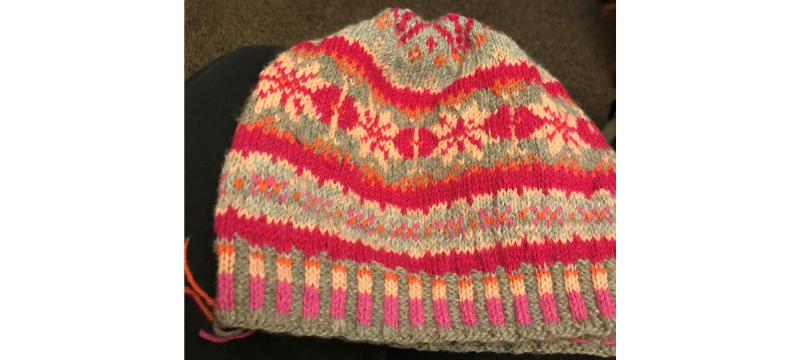 Image of: The hat Eileen has knitted.
Do you have any advice to new and existing reviewers on writing a review on Euan's Guide?
When I do a review, I start at the parking facilities, next the entrance in the venue, toilet facilities, seating available, access around the venue e.g. shop or theatre. The people at the venue, their attitude, helpfulness and willingness to listen to any suggestions you may want to make. REMEMBER to take photos, they are very helpful, but I have to say that is not one of my strong points.
| | |
| --- | --- |
| | Interview with Claire D'All, Reviewer Engagement & Outreach Coordinator |
I look forward to hopefully meeting Eileen in person one day at an Ambassador event, stay tuned soon for another Ambassador interview.