Meet Our Ambassadors: Janice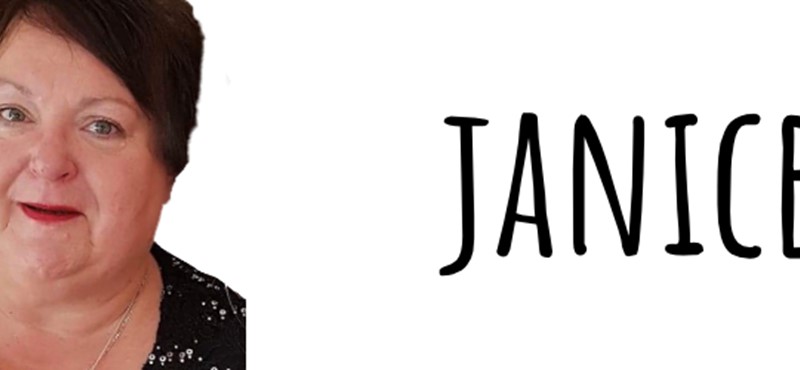 We're back this week interviewing another one of our amazing Ambassadors Janice, who lives in Dumfries. I've not meet Janice in person yet, but it's been great getting to know her in our Ambassador Zoom catch-ups this past year.
How did you find out about Euan's Guide and how long have you been an Ambassador?
I first became aware of Euan's Guide through a post on Facebook and have been an Ambassador for roughly 20 months.
What review would you say is your most favourite that you have written?
Image: View from the Cable Car Gondola.
My favourite review was the one I carried out for going up the mountain Aonach Mòr near Ben Nevis on the Cable Car Gondola. I was born with a condition called hip dysplasia, and although I led a fit and active early life, I was never fit enough to go hill walking. I spent a lot of my younger years at my grandparents home which was surrounded by 3 Munro's (Scottish Mountains over 3,000 feet), so this was my opportunity at last to experience Munro Bagging. The views were amazing, and the staff went out of their way to give me a good experience.
From our Ambassador catch ups that we have been having over Zoom it's always interesting to hear about the different wildlife that you have been spotting near your home, what has been the most interesting thing that you have seen during lockdown? Do you feel that you are seeing more wildlife because there are fewer people going places?
We currently have a couple of otters playing on the river, which have become local celebrities, and are actually attracting a lot of people when out walking, they have also been of interest to the media. Whilst I have seen new species of birds on my garden tree this year, I have noticed changes out on the river, there were not as many swallows visited last summer, and our swan population seems to have depleted. I live near a path that accesses the river path, and there is actually an increase in people out walking, and definitely more people walking and cycling in the park, so I think the jury is out on whether lockdown is attracting more wildlife locally.
You've been studying a lot of Gaelic recently, what is your favourite Gaelic word or phrase and why?
Gàidhlig (Scottish Gaelic) culture has been around me all of my life. My grandparents came from the Western Isles, and were fluent speakers of the language, so it was always spoken around about me. I also competed in Gaelic singing competitions in my youth, and Gaelic music has always played an important part of my life. I never learned to become fluent, and 30 plus years of nursing and studying left me no time to continue with my studies, so now I'm retired I'm having a go, though it is very difficult.
It's difficult to choose any specific phrase or word, many Gaelic words were integrated into everyday use in our family. I love the word Strùpag (pronounced stroopak) which is a Gaelic word for a cuppa and usually a wee snack, my granny was a great baker, so a Strùpag was always a cuppa and something tasty!
You do a lot of genealogy work in your spare time, what do you enjoy about this and have you uncovered any interesting facts you'd like to share with us?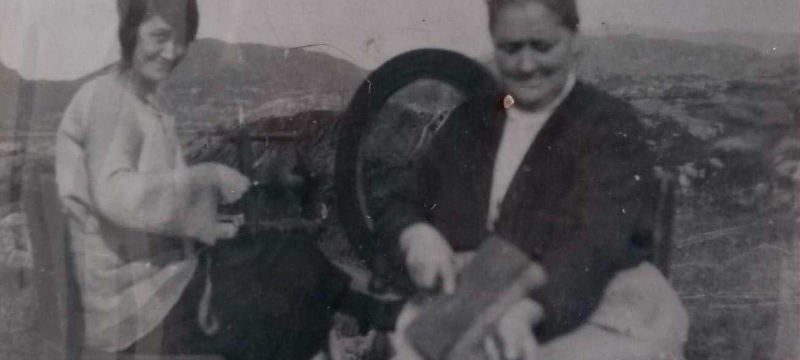 Image: An old family photo, Janice's family spinning wool for Harris Tweed.
I've always loved history and enjoy reading detective novels, genealogy is a bit like a combination of the two. After a long period of illness, I started on a short course at our local library, because it was easily accessible for me, and something I could do. I then went on to complete an accredited course with the University of Highlands and Islands. For one of my assignments, I had to investigate someone in my family tree, and chose my grandfather's brother who died whilst serving his country in WW2, and whom we knew little about. I was able to obtain his service record and trace his grave to a war cemetery in Bangladesh, it was very emotional to see the inscription on his grave at the other side of the world was in his native Gaelic. I also researched the family history of an older friend whose father had died in action in WW2, and whom she knew nothing about. Although she is from the south of England, it turned out her father was from Aberdeenshire, and on a visit to Aberdeen with friends, we visited Peterhead & found his name commemorated on a War Memorial and took pictures home to show her. I traced her family tree back to the late 18th Century, not bad when she didn't know anything about his family. I found an ancestor for another friend, who had an extensive military service, and had served in the Crimea, which she was delighted about, her family were local to Dumfries, so I found that particularly interesting, as a lot of the buildings are still in existence. I just love going back in time, reading what people did for a living, where they lived, what they died of, and the thrill of finding the right family connections.
When restrictions are lifted and you feel it's safer to go out, where are you looking forward to visiting and why?
When restrictions are lifted and I feel safe, I'm looking forward to nipping out to the garden centre or up town for a coffee, and just being able to meet people and socialise a little. Long term I'm looking forward to travel and live music restrictions being lifted as I particularly enjoy attending live music venues. Really everywhere, and anywhere when safe to do so! My niece has been sussing out nature walks and trails that are wheelchair accessible, but some of the trails and hides are closed due to the pandemic, I particularly want to see the red squirrels that can be spotted in Dumfries & Galloway. Before the fist Lockdown, I was just getting my confidence about going out and about in my wheelchair and regaining some independence back into my life after illness. I had had an offer of some part time volunteer work pre pandemic, that I would like to pursue. I like keeping busy, helping others if possible, and enjoy nature as I find it very relaxing, but also because I feel it is important to look after the environment.
Do you have any advice to new and existing reviewers on writing a review on Euan's Guide?
When writing a review, I try to include things in the suggestion boxes for each section. I try to look at things from other disability points of view and include them if possible. I also try and include photos... when I remember to take them!
| | |
| --- | --- |
| | Interview with Claire D'All, Reviewer Engagement & Outreach Coordinator |
Thank you for your time Janice! Look out for more interviews with our Ambassadors coming soon.