Meet Our Ambassadors: Ryan
Our Ambassadors are a fundamental part of our Euan's Guide team and are fantastic at spreading the word about the work that we do. Throughout this blog series we are going to be interviewing some of our Ambassadors to find out a little bit more about them. Today we're speaking to Ryan MacDonald who is one of our Ambassadors in Glasgow.
How did you find out about Euan's Guide and how long have you been an Ambassador?
I found out about Euan's Guide when I was working at Housing Options Scotland. I met with Paul Ralph back before Euan's Guide even launched and was blown away by the idea. I've been a huge fan ever since. I helped to build the Ambassador network when I worked for Euan's Guide, then became an Ambassador in 2018 (I think).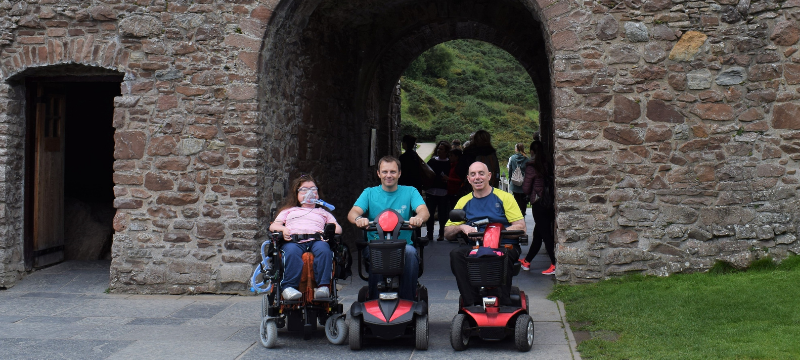 Image of: Karis, Ryan and Gordon, three of our Ambassadors.
What review would you say is your most favourite that you have written?
I think my most favourite review I've written would be the one of the Glasgow Science Centre, which was great fun!
This pandemic is challenging for so many people in so many ways, how have you been coping? How are you finding juggling working from home and home-schooling at the same time?
The pandemic has been really difficult for so many of us. Although working from home, home schooling and missing family and friends has been tough, I feel really lucky to be healthy, in employment and able to spend so much time with the kids. It's difficult, but I'm just trying to see the positives in what is a really tough situation.
When restrictions are lifted and you feel it's safer to go out, where are you looking forward to visiting and why?
I'm really looking forward to going back to watch football matches with the family. We're big Scotland fans, so I'm hoping we'll get to see some of the Euros that are being played in Glasgow.
Can you please tell us something people might not know about you?
It's probably not a well-kept secret, because I tell anyone who'll listen, but I love playing wheelchair sports. My favourites at the moment are tennis and golf, but I'll pretty much take part in anything that has a winner and a loser.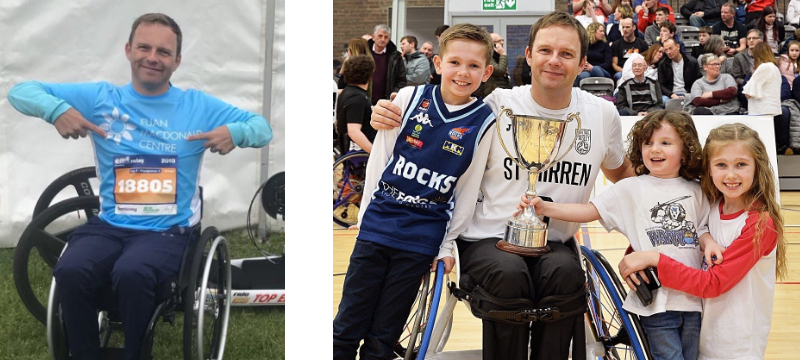 Images: Two pictures side by side of Ryan at sporting events.
Do you have any advice to new and existing reviewers on writing a review on Euan's Guide?
My advice to any new and existing reviewers would be to use reviewing as an excuse to visit new places. I've visited a lot of new places and had some great experiences because I thought "that would be a great place to review on Euan's Guide". Once you start reviewing, it's really addictive and feels great to know you're making life easier for so many other disabled people.
| | |
| --- | --- |
| | Interview with Claire D'All, Reviewer Engagement & Outreach Coordinator |
Thank you for your time Ryan! I look forward to catching up with another one of our Ambassadors soon.