Meet the Intern: Iman
Iman joined the team as a Communications Intern in July 2021 and is about to start her fourth year of university in September. Thanks to the Robertson Trust, she's a member of the Euan's Guide team for the duration of the summer and is excited to learn all things social media while building on experience of writing content. We interviewed her as she completes her internship from home. 
How did you find out about Euan's Guide?
I'm really fortunate to be a Robertson Trust scholar, they are an independent grant-making trust in Scotland. I'm part of their Journey to Success scholarship scheme, which is aimed to help young people facing difficulties gain a university education. Through their many opportunities and support, they pointed me in the direction of Euan's Guide and helped me get my summer internship.
Tell us more about yourself.
I'm a full-time university student, studying for a joint degree in Journalism and English. An ironic choice as I'm also dyslexic! I have to admit I prefer the journalism side of my degree. I'm also the Deputy Editor of my student newspaper, and winner of Student Publication Association (SPA) Best Publication in Scotland 2021, Brig Newspaper. I love to write, which is something Euan's Guide massively encourages. Although I do have a pile of books to read, I enjoy the fantasy genre. Normally, you can find me prowling on the book side of the social media platform TikTok.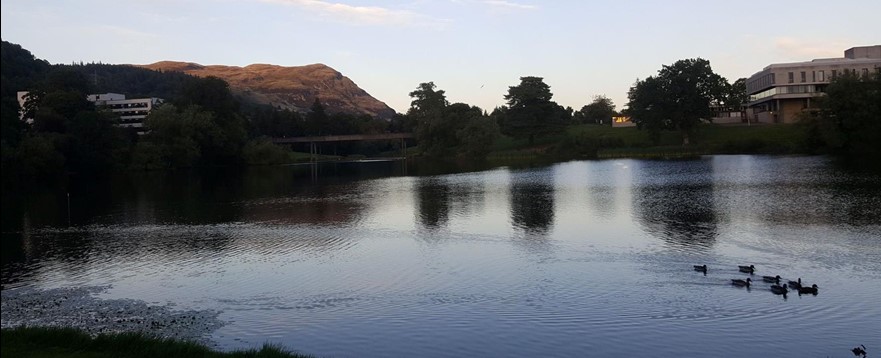 Image description: A photo taken by Iman of the loch on the University of Stirling Campus.
What does your typical day look like?
Educational. Every day at Euan's Guide I'm learning something new and given direction. I work closely with Kieran (Communications Manager) and he always finds me something to do. However, the whole team are incredible! We have daily catch-up meetings that are always informative. There's so much helpful feedback and I learn how to use new tools constantly. Normally, I'm researching something or writing blogs for the Euan's Guide website. However, I'm getting a kick out of learning about organising social media, which is one of my favourite things. My days are never boring, Euan's Guide always has something to teach me.
How is it working from home?
Working from home does make my time more flexible. It allows me to work and learn but also take care of my other responsibilities. Every morning I can start my day without worrying about commuting. A great benefit is that I'm learning how to use new software on my laptop. Something about that makes it easier to remember and understand. The only downsides are sometimes bad WiFi and I live next to a busy road.
What are you hoping to learn from this experience? 
Everything I possibly can: consider me a sponge this summer. I want to be able to walk away knowing the ins and out of communications. What I'm looking forward to the most is managing social media, but also improving my writing skills during my time with Euan's Guide. Social media is growing and becoming more accessible, and I feel like I'm in the perfect place to learn more about it. Another thing I didn't expect was to sharpen my research skills, which I do hope to improve on by the time summer ends.
What is your favourite thing about being an Intern with Euan's Guide?
The team are very cool people. They invite you into the conversation and don't judge when I make mistakes. Trust me, I've made a couple. When they give me feedback it is always constructive and I always learn something from it. I'd say one of my other favourite things is reading all the reviews on the website, after being in lockdown for so long I now feel like I've been everywhere at once.