Meet the Team: Steve
Steve is the Moderation Manager at Euan's Guide and loves being the very first to read your reviews! He is definitely the joker of the team. We caught up with Steve to find out more about him and to hear more about disabled access reviews and what actually happens when you submit one to Euan's Guide.
We are currently working from home, but when we are in the office you can be pretty sure that early riser Steve is going to be the first person in the office! 
What do you like about being the first in the office?
I'm almost always the first person in – about 7am I'm catching up on last night's reviews and filling up the kettle on repeat. Some days there are reviews of castles, cafes and a hotel, but later there could be boats, supermarkets or sports stadiums! Museum reviews are the best. I enjoy an odd museum collection, like the Pen Museum. If it's not unusual museums, I like to keep an eye out for new pizza places to visit.
How did you come to work at Euan's Guide?
I have a background in lots of things, I was working with a well-known survey company right before I discovered Euan's Guide through a friend. It was completely out of the blue, I began by inputting places to Euan's Guide before the website went live. Then we started getting reviews and my job as Moderation Manager began.
When we're in the office, what does a typical day look like for you?
Once I set up the coffee station for the day, I start publishing reviews and venues that have come in overnight. Then I package up Red Cord Cards, Face Mask Exempt Badges or anything else that's been ordered and post them out. The rest of the day is spent contacting places to let them know they've got reviews, checking that the website's running properly, picking up the milk and working on stats.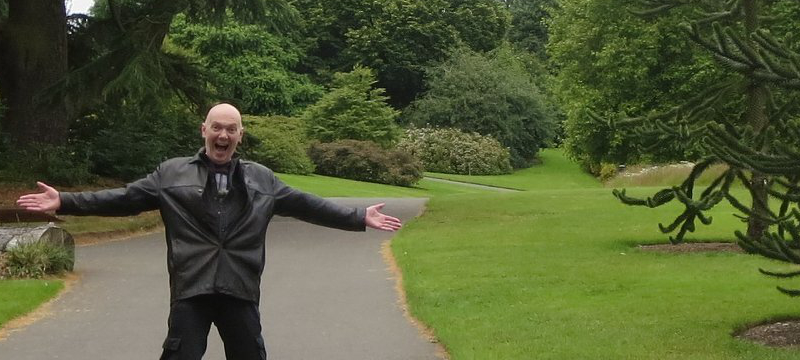 You've said that Red Cord Cards are your favourite project?
Definitely, I was there when Paul invented them. I remember everyone standing with a piece of paper sketching out how it could be attached to a red cord. There were a lot of questions about how the finished card would stay attached. To test the design, we cut out the sketch on cardboard and tried it out on a piece of string. It worked.
So what happens when people submit a disabled access review?
They come through to my side of the website and I read every single review. If you've written something on Euan's Guide, I've read it. I check if the place already exists on the website, and if it does, I join the review to the correct venue where it will sit alongside any previous reviews. We're very lucky. Most of the reviews that come through to me are excellent… I feel like an investigator sometimes actually. I've got to gather all the details for the venue, and this can be tricky if it's part of a chain as there could be multiple in one city. It helps when reviewers add the street name of the particular chain shop they've reviewed. I add the address (for the map location), website and contact details of every place you review. Then I send your review to the venue which often prompts them to list and add their disabled access information to the site.
If you could give one tip to new reviewers what would it be?
Make the most of the star ratings on Euan's Guide. Even if you're not writing lots of information, a rating out of five for different aspects of your experience (toilets, staff, parking etc.) can be a quick way to give other people an idea of what to expect before they go.