Meet Us at the Euan's Guide Meet Up!
*UPDATE* We're pleased to tell you that, in conjunction with Living It Up, we're going to be providing refreshments at our first Meet Up. 
What are you doing in the evening of Wednesday March 12th? If you're in Edinburgh and would like to meet some new people then we'd love to see you at our first ever Euan's Guide Meet Up.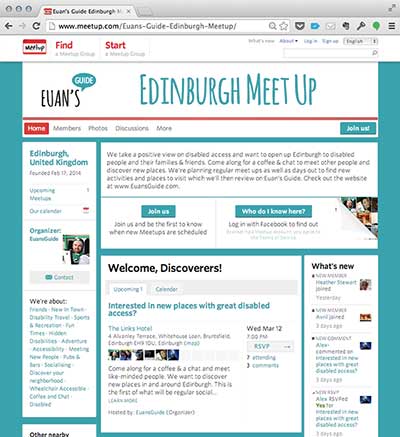 Come along for a coffee & a chat and meet like-minded people. We want to discover new places in and around Edinburgh. This is the first of what will be regular social meet ups, we also hope to plan days out and new activities. (If you're not based in Edinburgh get in touch if you're interested in a Euan's Guide Meet Up and we'll see if we can help!)
It's taking place in the accessible Links Hotel & Bar in Bruntsfield and we will be adding more information in the lead up to the event here.
Head over to Meet Up now to let us know that you're coming and we look forward to seeing you there!
More about Living It Up
Living it Up is a three year programme working with five local partnerships across Scotland aimed at empowering people to improve their health and well-being.
Living it Up will deliver innovative and integrated health, care and wellbeing services, information and products via familiar technology enabling people to keep better connected with their communities and those they care for and receive care from. These technologies will include TV, mobile phone, games consoles, computers and tablets.
The five partnership areas are - the Western Isles, Forth Valley, Lothian, Moray and Highland/Argyll & Bute.
For more information, please visit the Living It Up website.