Out and about!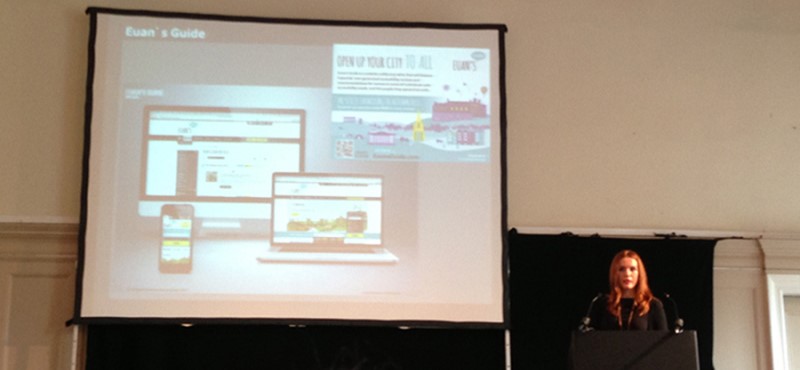 The last week has been brilliant - we've been out and about meeting and talking to some fabulous people!
It started last Thursday with the ETAG (Edinburgh Tourism Action Group) Edinburgh Tourism Showcase event at the EICC. Lots of venues were in attendance including many that we've already spoken to and who are already on board. Particular shout outs must go to Edinburgh World Heritage, Festival & King's Theatres, Historic Scotland, Lothian Buses, Mercat Tours, Museum on the Mound, National Galleries of Scotland, Our Dynamic Earth, Scottish Tourist Guides Association, The Royal Yacht Britannia, The Scotch Whisky Experience, The Usher Hall and the Traverse Theatre. Thanks for your support guys and looking forward to working together!
And... even better... it appears we hit the jackpot and have won 4 tickets to the Rebus Tour... very much looking forward to it - thanks guys!
Then yesterday saw the team head off to EventScotland's Plan for Digital. There was an epic presentation from Stephen Whitelaw - including his thoughts and predictions on where the internet is heading... He rattled through one of the most comprehensive presentations we've seen in a while and we're looking forward to getting a copy of his slides so we can have a look at some of the points he mentioned in lots more detail. The third session was the brilliant Alex Crawley from the Glasgow Comedy Festival who talked about making the most of your budget and in particular how partnerships can be advantageous.
But the highlight? For us it was when the lovely Jenny Mungall from Material MC featured Euan's Guide as part of her presentation! Jenny was sharing her experience of developing a digital strategy for an event and using the Tennant's Vital as a real life example. Jenny is very involved with the T in the Park Festival which is how we know her as Euan goes most years! Some of the team are now in London meeting yet more interesting and inspiring people & organisations before going back up north for next week's Naidex exhibition in Glasgow... Exciting times!