Paralympics Part One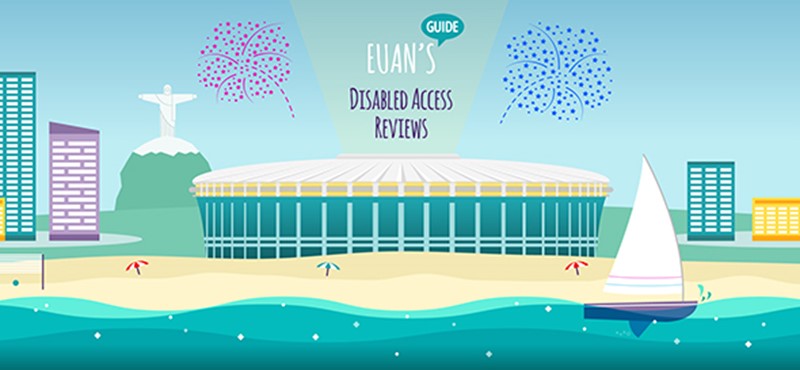 The Rio 2016 Paralympic Games are finally here! We're really excited and will be sharing some of our highlights and what we're looking forward to watching. Please send us in your highlights and recommendations too...
Day One
Goalball
Goalball events start today with the medal matches taking place on Day Nine. A sport that was made for war veterans with visual impairment. With 3 players starting on the pitch and 3 players on the sub bench, it becomes an enthralling game. Each player is blind-folded to keep everything on a level playing field and so hearing the ball's movement is important for success in this sport. The goals are on either end of the pitch and cover the full length. Skilful attacking players need to identify where the defenders are and either roll or bounce the ball past them. Brazil have been the top scorers of the last World Championships in 2014.
Did you know?
Astonishingly there are 11 referees to make sure there is plenty of fair-play in this sport. Six officials issue commands, blow the whistle, guide players on and off the pitch and replace the ball.
Track Cycling
The Track Cycling events start today. Track Cycling was first included in 1996 in Atlanta and is a fast-paced event that needs carefully thought-out tactics to win each race. Individual or team events are categorised by letters and numbers depending on the amputee or athlete. Set on an oval track for time trial, pursuit or sprint events make the sport varied and exciting for spectators.
Did You Know?
Tandem bikes are introduced for visually impaired athletes. Other specialised bikes need to suit the requirements of the athlete depending on their condition.
Who to Watch
Look out for Great Britain's most decorated Paralympian Dame Sarah Storey at 15:19 in her pursuit C5 qualifying event and then fingers crossed her involvement in the final at 21:12. Kadeena Cox is the first Briton to compete in two sports (road and track cycling) at the Paralympics since 1992 and this is her first-ever Paralympic games.
Find out more about Paralympic Cycling 
Shooting
Accuracy and concentration is the name of the game when it comes to the sport of shooting. Toronto 1976 was the first time the sport was introduced to the Paralympic games and it has since been a reoccurring event. Rules vary depending on event, impairment, timing of shot, shooting position and distance. Circles on the target amount to 10 and have various scores such as the bullseye which is 10 points.
Did you know?
140 athletes will take part in this sport. This is Sweden's Jonas Jacobsson's 9th Paralympic games and he will look to add to his 17 gold medals in this category.
Channel 4 guide to Paralympic shooting 
Swimming and Athletics
The ever-popular swimming and athletics events start today and run through to the very end of the games. Both have been active since the first Paralympics in Rome 1960. 620 swimmers in 152 events and 1,100 athletes in 177 track and field events will keep the most enthusiastic Paralympian spectator entertained.
Did you know?
In the S11 category there are individuals called tappers that inform the swimmer that they are about to reach the wall at one side of the swimming pool. All swimmers in this category have to be equal so black-out goggles have to be worn by swimmers who can see clearly.
There are Swimming and Athletics events everyday of the Paralympics so we'll be featuring these more fully in Part 2 & 3 of our Paralympic guides. In the meantime check out the fastest Paralympian on earth, Jason Smyth in the Men's 100m T13 Final (Friday Day 09 15:09 BST) and homegrown swimmer Daniel Dias of Brazil who has the most Paralympian medals in swimming events.
Check out the Channel 4 guide to Paralympic Swimming events 
Check out the Channel 4 guide to Paralympic Track & Field events 
Day 2
Judo
Judo's origins feature Samurai Warriors so no wonder this is an exciting sport! Judo was first introduced as a Paralympic sport in 1988 at Seoul for men and in Athens in 2004. Judo players, called Judoka, score points for throws and holds and there are also penalties that can be awarded. To win, Judoka can either achieve an "Ippon" which results in immediate victory or by accumulating more points than their opponent. In the Paralympics, matches are contested by Judoka with visual impairments, there are seven weight categories for men and 6 categories for women and matches last 5 minutes for men and 4 minutes for women.
Today there will be Gold medals awarded in the Men's -73kg and -81kg categories and the Women's -57kg and -63kg categories.
Find out more about Paralympic Judo 
Powerlifting
Powerlifting became part of the Paralympic Games in Tokyo in 1964 for men and in 2000 for women at the Sydney Paralympic Games. Athletes are eligible to compete if they have an impairment in their lower limbs or hips or if they are short stature and they compete in the same class but in 10 different weight categories. Athletes are strapped to the bench and can lift weights up to 3 times their body weight.
Today there will be Gold medals awarded in the Women's -45kg and the Men's -54kg and -59kg weight categories.
Did you know?
If a competitor is trying to break the World Record they can request a fourth attempt.
Check out the Channel 4 guide to Paralympic Powerlifting
Day 3
Triathlon
New to the Rio Paralympic games is the challenging Triathlon which combines swimming, cycling and running. Distances for each leg of the competition and events will be divided into different categories depending on impairment. Changing from each activity during the event counts towards the final race time so Athletes have to be quick throughout.
Did you know?
Three of GB's athletes have competed in swimming competitions in the past with Claire Cunningham winning the Gold and Silver in 1992.
Check out the Channel 4 guide to ParaTriathlon
Wheelchair Basketball
Wheelchair Basketball will see 12 men's and 10 female teams go head to head in this highly competitive sport. Like in the Olympics the court size and rules are mostly similar. Only slight difference is the wheelchairs! Every two pushes of the wheelchair make the player either shoot, bounce or pass. The events go all the way to the final day of the games and this is when the medals are up for grabs!
Did you know?
Canada won Gold in the Wheelchair Basketball category at London 2012 but now have gone through changes due to the retirement of their star player Patrick Anderson.
Find out more about Wheelchair Basketball
Day 4
Rowing
Rowing was first introduced at Beijing in 2008. In Rio, there will be one men's, one women's and two mixed events (Single Sculls, Double Sculls and Mixed Coxed Four) and the medals will be awarded today. Depending on the event, teams can be made up of athletes with different physical and visual impairments and all boats race over 1km with a maximum of six in any race. Boats are adapted for the athletes and there are two types of rowing events in the Paralympics, 'sweep' where Rowers use a single oar and 'sculling' where rowers use two oars.
Did you know?
The rowing takes place at the same venue as the sailing - so let's hope for a little less wind today!
Find out more about Paralympic Rowing 
Plus, after the Men's event yesterday, it's the first ever Women's Paralympic Triathlon today - we'll be watching that too!
Archery
Archery has been a Paralympic sport ever since the first Paralympic Games in Rome in 1960. There will be nine events in Rio, Men's, Women's and Mixed and these are both team and individual events. There are two types of competition, using either a 'recurve' bow where archers shoot arrows onto a 10 circle bullseye from a distance of 70m or using a 'compound' bow where the distance is 50m and the circle smaller. Today's medals will be awarded in the Mixed Team Recurve event.
Did you know?
Arrows can reach speeds of over 100 miles per hour!
Find out more about Paralympic Archery
So that's some of our tips for the first few days of the Paralympics - watch this space for more!