Paralympics Part Two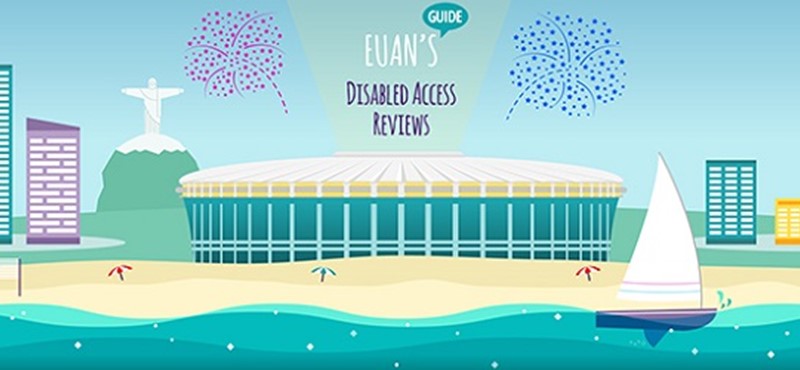 Day 5
Wheelchair Fencing
En garde! Today is the first day of the Wheelchair Fencing duels. This sport has been included in the games since Rome 1960. Athletes are fastened to the ground and get to choose a weapon from 3 choices: foil, epée and saber. Paralympic fencers have upper body and limb movement. Watch out for Piers Gilliver and Dimitri Coutya who both are World Cup medal winners and will look to build on their success today.
Did you know?
Jovan Guissone of Brazil won Gold at her first appearance at the Paralympic games in London 2012.
Find out more about wheelchair Fencing - http://paralympics.channel4.com/highlights/wheelchair-fencing-guide
Boccia
Included in the Paralympics since the New York Games in 1984. The necessity of Boccia needs a mixture of accuracy and concentration as competitors throw their ball as close to the jack (the white ball) as they can. There are Individual, paired or team events and men and women compete together. Players have 4 or 6 rounds (depending on the event) to win the match with 6 balls each.
Medals are on offer today for the first time so watch out for the McCowan family from Ayr, Scotland participating in the BC3 event.
Did you know?
Boccia started in Ancient Greece where athletes threw large stones at a target rock.
Find out more about Boccia - http://paralympics.channel4.com/highlights/boccia-guide-rio-2016- paralympics
Day 6
Equestrian
Paralympics Equestrian became a permanent category in 1996 in Atlanta. It takes the form of Dressage and is very similar to its Olympic counterpart, the main difference is the 'compensating aids' such as adapted saddles that Paralympic riders use. Both males and females compete together in classes that have numbers to identify the impairment. Remember that grade number classifications are dependent upon level of impairment.
First day of several medal days start today so watch out for Lee Pearson of Team GB whom will be looking to add to his 10 Paralympic Golds.
Did you know?
Horses are awarded medals too and not just the athletes!
Find out more about Equestrian - http://paralympics.channel4.com/highlights/equestrian-guide-rio-2016-paralympics
Table Tennis
This 11 event sport is, again, very similar to its Olympic partner. Changing the rules slightly for the serve in that for wheelchair users they have to hit the ball to the back of table makes the proceedings much fairer. The sport was invented in Great Britain in the 19th century and has grown in popularity all around the world.
The 3rd of 5 medal days for table tennis takes place today so look out for Will Bailey and Rob Davies of team GB as they seek out Gold.
Did you know?
Both Natalia Partyka of Poland and Australia's Melissa Tapper are competing in the sport at both the Rio Olympics and Paralympics.
Find out more about Table Tennis – http://results.paralympics.channel4.com/paralympic/table-tennis/index.html
Day 7
Road Cycling
Today sees the start of the Road Cyling, a sport which was first included in the Paralympics in New York in 1984. Competitors use two wheeled bikes, tricycles or hand cycles depending on their impairment. Distances also vary on type of race, classification and gender ranging from 30km to 120km.
Today sees the first medals for the Men's & Women's Individual Time Trails, where cyclists set off individually and the winning cyclist is the fastest cyclist completing the distance.
Did you know?
Visually impaired cyclists are called "stokers" and sit behind their sighted counterpart. Watch out for Alex Zanardi, an ex-Formula 1 driver and hand cyclist who triumphed in London winning Gold in his individual road race, Silver in his individual time trial and Silver in the mixed team relay.
Watch Channel 4 guide to cycling at the Paralympics http://paralympics.channel4.com/highlights/cycling-guide
Day 8
Canoe Sprint
It's Medal day today! The Canoe Sprint is making its debut in the Paralympics this year and athletes compete against each other over a flat 200m course.
Watch out for Edina Muller of Germany whom will be looking for her 2nd Gold since her 1st in 2012 as a basketball player.
Did you know?
Kayaks are actually being used and not canoes in this category.
Find out more about Canoe Sprint - http://results.paralympics.channel4.com/paralympic/canoe/index.html
Wheelchair Tennis
Serving up a fast paced match is wheelchair tennis. Athletes get two bounces before they need to return the ball and the second bounce can be outside of the court. Having a push of the wheelchair while serving is a foul so athletes have to be careful and stay stationary whilst serving.
Japan's Shingo Kunieda will be looking to add to his honours by winning the singles title for a 3rd time while GB's Gordon Reid will aim for Gold as he continues to build on his success of winning Wimbledon.
Did you know?
Esther Vergeer, a retired Dutch wheelchair tennis player, was unbeaten for 10 years and won 7 Paralympic Gold medals.
Find out more about Wheelchair Tennis - http://paralympics.channel4.com/highlights/wheelchair-tennis-guide-rio-2016