Paralympics Part Three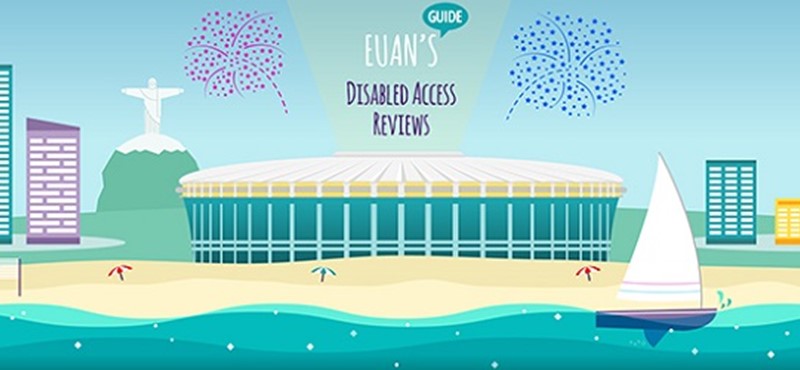 Here's our final instalment of ones to watch in the remaining few days of the Paralympics! It's time to enjoy the final medal events and to sit back and marvel at the closing ceremony. This is what we'll be watching this weekend!
Day 9
Football 7-a-side
A sport mastered by the Netherlands, Football 7-a-side is played by ambulant athletes who have cerebral palsy or brain injury. There's no need to explain the offside rule in this game, as it doesn't exist! You can follow the Bronze Medal Match with Netherlands up against Brazil from 6pm; and the Gold Medal Match which will see Ukraine take on Iran at 9pm Friday 16th September on Channel 4.
Did you know?
Edinburgh was the first city to host a 7-a-side international tournament in 1978. This was before it was introduced at the Paralympic Games in New York, 1984.
Goalball
If you're staying up to watch the Gold Medal Matches this evening, it will be worth the wait! In the Women's Tournament, Turkey face China; and in the Men's it's the USA up against Lithuania in this fast-paced game. Players can throw the ball up to speeds of 60mph, so you wouldn't want to get in the way of a Goalball…only, that's the point of the game! Players must defend their net with their bodies, and tactile lines along the court guide athletes to assist with orientation. Bronze Medal Matches start at 5.30pm, followed by Gold Medal Matches at 10.30pm Friday 16th September on Channel 4.
Did you know?
There are no cheers or applauses at a Goalball match as the arena must be silent during play. This is to allow visually impaired players (the only classification in this sport) to hear the bell inside the ball.
Boccia
A firm favourite at the Paralympics, Boccia is a simplistically wonderful sport! The aim of the game is to get your ball closer to the target ball than your opponent. Each team has six balls, either red or blue, and the target ball is white. Boccia's second day of medals is set to run from 2pm until late at night on Friday 16th September on Channel 4.
Did you know?
Boccia balls are filled with plastic granules to stop them from bouncing on the court.
Day 10
Football 5-a-side
A gripping team sport played by visually impaired athletes, Football 5-a-side first appeared in Spain in the 1980s. Brazilians are strong in this sport which consists of two teams of four plus a goalkeeper on each side. Players all wear eye shades to ensure a fair competition, but the goalkeeper is the only team member who can be fully-sighted. It's Iran up against Brazil in the Gold Medal Match on day ten! British viewers can watch it at 9pm 17th September on Channel 4.
Did you know?
Players are guided by the noise of a bell inside the football!
Sailing
Look out for three medal events for Sailing today! Each event has one, two and three sailors per boat for what looks to be an edge-of-your-seat afternoon of racing on Saturday. British viewers can watch the medal races from 4.05pm 17th September on Channel 4.
Did you know?
The two-person SKUD event is the only Sailing event which must have at least one female on board.
Day 11
Wheelchair Rugby
Affectionately, or terrifyingly, known as 'murderball'; Wheelchair Rugby was invented in the 1970s in Canada as an alternative to Wheelchair Basketball. Teams are mixed in murderball which is dominated by US and Canadian athletes who always put on a thrilling performance. This is Euan's top pick for the Paralympics – so he'll be tuned in on Sunday afternoon! The matches start at 1pm Sunday 18th September on Channel 4.
Did you know?
The ball used is white and exactly the same size as a volleyball.
Sitting Volleyball
It's the Men's medal matches today, and it promises to be an exciting afternoon for Sitting Volleyball fans! The sport came from the Netherlands back in the 1950s, and each team can have six players, including a defensive team member called a libero. The majority of Sitting Volleyball athletes are amputees. You can follow this event from 1.30pm on Sunday 18th September on Channel 4.
Did you know?
The game is actually a combination of Volleyball and Sitzbal, a German game.
Closing Ceremony!
We can't believe it's the final weekend of Paralympic action! We've loved cheering on athletes in Rio this year and couldn't be prouder of the GB Paralympians making their way back to Britain this week. Sunday evening will be a treat as Rio closes the games with a spectacular finale…Make sure you catch it on Channel 4 at 10pm!
Keep up to date with all the latest highlights on Euan's Guide >>