Press Release: Accessible Edinburgh Festivals Award 2018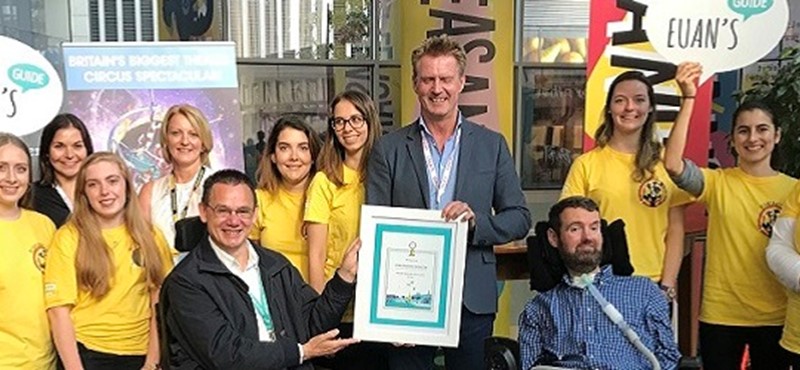 Press Release
Disabled access charity praises Edinburgh festivals for progress in 2018
Local charity founder Euan MacDonald visits winners of the Accessible Edinburgh Festivals Award in recognition of efforts to improve access and inclusion for disabled festival-goers.
The charity, Euan's Guide, and its Ambassadors have observed improvements to access provision while enjoying the city's summer festivals this year. Now in its third year, the Accessible Edinburgh Festivals Award celebrates the accessibility and inclusivity of venues associated with Edinburgh's major festivals.
The 2018 winners have been announced as the Edinburgh International Book Festival (Best Pop-up Venue), the Edinburgh International Conference Centre (Best Venue) and the Edinburgh Festival Fringe Society (Spirit of Inclusion Award).
Euan's Guide praised the Edinburgh International Book Festival on their third consecutive win for installing a pop-up Changing Places toilet, introducing more signed and captioned performances and for their invisible disability badge scheme.
The Best Venue winner, Edinburgh International Conference Centre, has demonstrated good overall accessibility and an excellent welcome to visitors with access requirements.
A huge accolade from the charity is the Spirit of Inclusion Award. This was presented to the Edinburgh Festival Fringe Society for the work they have done to improve access to the world's largest arts festival. Euan's Guide commended the Fringe volunteers, adoption of the Welcome App at Box Offices, accessible viewing spaces at street performances, sensory backpacks and the behind the scenes work that has been done with live music charity Attitude is Everything. The return of the pop-up Changing Places toilet was also praised.
Paul Ralph, Access and Inclusion Director at Euan's Guide said:
"Once again it is great to see Edinburgh's Festivals raise the bar on their welcome for disabled people, their friends and families. Particularly exciting this summer has been the focus on invisible impairments and initiatives like the Book Festival's badges for folk requiring a little extra help, the amazing sensory backpacks from the Fringe Society and the Easy Read publications.
On the access front it was exceptional to see both the Fringe Society and Book Festival provide Changing Places Toilets making such a difference to so many people and families.
My favourite 'discovery' this year has to be the magic carpets at the street performances. A simple yet fabulous way to provide dedicated viewing spots for wheelchair users and others who might not otherwise see the street performances."
Sophie Moxon, Executive Director of the Edinburgh International Book Festival said:
"We aim to make the Book Festival inclusive, accessible and welcoming to all our visitors, and are continually looking to improve not only what we offer, but also the way we communicate this. We are thrilled that Euan's Guide has recognised the changes we have made this year. Thanks to the support of Players of People's Postcode Lottery we are now able to offer our visitors a Changing Places Toilet, events in the programme for adults and children with Learning Disabilities and more BSL interpreted and close captioned events. We have also developed an access guide in print and online to assist new visitors to ensure that everyone has the best possible experience at the Book Festival."
Shona McCarthy, Chief Executive of the Edinburgh Festival Fringe Society said:
"Removing barriers to attending the Fringe, so that anyone who wants to take part in this amazing festival can, is a key priority for the Fringe Society. We are thrilled to receive the Spirit of Inclusion Award from Euan's Guide for the initiatives we have introduced to improve accessibility at the Fringe. Over the last two years, 33 Fringe venues have completed our Venue Access Award, developed in partnership with the charity Attitude is Everything. The award provides venues with a minimum standard of accessibility to aim for and offers different levels of achievement. In 2018, we placed accessibility at the heart of the redevelopment of the Virgin Money Street Events, introducing dedicated viewing areas for those with access needs, fully accessible stages, BSL interpreted performances, and sensory backpacks for children and adults on the autism spectrum. While there is always more work to be done to make the Fringe as accessible as possible, it's an honour to be recognised by Euan's Guide for the work that we have done to date."
Marshall Dallas, Chief Executive of the EICC, said:
"Euan's Guide is one of the very finest examples of how impactful social enterprises can be, it is also one of the most forward looking organisations in Scotland and this award is a massive privilege for myself and the team. It is it really important to us that everyone attending events at the EICC has an equally enjoyable and fulfilling experience, regardless of disabilities. To that end, our whole team has undergone disability awareness training, under guidance from Euan's Guide. We hosted the Rehabilitation International World Congress in 2016, and we still remember not only what a great event it was but also the very memorable and powerful address from Euan MacDonald. Our vision at the EICC is to create an environment that inspires ideas which change the world, and we constantly strive to be one of the most socially-responsible conference venues worldwide. We have the utmost respect for the change that Euan, his sister Kiki and the rest of the Euan's Guide team are making in this country and further afield."
-ENDS-
Notes to editors
For media information contact press@euansguide.com.
Download photos here:
https://www.dropbox.com/sh/rxynez1w4spf22u/AAC_eeT4j-0NxRYINmsis09pa?dl=0
About Euan's Guide
Euan's Guide was founded in 2013 by Euan MacDonald, a power chair user with Motor Neurone Disease, and his sister Kiki when they were looking for recommendations on accessible places to visit. The website features thousands of friendly and honest disabled access reviews and listings in the UK and internationally.
Euan's Guide is an award-winning charity which has been endorsed by many high-profile people including author JK Rowling and the late Professor Stephen Hawking.
Stephen Hawking said Euansguide.com makes "a huge difference for people across the UK, giving them a reliable source of information to help plan their leisure, personal and business activities".
Author Ian Rankin, parent of a young adult wheelchair user, described Euan's Guide as "Trip Advisor with wheels on".