Press Release: Wellcome Collection recognised as disabled access charity's first Venue of the Year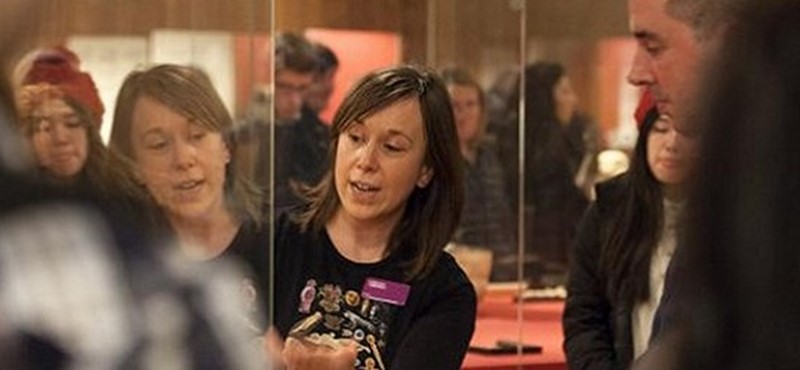 Wellcome Collection recognised as disabled access charity's first Venue of the Year
Scottish charity founder Euan MacDonald has named London's Wellcome Collection as Venue of the Year in recognition of its efforts to welcome disabled visitors.
The charity, Euan's Guide, is described as the 'Trip Advisor for disabled people' and makes it easier for disabled people to find great places to go. This is the first year that the charity has presented a dedicated award to a venue that has gone above and beyond to welcome disabled visitors.
The Wellcome Collection is 'the free museum and library for the incurably curious' and is committed to publicising its accessible events on the Euan's Guide website ensuring the information reaches disabled audiences. Upcoming events in 2019 include speech to text 'Walking with Ghosts', BSL 'Inside the Asylum' and an audio-described object handling session 'Shrinking Body Parts.'
Visitors who have reviewed the museum and library on Euan's Guide have praised the automated doors, staff assistance and spacious platform lift. Euan's Guide Reviewer of the Year 2017 said its accessibility was 'excellent.'
Euan MacDonald, Co-Founder of Euan's Guide said: "Since launching Euan's Guide five years ago, I've had the great pleasure of reading thousands of access reviews written by disabled people all over the UK and beyond. It now feels apt to extend our appreciation to the venues that those people have recognised in their reviews, and to those venues who have worked with us to make access easier for disabled people over the years. I am delighted that the Wellcome Collection in London is receiving the Venue of the Year award in 2018, and I look forward to seeing which curiously accessible events they hold in the future."
Orla O'Donnell, Access Lead, Wellcome Collection, said: "Wellcome Collection is delighted to receive this award and would like to thank Euan's Guide for this recognition. Wellcome Collection is open to all, and we want everyone to be able to access our programme, our collections, and not least our building in a way which works for them. We're proud of the work we've done, but we continue to find even more ways to improve so that we can make sure we're giving our visitors the best possible experience."
The regional winners of the award were The Scotch Whisky Experience in Scotland, Belfast Lough Sailability in Northern Ireland, and Folly Farm in Wales.
Gillian Beaton, Business Development Marketing Manager at The Scotch Whisky Experience said: "We opened our doors 30 years ago with the aim of welcoming the world to discover Scotch whisky with us. Scotch can be seen as an exclusive product, but our passion has always been to make its discovery as inclusive as possible, blowing away the myths and stereotypes. We offer 20 languages, welcome family groups and of course want to be as physically accessible as possible. Each of our visitors is an individual and we want every single person to feel special making sure that we have thought about their needs and designed them into everything we do. The launch of BSL and ASL in 2018 was the fruition of a great project which not only brought the sign languages to the tour, but also formed many new relationships and friendships along the way."
As well as this new award targeted towards venues, Euan's Guide continues to honour an exemplary Reviewer of the Year. The Reviewer of the Year award 2018 has been presented to Surrey reviewer, Liam Dwyer, for his informative and thorough reviews of his travels to Barcelona in 2018. Liam's reviews feature video footage which demonstrate accessibility for powerchair users abroad, an effort admired by Euan who is also a powerchair user.
As part of its efforts to drive change, the charity is once again running its annual access survey this December to address the lack of information that exists about disabled people's experiences. The Access Survey is the longest-running survey of its kind in the UK and is cited in research and reports in the fields of access, urban planning and culture. Euan is encouraging all disabled people to share their thoughts in the access survey this year. To take part, go to: www.euansguide.com/survey.
- ENDS -
Notes to editors
For media information contact Eve Smith on 0131 510 5106 or email press@euansguide.com.
About Euan's Guide
Euan's Guide was founded in 2013 by Euan MacDonald, a powerchair user with Motor Neurone Disease, and his sister Kiki when they were looking for recommendations on accessible places to visit. The website features thousands of friendly and honest disabled access reviews and listings in the UK and internationally.
Euan's Guide is an award-winning charity which has been endorsed by many high-profile people including author JK Rowling and the late Professor Stephen Hawking.
Stephen Hawking said EuansGuide.com makes "a huge difference for people across the UK, giving them a reliable source of information to help plan their leisure, personal and business activities."
Author Ian Rankin, parent of a young adult wheelchair user, described Euan's Guide as "Trip Advisor with wheels on."