Reviewer Story: Accessible Glamping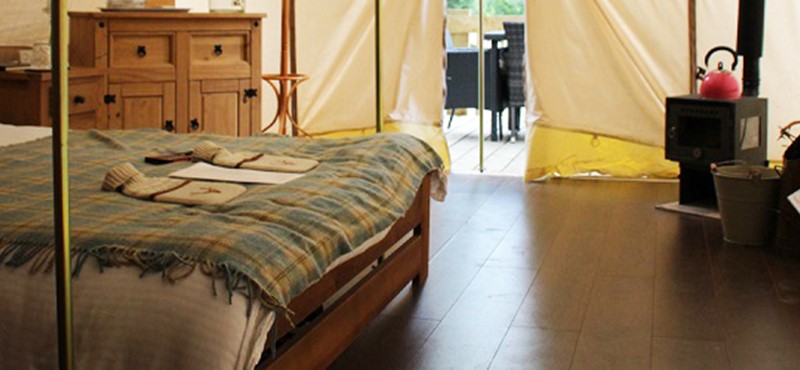 Have you ever tried glamping? This year Glampotel at Dundas Castle have unveiled a new Canvas Cottage to offer a 'wheelchair accessible glamping experience' for an outdoor getaway. Wren Canvas Cottage has a spot beside a private loch and is reached by a wooden ramp to a 4ft wide door; and because this is glamping, the Canvas Cottage features an ensuite bathroom with a shower seat and hand rails. Intrigued, blogger and Euan's Guide reviewer Emma Muldoon packed a bag for a night to find out more!
Accessible Glamping at Glampotel Dundas Castle
I love the feeling I get when travelling somewhere new especially when it involves something a bit different and unique. That's certainly how I'd describe my first experience of glamping. While it was both different and unique it was also fun, relaxing and somewhat difficult at times.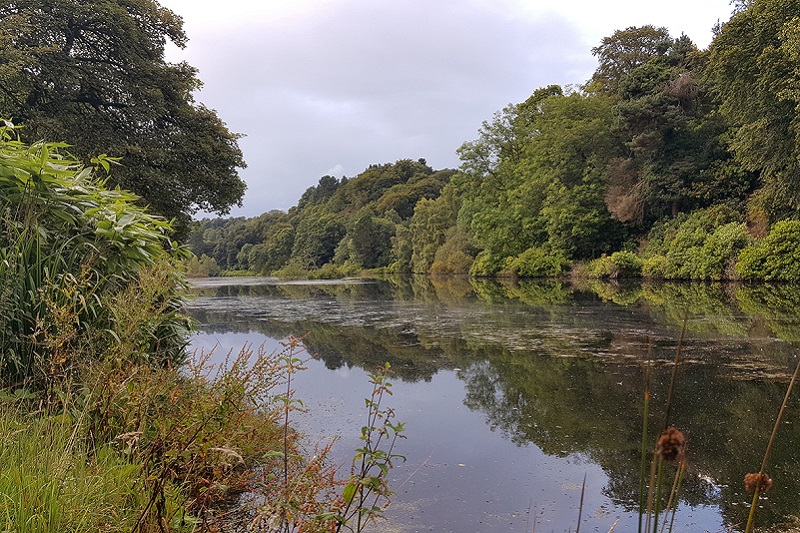 Photo: The private loch at Glampotel.
I also love the outdoors and as a wheelchair user, I've always assumed camping was a no-go. The number of obstacles would completely outweigh any enjoyment in my opinion. Then I was given the chance to try glamping in a wheelchair accessible canvas cottage (tent) at Glampotel Dundas Castle and I was instantly intrigued. Without hesitation, I accepted the offer.
Glampotel Dundas Castle is set within the beautiful grounds of Dundas Castle and offers all the benefits of being outdoors while maintaining all the comforts of a luxury hotel. Only a short 10 minute drive from the new Queensferry Crossing and a short drive from Edinburgh, it is a great base for exploring both sides of the Forth.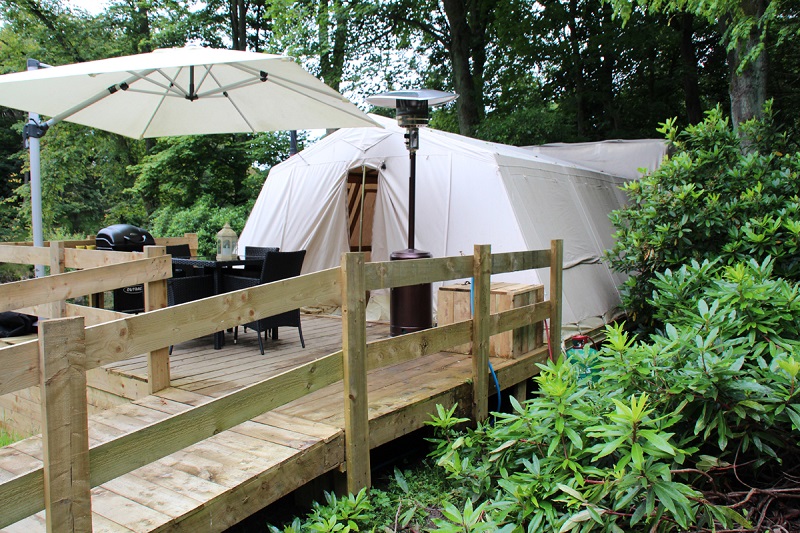 Photo: Wooden ramp and patio outside Wren Canvas Cottage.
As soon as we drove into the glampsite we were met with the lovely private loch. All ten canvas cottages, each individually named, run alongside the loch with ducks, swans, and other wildlife.
We spotted the accessible tent straightaway (the wooden ramp might have given it away) and quickly parked the car in the parking bay. This area was gravel which was manageable with support in my powerchair but I'd imagine some people may find it difficult. The path running alongside the loch was tarmac and accessible.
I was excited to look inside our tent as I rolled up the ramp onto the private patio area. As I looked inside I was taken aback with how spacious it was. It was nicer and bigger than a lot of hotel rooms we've stayed in. So far glamping was looking good.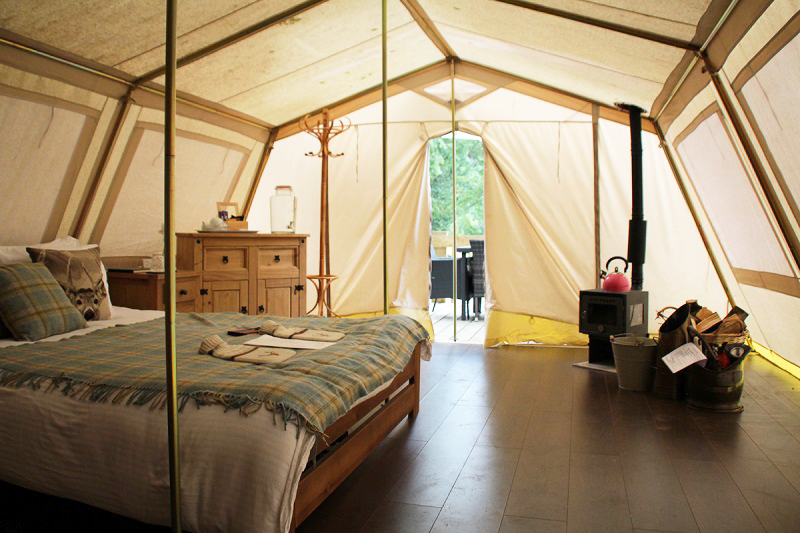 Photo: Inside Wren Canvas Cottage.
There was a large wooden bed, which was warm and comfortable thanks to the lovely blankets and hot-water bottles. The bed was lower than a standard bed making wheelchair transfers easier. There was even space underneath if a portable hoist is required.
The tent also features a wood burning stove with essential supplies including a basket full of logs. As well as a chest of drawers filled with everything needed to cook and enjoy a meal, from cutlery, crockery, pots and pans, utensils and glasses. A kettle with a selection of tea, coffee, and hot chocolate was also supplied.
I was pleasantly surprised by how spacious the en-suite bathroom was. It had a hot water shower, wash basin and eco-friendly toilet as well as fluffy towels and biodegradable toiletries.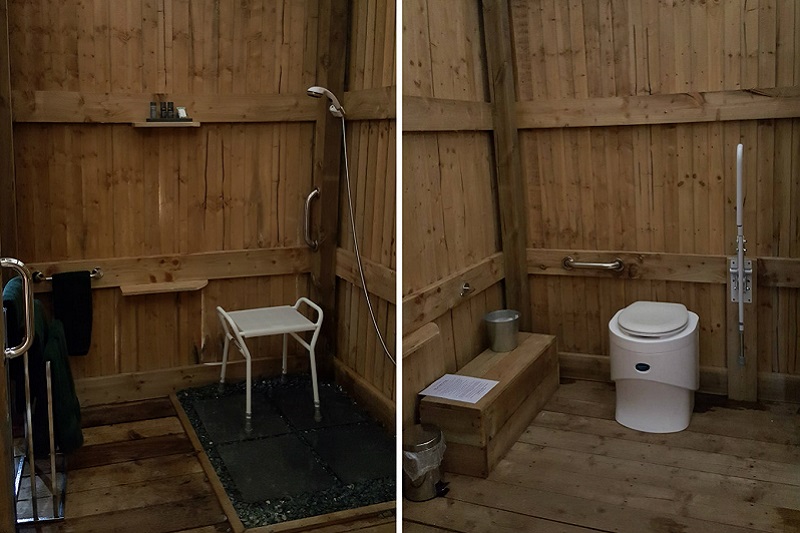 Photo: Ensuite bathroom.
We couldn't wait to get the BBQ going and tuck into the delicious hamper, provided from the local farm. We opted for the vegan hamper and were delighted that it was filled with apple juice, orange juice, almond milk, raspberry jam, pancakes, fruit salad, Mexican quinoa, lazy day shortbread, rosemary and garlic olives, crudities and vegan hummus.
All of this provided a fantastic basis for our vegan BBQ and breakfast, which we enjoyed outside on our private decking under the warmth of the patio heater. It was one of the most tranquil meals we've had in a long time with a stunning view.
We sat outside for hours even when it rained as we were protected by the large parasol. Eventually, when it was dark we headed inside to cosy up by the fire and light some candles. As there was no electricity we had to rely on candles and solar lighting, which didn't give off much light and had us in almost darkness.
The low-key lighting made using the bathroom tricky to manage at night. Perhaps not so good for guests with mobility and visual impairments.
There are many benefits to having no electricity particularly on an outdoors trip like this. A few of those benefits being disconnecting from the online world, getting back to nature and embracing the simple things. However, as much as I love all of those things, the lack of electricity can be an issue for disabled guests needing to use or charge mobility/medical equipment, such as powerchairs, like myself.
Thankfully I had fully charged my wheelchair the night before and as I was only glamping for one night I didn't need to charge it during my stay. It's important to bear this in mind particularly powerchair users staying longer and people who require medical equipment. A solar power USB power pack to keep mobile phones and other electronic devices charged is supplied in the tent.
Despite the lack of electricity and low-key lighting, my first glamping experience was enjoyable. The location is beautiful and definitely allows you to relax. The hamper was lovely and I enjoyed having space to manoeuvre my wheelchair inside the tent without feeling restricted. Glamping gives the best of both worlds: camping and a hotel stay. However, it's important to consider whether the accessibility of the tent and having no electricity will meet your needs before trying glamping.
Do you love camping or glamping? Share your experiences on Euan's Guide! Write a review >>
Locations: Dunfermline