Roundabout – A flatpack touring theatre with disabled access!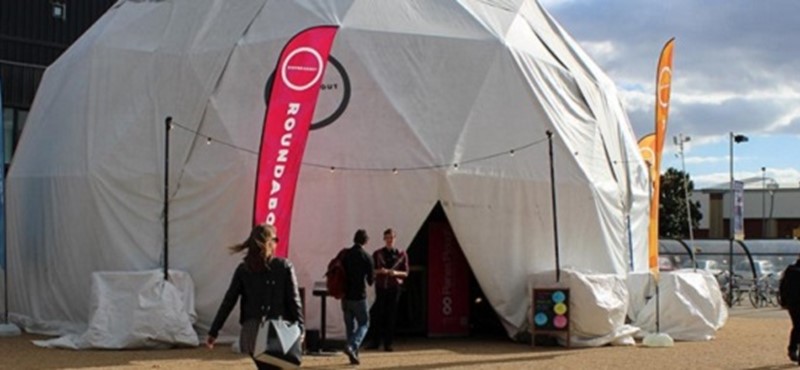 Imagine if you lived somewhere that didn't have a theatre? Maybe you do! That's why Roundabout was created, and it's 'the world's first pop-up, plug-and-play theatre' built by theatre company Paines Plough. We love the concept, and we're excited for Roundabout to make its way towards our corner of the country for the Edinburgh Fringe Festival in August. Jack Heaton from Paines Plough tells us a little more about Roundabout and its accessibility:
Where is the most unusual place Roundabout has popped up?
That's a hard one! Roundabout has popped up in warehouses, next to lakes, in parks, in carparks, on housing estates, on a university campus and even outside the Southbank Centre. Anywhere with flat ground is fair game. And even if it's not flat we can put down decking.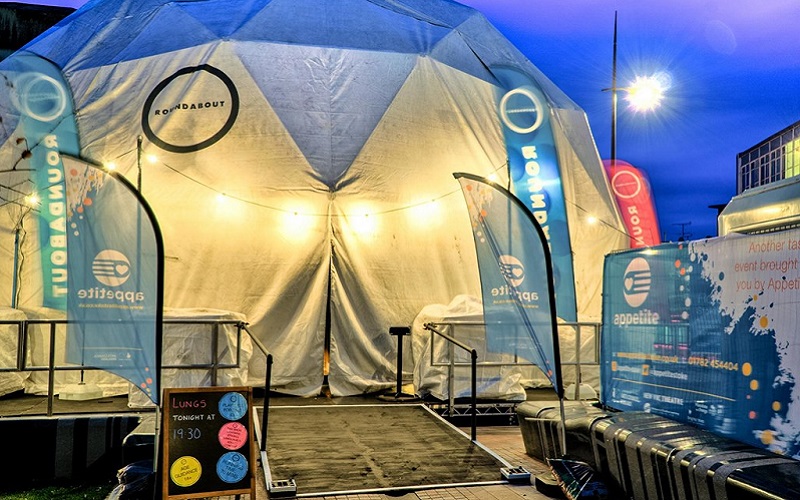 Photo: Ramped entrance to Roundabout.
Does the weather ever affect your Roundabout performances?
Rain or shine performances go ahead in Roundabout. In nearly four years of touring Roundabout we've only ever had to cancel one performance due to the weather. This was due to high wind speed on the seafront in Brighton. If the wind speed gets above 35 mph then we may have to take the decision to cancel the show.
Can you tell us a bit more about the atmosphere inside Roundabout? Is the stage in the centre or at the front? Is it very dark or does light make its way through the sides of the tent?
The stage is right in the middle of Roundabout. As you enter you'll cross the stage to take your seat. Every seat is the best seat in the house. You're never further than 3 metres from the action. Everyone has a great view.
The seating is very comfortable with backrests and cushions on every seat. We have 168 seats. One of these is always used by an usher.
The tent blocks out nearly all the natural light but the entrances are well lit and the auditorium itself is lit by 628 individual LED lights. These can be programmed to a variety of colours and intensities.
What can wheelchair users expect when attending a show inside Roundabout?
Roundabout is a fully wheelchair accessible venue. We can take out a row a of seating on each of the three side to accommodate wheelchair users. This means up to three wheelchair users can see a show in Roundabout at the same time. Companions of the wheelchair users will be provided with the seats adjacent to the wheelchair space. As with every seat in Roundabout there is a clear view of the stage.
We ask that wheelchair users inform the Box Office 24 hours before attending so we can be sure to have the wheelchair space in place for their arrival.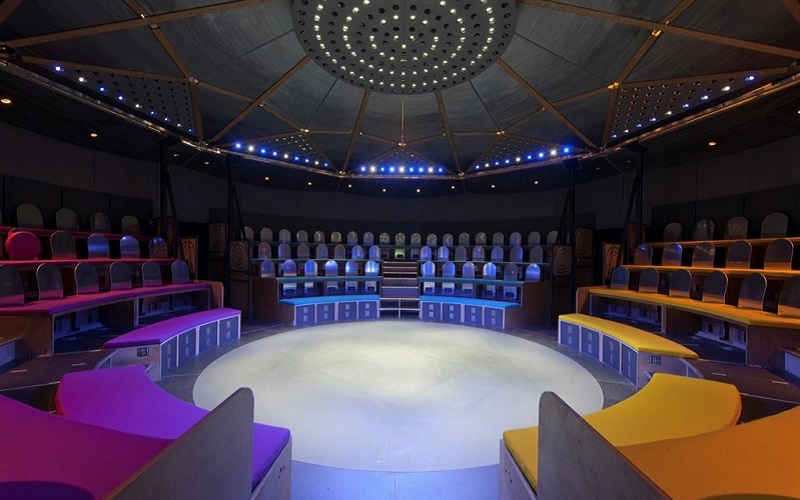 Photo: View of the stage inside Roundabout.
You'll be at the Edinburgh Fringe this August! Where will Roundabout be and what can festival-goers look forward to this year? Do you have a programme of accessible events?
We'll be in Summerhall for the fourth year in a row. Roundabout will be in the Summerhall Courtyard – there is step free access to the courtyard on the right-hand side of Summerhall as you look at it. Once in the courtyard you can find us down the alley on the left-hand side of the Royal Dick.
Roundabout will host 9 shows a day for 24 days. More than 200 productions. That's 300 hours of top notch entertainment with over 36,000 tickets available. You can read about all of the shows here.
All shows are wheelchair accessible and have a hearing loop available.
'Out of Love', 'Black Mountain' and 'How to be a Kid' (a family show) will have their entire runs closed captioned.
'All we Ever Wanted was Everything' will be closed captioned on 9, 16, 23 August.
'Lemons Lemons Lemons Lemons Lemons' will be closed captioned on 9, 12, 16, 18 August.
'Sugar Baby' will be closed captioned on 7, 13, 14, 21 & 27 August.
'Manwatching' will be BSL interpreted on the 12 August.
What's next for Paines Plough? Are there any plans for making Roundabout and your shows even more accessible?
We'll be taking Roundabout on tour around the country, we'll be calling at Salford, Kendal, Margate, Lincoln, Darlington, Stoke-on-Trent, and Poole. At each stop we'll have slightly different schedules but Roundabout will always be wheelchair accessible and have the hearing loop available. We're hoping to close caption as many of the tour stops as we can. We'll be sure to upload the events to Euan's Guide!
We're striving to continue making Roundabout, and our wider programme, more accessible. We have trialled both relaxed performances and audio description in Roundabout – we're still working on making them the best they can be.
Going to see a show at Roundabout?
If you've got tickets to a show at Roundabout, why not leave this pop-up theatre a review on Euan's Guide? Write a review >>