Rowan James: On punk hip-hop inspired poetry, labels and Ipswich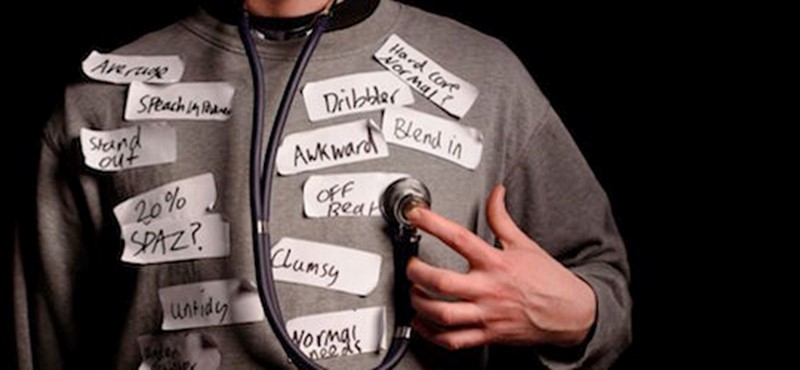 Fringe Feature: Poetry
The worlds of poetry and beat-boxing collide as performance poet, Rowan James, makes his debut Fringe appearance alongside beat-boxing extraordinaire Marv Radio in his thought-provoking performance, 'Easy for you to say'.
How would you describe what you do for people who have never seen your act before?
I am a punk hip-hop inspired performance poet. My work often has flashes of humour and social commentary, ranging from quick-fire delivery to more lyrical and reflective moments.
 
My show, 'Easy For You To Say', reflects this within its poetry, but with the added dynamic of my co-performer, the incredibly versatile and talented Marv Radio. Marv is known for his beat-boxing skills (he's been UK Beatboxing champion), and he uses his loop pedal and vocal chords to accompany me. The show is an exploration of the use of labels and the social construct of normality within society.
What inspired you to begin using poetry?
For me it just started happening. It's something I've done from around the age of fifteen, and I used to practice by performing to friends really. It was long time before I started gigging. I guess I always struggled to put my point of view across or to really communicate my thoughts and feelings, so poetry was my way of doing this, using rhyme and word play. But I spent years defining my style.
Was there a particular influence or poet that got you really interested?
It all started when I heard John Cooper Clarke on Radio 4 during a car journey across the Pennines, and thought yeah I could do that. Which was an unusual feeling for me!
 
I also went to a charity performance night with lots of different acts, and one of my parent's old friends was a punk poet called Martin Cooke. He got on stage and pretty much closed his eyes, leaned himself against the mic and delivered in a deep Bradford accent this rhythmic quick fire poetry. The audience was silenced and absolutely enthralled. That proved to me it could be done!
In your opinion, why do people think it's so important to blend in? When did it become important to you to voice that embodying difference is a good thing?
People need people and we all, I think, deep down want to be accepted as individuals. I think my opinions and work has always reflected and promoted a belief in equality. For me, I felt that I had a valid voice and opinion, due to knowledge and experience gained working in special education and being confronted with discrimination through people's perceptions of me. For me, I always tried to distance myself from being described as disabled, it still doesn't really fit with how I see myself, but I think really that's true of almost everybody who is defined by the things they find difficult. I felt fraudulent describing myself as disabled. However, during this process I realised that on some level by me distancing myself I was kind of reinforcing the negative ideas around disability.
Have your own perceptions of labels and disability changed since you started performing?
My perceptions have not exactly changed, but definitely my understanding has broadened. I worked within special educational needs for a number of years, so already I had built a point of view around labels from that, as well as through my own personal experience. But my understanding of how complicated it is and different people's opinions is definitely greater than it was.
 
Since beginning this project I have tried to research some of the issues, to build in my mind a picture of the different factors and how they connect. This has been mainly through reading articles and listening to people's perceptions and stories. It also seemed the right time for my project as there seemed to be more people voicing some of my concerns.
 
The language of disability is very complicated, different countries use terms in different ways. I come from an educational background and have always felt a good guideline when talking about people is to mention the fact they are person first and an illness, disability or condition second. When I began I was passionate to share this, and during my career I had always found people in general had hidden depths and talents that should be celebrated, however even there I found I had be careful about the subtleties in how I expressed this.
 
I also found it really interesting when I came across an article that explained that the word 'normal' only came into the language in 1840, which suggests that the idea that normality is an innate concept might not be accurate. The more you research the more complicated it is, especially when your discovering people's identities and stories.
What has been your favourite venue to perform in?
That will have to be two venues in my hometown of Ipswich. The Blue Room at McGinty's, which is where I did my first gig, and the Steam Boat tavern.
You share videos of your work online – is there a lot of potential to use technology to share your poetry online? Or do you prefer to engage directly and interact with an audience?
I like both. For example I made this video with my friend Jason Haye. It's something I'm really proud of. I really enjoy using my work in all sorts of ways. I just think that different mediums work in different ways. There are certain poems that work best in a video format. Basically I like both.
Is there anything else you would like to add, or tips you would like to share for aspiring poets?
Write for yourself. Write the poetry that you would like to hear. If you think it sounds good then there is probably something there that others would enjoy. And you're probably your harshest critic, so keep writing. Other than that, just remember if you're performing in some way, you have to find a way to bridge the personal and take your audience with you. It's all about making a connection.
Rowan James will be performing, 'Easy for you to say', at the Edinburgh Festival Fringe from August 23-30 at ZOO Southside (Venue 82).