Striking the right note: Disabled access information at live music venues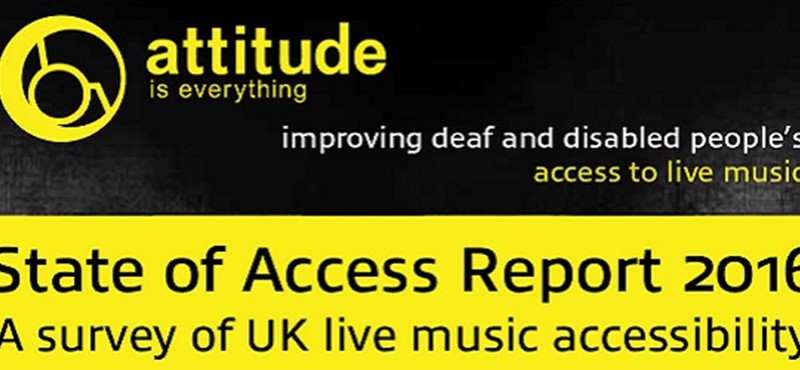 You may have seen #StateofAccess appearing on social media recently to mark the release of Attitude is Everything's latest snapshot into accessibility and inclusion in the live music industry. The charity raises awareness of the varied access requirements of audiences, artists, staff and volunteers; and their biennial report aims to share the real-life experiences of Deaf and disabled people. This year, one of the central themes explored in the report was the importance of access information, with findings similar to those of the Access Survey produced by Euan's Guide and Disabled Access Day in December 2015.
While the Access Survey gathered most of its information from an online questionnaire, the cornerstone of the State of Access Report was Attitude is Everything's mystery shoppers, a dedicated team of Deaf and disabled music fans who attended UK music festivals and venues between April 2013 and March 2015. The major finding of the report was that of the 386 venue and festival websites surveyed, only 2/3 chose to provide disabled access information. This meant that 1/3 of event providers did not advertise facilities such as accessible parking, toilets or step-free access to their venues.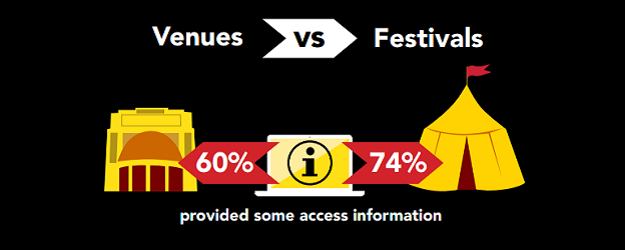 Interestingly, festivals were better at providing access information than fixed venues, and we asked Attitude is Everything if they thought it was the temporary nature of festivals that made them better at information provision, and whether fixed venues should be re-assessing their access information more frequently. They told us:
'There is perhaps more 'default' information provision when it comes to festivals, due to the fact that every attendee requires a substantial amount of prior information. This probably has a knock-on effect on the provision of access information. First-time attendees at venues obviously need some key information, but the demand is perhaps less generally. It would be interesting to find out! We advocate that festivals re-vamp their access information on a yearly basis, and would extend that principle to venues. Our Access Starts Online guidance is designed to be used as an agenda for an access-focussed meeting that could easily be scheduled every year.'
Attitude is Everything also say that disabled access provision is an essential part of customer service, including for venues that cannot offer physical access. They discovered that 60% of respondents in a survey conducted in the North East would be put off considering events that they would otherwise have loved to have attended, simply because of a lack of access information. There were similar findings from the Access Survey 2015, as 54% of participants also avoided going to new places if they couldn't find relevant disabled access information.
'I've often thought about going to events at the venue, but decided against it as there is no information on their website about access' – Attitude is Everything Mystery Shopper.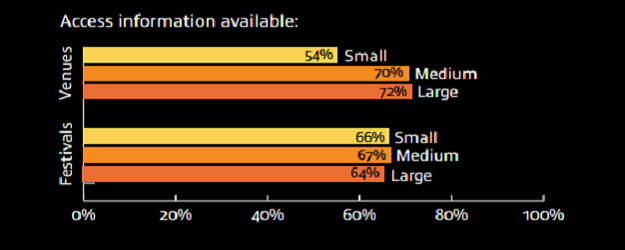 The State of Access Report also found that the size of a venue appeared to have an impact on whether or not they would provide access information. On the other hand, size did not seem to be an influencing factor where music festivals were concerned. Attitude is Everything suggested that smaller festivals might look to mimic the websites and provision offered by their larger rivals; whereas small venues might instead have more reliance on social media and may overlook website maintenance, including information about access provision.
We asked Attitude is Everything what scope there could be for actually using social media to share access information:
'We think that the more channels that are used to promote access at a venue or festival, the better. We would very much welcome access becoming something that is highlighted more visibly via social media. Regular links to access information on feeds would be fantastic.'
It would seem that despite having access facilities and policies in place, many venues or festivals don't actually advertise their accessibility. The State of Access Report found that 88% of music venues had accessible toilets, but only 61% actually advertised them online. This lack of information can greatly affect public perceptions, say Attitude is Everything.
'A lack of access information is very off-putting, as it seems to show that the venue or festival isn't bothered about access needs' - Attitude is Everything Mystery Shopper.
It was different for music festivals where 60% advertised accessible toilets, but only 52% actually had accessible toilets at all public toilet blocks. The importance of accessible toilets was also discovered in the Access Survey 2015 which showed that 71% of people would only be happy to return to a venue if it had a decent accessible loo.
'The music was good. But it was a weekend of high anxiety with the toilet situation. I had to stop drinking liquid because I was scared of not being able to go to the loo' – Attitude is Everything Mystery Shopper.
After producing such a comprehensive report, we asked Attitude is Everything where music venues and festival organisers should begin in their journey to becoming more accessible:
'We believe that access really does start online. Our guided process to create access information gives organisers an opportunity to assess what they are already doing, shout about it, and examine the areas they might need to work on – hopefully with our support! Beyond that, briefing staff on access facilities and disability awareness is a brilliant first step that can have a massive impact'.
The Access Survey 2015 found that 82% of respondents searched for access information on a venue's website more than they did anywhere else. In addition, 70% of participants would be more likely to visit somewhere new if somebody with similar requirements had recommended it to them. Euan's Guide is a good platform to list disabled access information and gather endorsements and reviews that spread the word about your venue's access. Venues are also encouraged to share a direct link to their website's dedicated access page, which can be created with the help of Attitude is Everything's 'Access Starts Online' access information guide and template.
Finally, we asked Attitude is Everything for something positive they felt has come from this year's State of Access Report:
'We are really pleased with the quality of the quotes from Mystery Shoppers that pepper the report. They put the voices of Deaf and disabled people at the heart of our calls for change, examples of fantastic best practice, and ability to support venue and festival organisers to make things more accessible.'
List your disabled access information on Euan's Guide now >>
Read the full State of Access Report >>