Take a hovercraft to the Isle of Wight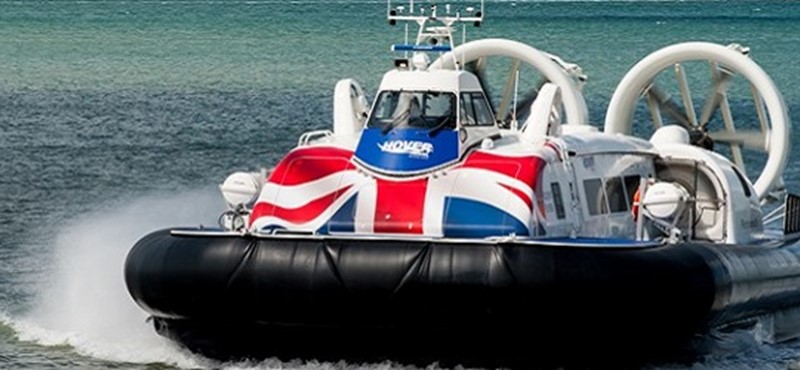 Hovercrafts might sound like something from the future, but you can use one to travel to the Isle of Wight, zipping in and out of boats and ferries on board a public transport hovercraft! We love the concept, and we love what Hovertravel are doing to make travelling by hovercraft as smooth and accessible a journey as possible. Now, we're working together with Hovertravel as part of their commitment to accessibility as they encourage people to review the hovercraft experience on Euan's Guide.
For people travelling by hovercraft for the first time, what's it like?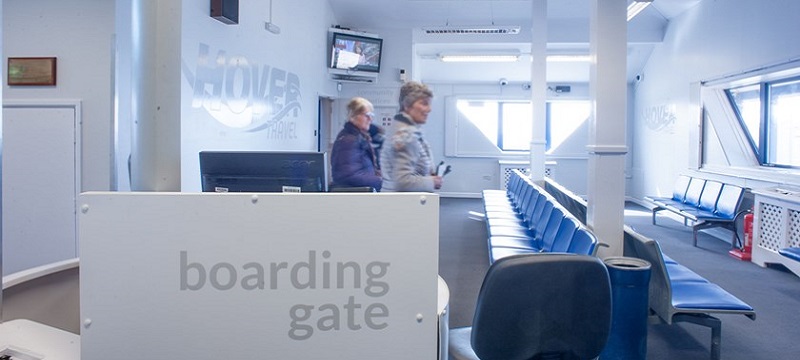 There are several reasons why travelling on a hovercraft is so exciting. Firstly, you are flying, supported by just 1.5 metres of air, so the ride is smooth and very fast. Hovercraft are high speed craft, capable of exceeding 30 knots. The sensation when the craft moves from land to sea is unique and thrilling to experience. Hovercraft are also very easy to manoeuvre, so they can safely weave in and out of the, sometimes dense, traffic on the Solent. Finally, Hovertravel is a bucket-list experience, as it is the only year-round passenger hovercraft service in the world!
Top tip: A hovercraft can accommodate one wheelchair user per crossing. You can reserve your space, otherwise it's first come first serve.
How has the accessibility of the hovercraft and stations evolved since it all began in 1965? Have they always been as accessible as they are now?
The ways to board a hovercraft have changed considerably since 1965, when unsupervised customers were able to clamber in directly from a beach. At that time customers who could not board the hovercraft themselves would have been carried on.
The creation of concrete landing pads at our terminals meant that we could support lifting facilities to transport persons of reduced mobility who were not able to walk up the steps. The use of a hydraulic lift was commonplace from the eighties through to just a few years ago.
Today's craft have a set of steps as well as a ramp and dedicated personnel to advise customers on
how to access the craft.
Top tip: There are safety videos on board with audio, subtitles and a signer.
Can you tell us more about how wheelchair users embark and disembark from the craft?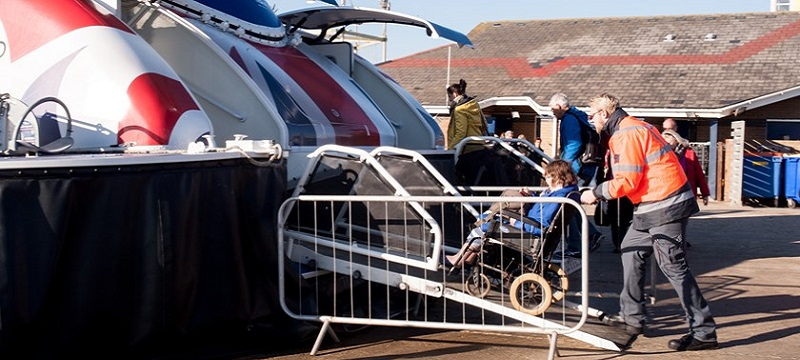 Each terminal has a sign on the floor by the boarding gate to show the exact dimensions of the frontloading ramp (122cm x 72cm), so wheelchairs can be measured by passing over this sign. Wheelchair users can either be pushed or propel themselves up (and down) the ramp to board the craft. There are specially designed locking straps to secure wheelchairs which will be managed by the crew on the craft.
Every shift at Hovertravel has a HoverCare Ambassador who is dedicated to ensuring that the service is accessible to all.
Top tip: Mobility scooters are not permitted to board the hovercraft, however some motorised wheelchairs may board depending on their size.
How do disabled access reviews help you and your passengers?
We love all reviews, and feedback from specialist guides with an expert reputation are crucial to spreading the word about our service. Technology today allows customers to provide ratings and their own opinions, which in turn is highly valued by other people in the community. It is this specific perspective which helps our future passengers and, hopefully, encourages them to try what is an experience of a lifetime. 
Once passengers have arrived, what top three places with good disabled access would you recommend they visit on the Isle of Wight?
Osborne House, Isle of Wight Steam Railway, and Isle of Wight Zoo!
We'd like to say a big thank you!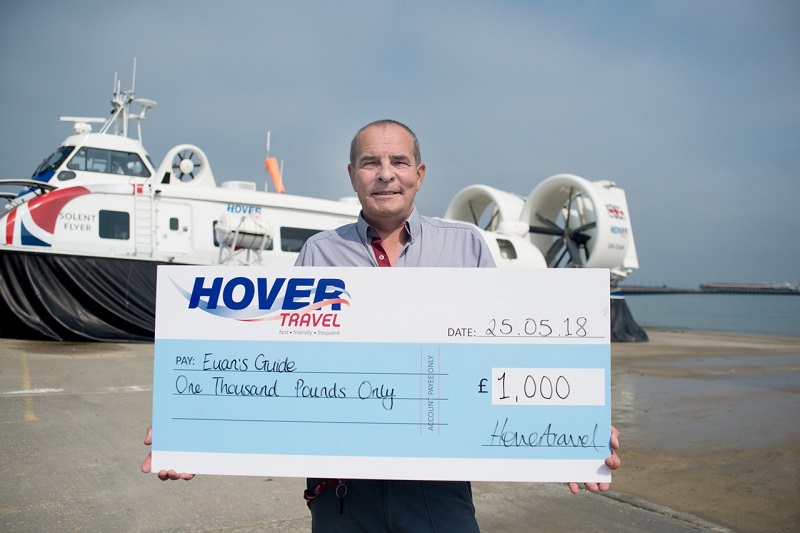 The amazing folks at Hovertravel have generously donated £1,000 to Euan's Guide! We're delighted to be working with Hovertravel as part of their commitment to accessibility, and we can't wait to read more disabled access reviews of the hovercraft experience!
Is a hovercraft ride on your bucket list? You can read more about Hovertravel, including disabled access reviews, here.
Locations: Ryde