The Access Survey 2016 Results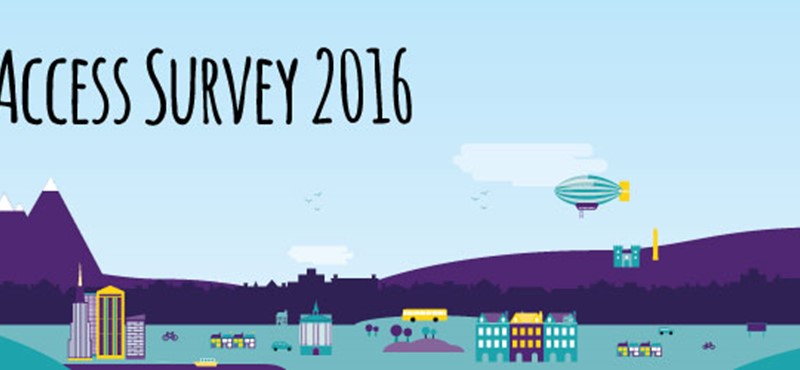 In winter 2016, together with Disabled Access Day we invited you to take part in The Access Survey. It was a chance for disabled people, their families and friends to share their opinions of searching for disabled access information, and to find out what factors influence your decision to visit all kinds of places from cafes and shops to museums and cinemas. While many places are making efforts to improve their provision of access information, the findings have shown that many venues could do more to help disabled people access the information they need.
Why is disabled access information a concern? 93% of participants told us that they have tried to find this information about somewhere before visiting, but that 82% found it to be misleading or inaccurate.

"A general statement like 'we have disabled access' isn't very helpful. One size doesn't fit all."
"Access statements are okay, but more needs to be done to raise awareness amongst disabled people that they exist."
People continue to turn to venue's website as the main source of information regarding disabled access. 90% of participants search a venue's website before deciding to visit, and 50% of respondents will phone the venue directly. 57% of those who took part also told us that they like to search disabled access reviews and listings on Euan's Guide when planning to visit somewhere.

"I find a lot of websites say to call for information about access, of if you're going to the theatre/cinema you have to call to book, but I don't really like using the phone, so I can't buy wheelchair tickets when only a phone number is provided."
There has been a small improvement in accessibility compared to 2015 according to participants, but the number is still too low. Only 35% of survey respondents said they were generally satisfied with the level of accessibility provision they found at various venues.
"Often the problem is just lack of thought or understanding, such as putting a table too close to the disabled toilet door so you can't get in, or putting an advertising board or product display in just the wrong place – really simple things to sort out that don't cost a penny."
"I believe that environmental changes only take the access improvements so far. It's the knowledge and attitude of the staff involved that allows every visitor to have an equal experience. For example, things like knowing how to work the lifts, knowing where the accessible toilets are and knowing how to work the hearing loop are essential."
There appears to be a pattern in the types of venues that participants have found to have good accessibility, and those that could be largely improved. Opinions since The Access Survey 2015 have remained mostly unchanged, although more participants have had better experiences at hotels than previously. Yet, still only 42% told us they found hotels to have good accessibility. Recent disabled access reviews have shown that this can largely be a result of booking experiences, number of accessible rooms, and provision of hoists among other factors.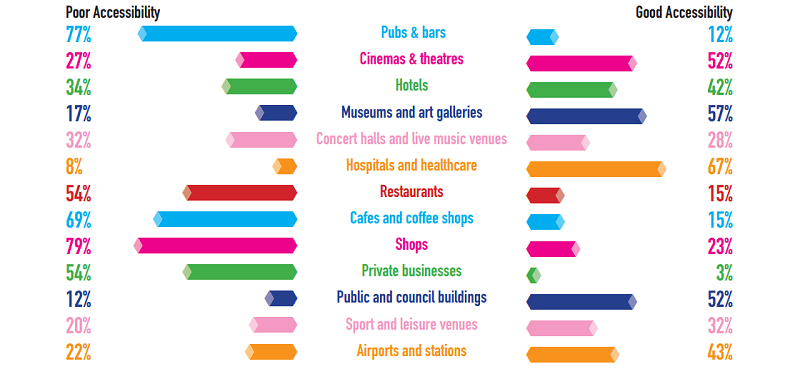 The kinds of places which respondents felt had good accessibility were hospitals and healthcare, public and council buildings, museums and art galleries, and cinemas and theatres. Contrastingly, pubs and bars, cafes, restaurants and shops were generally recorded as having poor accessibility. 77% of participants felt that pubs and bars were inaccessible, and 79% found that shops were difficult to access.
When accessibility is good, 96% of survey respondents told us they would be likely or very likely to return to the venue, and often they are with friends and family when they visit. So, what factors do most people consider before visiting somewhere new for the first time? 87% of respondents were concerned about getting into and around the venue, and 72% wanted to know if there was an accessible toilet.
"I almost never use public transport because it's inaccessible and the promised toilets aren't reliably there."
This opinion was strongly felt among participants, as 66% told us that a lack of an accessible toilet has stopped them from visiting somewhere new.
Did you take part in The Access Survey 2016? Thank you for sending us your responses! Please help us by writing disabled access reviews so that others will know what to expect before visiting somewhere new for the first time. The full results of the survey are available for you to download below.