Top things to take on your travels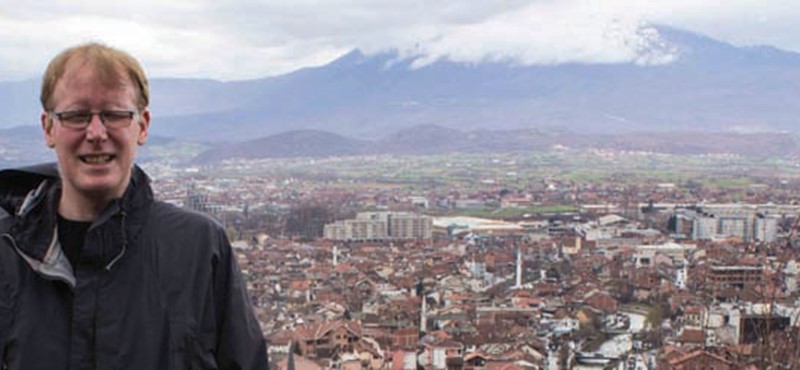 Travel can open our minds to some amazing experiences and new adventures. As a visually impaired explorer and journalist, I like to set aside a bit of time before I hit the road, normally to decide which essentials I should pack, and do some planning.
Planning ahead
I always put together a rough itinerary before I reach my destination. For me this normally takes the form of some guidance notes detailing how I get from where my transport arrives, to where I'm staying for each destination on the trip. The notes will include the address, telephone number, email address and any booking reference details. I tend to include a few lines with some general directions mentioning landmarks along the route to help me get there without too much fuss.
As a backup I'll have the information on my phone, and a GPS location for all transport and accommodation landmarks pre-saved on offline maps. If I don't know a place, or it's very late when I arrive, I'll try to avoid having my phone out on display. More recently I've decided to backup my itinerary, a scan of my passport and travel insurance documents in the cloud. Using a service like Google Drive or Dropbox. It means that I can still access all the crucial information I need if my gadgets are lost or stolen on my trip.
Good guidance
A pair of sunglasses, a peaked cap and a symbol cane are essential if I'm going out in bright conditions. I'll also carry a magnifying glass in case I need it to look at small print on packets, documents or city maps. A compact monocular can prove very useful when trying to read street signs, bus numbers, or electronic displays in transport hubs. One thing that people might not immediately think about, is taking a positive attitude and some confidence when travelling. This helps no end when you need to approach strangers and ask for directions or seek information, particularly if you don't speak the local language.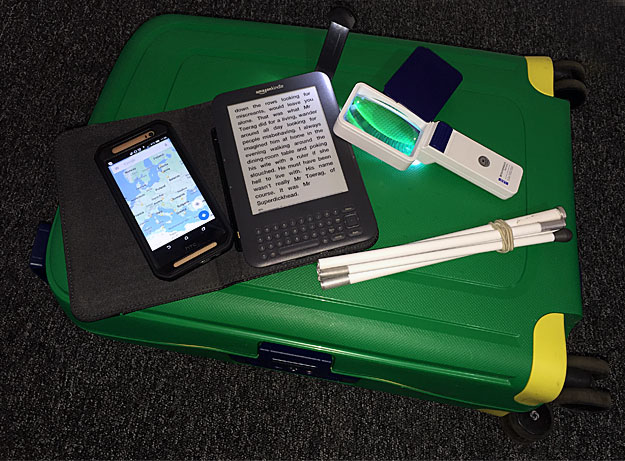 Carrying a pen and some blank paper had been a life saver at times. I remember once being stuck in a bus station in Ukraine where I could find no one who could speak English. I was trying to get a local bus across the border to Slovakia. I was getting frustrated trying to find the bus I needed. Eventually I had a lightbulb moment. I took a pen and piece of paper from my pocket and drew a diagram, showing a bus and some arrows with the name of my current location and the name of the destination. I handed it to the girl in the ticket office, she smiled, and then she wrote down the number four on a small diagram of a bus, name of the bus operator and their desk number I could buy the ticket at. This got me the result I wanted.
Online resources
There are some fantastic online resources which offer great advice. This very website of course should be your first destination. Others I've used include the Lonely planet safe travel advice. I wish I had found this, before I lost all my credit cards, less than a month into my a 6 month trip in 2010. I recently discovered the In Your Pocket website, which offers some great insight into some great destinations across a lot of Europe. When you find a great accessible destination, don't forget to share it with others on Euan's Guide.
Blindly Going
I'm Kevin McLaughlin, a broadcast journalist and digital content producer from Northern Ireland. I've been lucky enough to have visited more than 60 countries. Recent journeys have included some extreme trips through eastern Europe, and two round the world trips in 2010 and 2011. In 2010 I chronicled my first trip in my book 'Blindly Going Who Knows Where', which I'm hoping to publish later this year. In 2011 I detailed a lot of my travel on my blog which you can read at www.blindlygoing.com. I continue to travel, when I get the opportunity, as it's a great passion of mine.