Tourism For All's Top 5 Attraction
Our friends at Tourism for All have recommended their top five accessible attractions. If you have been to any of these attractions, make sure you sumbit a review to Euan's Guide.
1. Eden Project - http://www.edenproject.com/
The Eden Project has won awards for its accessibility, and it's a wonderful, year-round facility that's packed with things to do and see. The project prides itself on providing a brilliant experience for all ages, abilities and backgrounds. With a volunteer scheme to assist those who need a little help, the Eden Project has an all-round creative approach to accessibility.
2. Edinburgh Castle - Euan's Guide Profile
Although the abundance of cobbles can make things uncomfortable for wheelchairs, it's worth it to see this historic landmark up close, plus they are re-pointing all of the cobbled areas to make them more accessible – a huge job! They also have a mobility vehicle to take disabled visitors to the highest point, allowing a gradual descent around the grounds.
3. Chatsworth House - http://www.chatsworth.org/
Chatsworth House is a dream for someone who uses a wheelchair, as everywhere is accessible from the moment you arrive to the moment you leave you feel you have experienced all that the house has to offer the visitor. With the use of a lift, you are able to explore all of the rooms, and once you're done you can peruse the gift shop and have a drink or something to eat.
4. SS Great Britain - http://www.ssgreatbritain.org/
The forerunner of modern cruise liners, the SS Great Britain was the largest vessel of its day, and carried thousands of passengers to Australia at the time of the gold rush. Lovingly restored, it sits in a glass 'sea', under which visitors can walk and view the hull but which protects the ship from further erosion. The site has been made more accessible, and the large funnel has been ingeniously employed as a lift, so that wheelchair users can reach a passenger deck which is full of fascinating detail of the lives led by crew and passengers.
5. National Railway Museum - http://www.nrm.org.uk/
The National Railway Museum in York tells the story of rail transport in Britain and its impact on society. It has won many awards, including the European Museum of the Year Award and is the home of the national collection of historically significant railway vehicles, as well as a collection of other artefacts and written and pictorial records. There are over 100 locomotives and nearly 200 other items of rolling stock on display, all easily seen by wheelchair users. There are even wheelchairs available free of charge at both entrances, with mobility scooters available to rent for a small charge.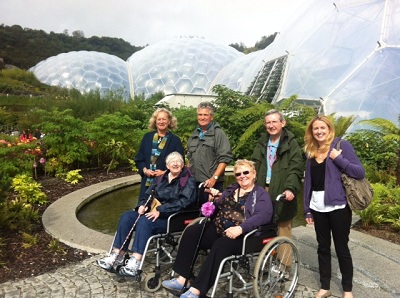 About TFA
Tourism for All UK (TfA) provides information to disabled or older people on accessible accommodation and other tourism services in the UK and at selected overseas destinations. Every year they respond to thousands of people who may need help and support to enable them to take a break they may not have previously believed possible.
TfA is a national registered charity, and its information service is backed by a website, www.tourismforall.org.uk, and supported by a helpline, 0845 124 9971. The aim is to provide lively, inspirational and comprehensive information that encourages people to try new things, see new places, and live life to the full!
As well as accommodation, travel, and attractions, TfA provides information about activity holidays for disabled people; equipment hire; places where care is available; escorts & carer services; and sources of finance towards the cost of a holiday for people on low income.

TfA also helps businesses to become more accessible through a number of different business support services from disability awareness training to discounts on destination audits and accessibility consultancies, with the aim of helping these businesses to become more accessible for everyone.
Tourism for All have very kindly offered membership to Euan's Guide users at a discounted rate. See here for more details.