Unlimited Festival now on!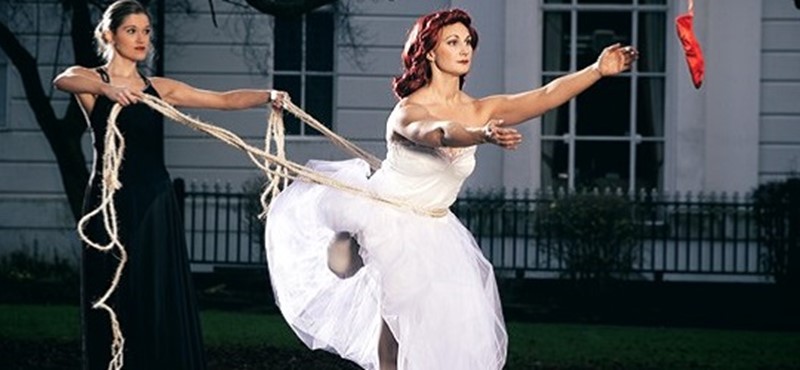 Unlimited Festival at Southbank Centre, taking place 6-11 September, is the largest showcase of work by disabled artists in the UK. It features the work produced by the Unlimited Commissioning programme (Administered by Shape Arts and ArtsAdmin) along with a programme of other events by disabled artists. The festival is now in its third iteration, having debuted in 2012, Disability Arts Online caught up with festival Producer Katie Roberts to discover how access and programming have been improved since the first Unlimited Festival.
How has working on Unlimited Festival differed from other events/festivals you've worked on?
At Southbank Centre we always try to ensure we are offering a varied programme of accessible events within our festival programme, but for Unlimited Festival every event is accessible in as many ways as possible with every event offering either BSL interpretation, stage to text transcription, audio description, relaxed performances and touch tours.
Have there been any particular challenges?
There is an incredible amount of brilliant work being made by disabled artists and the main challenge has been trying to fit as much as possible into our programme.  The Queen Elizabeth Hall and Purcell Room are currently closed for refurbishment which has meant we haven't been able to programme as much work as we would have liked but the brilliant thing about this challenge is that we have been able to programme work onto the Royal Festival Hall stage use this fabulous space in a completely new way. We are really excited to see Claire Cunningham, Sheila Hill and Liz Car's new shows performed in the iconic Royal Festival Hall.
 
How has the relationship worked with Shape and ArtsAdmin?
It has been brilliant working with the teams and Shape and Artsadmin. Their knowledge and expertise has been invaluable. The partnership has been very collaborative with them having input on the programme and supporting us to troubleshoot any issues or challenges our building holds in terms of access.
 
Have there been any unique access initiatives that have been implemented since the first Unlimited Festival?
Following the first Unlimited Festival in 2012, the level of staff training, building awareness and signage implemented changed the way Southbank Centre operated not just for the festival but as an organisation. We have formed an Access Steering Group made up of representatives from across the organisation. Also, we are working with Attitude is Everything to sign up to their Charter for Best Practice.
 
Do you expect Unlimited to attract 'new' audiences or will it be more a case of bringing new works to existing audiences?
We are working to attract a balance of the two. As with all Southbank Centre festivals we are passionate that our programme should reach the widest possible audience. We know from previous festivals that we have audiences very loyal to Unlimited and also those who come to discover something new, be inspired and amazed. We are fortunate to be in such a prominent location in London and we're thrilled that this gives the opportunity for many different audiences to 'bump into' art that they might not have considered before.
 
What are you most looking forward to about the festival?
So much! A cliché to say it but probably the diversity of the programme and the chance to meet such incredible artists. The sense of collaboration is so important to the festival and the buzz you get from being involved in making that happen is such a highlight. There really is something for everyone, from families to fans of comedy, performance art and music. To see people discovering something new is always a thrill and I've no doubt there will be plenty of that during the festival.
 
Why do you think Unlimited (the commissioning programme administered by Shape and ArtsAdmin) is important?
The innovative and exciting work being commissioned by the Unlimited commissioning programme has had a huge impact in increasing the visibility of disabled artists. The volume of work being commissioned by Unlimited has enabled us to programme 3 festivals of work by disabled artists which puts them and their work centre stage. It also is invaluable in helping us reach new audiences as well as shifting perceptions of disabled people.
 
Are there any lasting lessons that you will take from Unlimited in terms of access and programming going forward; for example, developing disabled audiences, an access team or a disability advisory group?
As mentioned, Unlimited Festival has impacted on every aspect of Southbank Centre's work, for the better. The first festival really changed the way we operated, from our staff training and building access to signage and online booking. It's also vitally important that Assisted Performances are programmed throughout the year, not only at Unlimited Festival.
We formed an Access Steering Group that meets monthly and have already seen key improvements across many areas of the organisation, from training for our hosts to access for performances and working with partner organisations to improve access across the site. There is still always more to do and we are working with Attitude is Everything to sign up to their Charter for Best Practice. We have an action plan we are working towards to achieve this. 
Links:
Unlimited Festival at Southbank including accessibility information.
Unlimited Commissioning programme delivered by Shape and ArtsAdmin.
Image credit: 11 Million Reasons
Locations: London