Shielding to Freedom to Shielding Again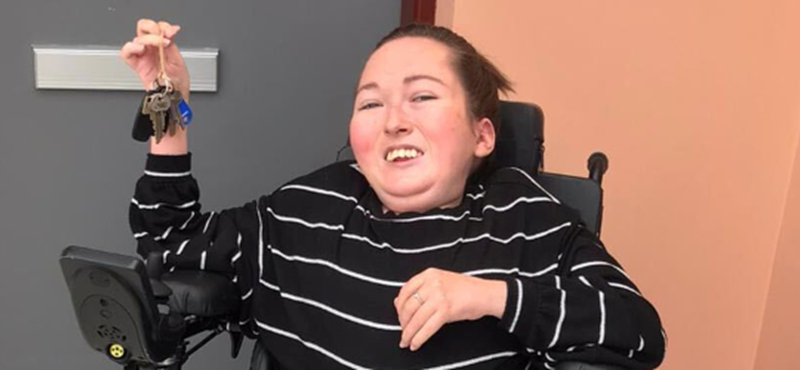 Claire talks to us about what it has been like to shield this time around and how she found tackling a big life change in the midst of a pandemic.
On the afternoon of Saturday the 14th of March 2020, I decided to start shielding because I feared the Covid-19 cases in my area were starting to rise and I needed to protect myself. It was a strange 4 months of staying in the one place and only going for walks in my street, but it was not as bad as I thought it was going to be. I kept myself occupied with my new hobby of cross stitching, stayed connected with people over Zoom and surprisingly didn't buying much online. I was living with my parents, so they made my meals and bought any food I needed.
Then things started to get a little better. Lockdown was lifted, cases were beginning to drop and precautions were starting to come into place which made me feel safer.
I gradually started to visit people at a social distance and go to shops in the evening when it was quieter. Although I was very apprehensive about gaining that little bit of freedom, not just because of Covid-19 still being out there but because I knew we may be back in the same situation again in a few months and I did not know how easy it would be to start shielding all over again. When I started to come out of shielding in around July, I had just been told that I was getting my own flat, which is something I wanted for so long and I couldn't wait to start buying things for it. I think that is what made me keen to go out, the fact that there was a reason for it.
Now we're back in lockdown again, I'm shielding and I'm feeling it more challenging this time around. It could be because of the weather as I'm not getting out as much, it could be because I'm living on my own now with 24-hour care so don't see my parents as much (they're still in my support bubble for essential things) and I'm also trying to organise my flat whilst not visiting shops. Luckily my carers and parents are picking things up for me and I feel safe going out in the car to pick up a click and collect order, plus Amazon has become my best friend.
Moving out during a pandemic hasn't been the best either. My parents were the only people able to clean and decorate my flat, except for joiners and plumbers, which meant things took longer. I didn't get the full orientation on how everything works in my flat as no one can be in the flat when I am here, which has been challenging figuring out how the heating works. Plus, I've not been able to meet my neighbours or to have any family or friends over to see my flat, so it's been a lot of Zoom house tours. It has given me a chance to get settled though and get used to having 24-hour care.
I'm managing okay, but I miss the life I was living the beginning of March 2020. I miss going out to different venues and doing reviews, meeting up with friends, going out for walks without freezing and just generally not being anxious about Covid-19. I'm not going to lie, apprehensive about the vaccine, but I think it's the only thing that's going to bring us back to some normality.
Thank you Claire for your honesty and sharing what life has been like for you. This is part of our Voices of Covid blog series, where disabled people share their stories and raise awareness of topics that are important to them. Please contact us if you would like to take part or find out more.