Staging the Book Festival in a Pandemic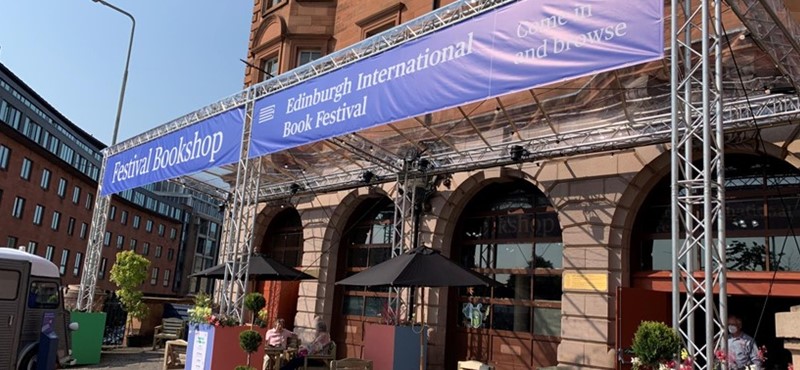 It's one of the events we greatly anticipate every summer! In this Voices of Covid blog, the Edinburgh International Book Festival explains the challenges around staging an event while adapting to the pressures of Covid.
The past 18 months have been relentlessly challenging for everyone, and for those of us working in the arts and events sector, we've had to contend with closures, cancellations, and decisions we'd barely imagined having to make. Luckily, our Book Festival team – like so many others in our industry across the country – are endlessly resourceful and positive in the face of such difficulties: you couldn't run even the smoothest of festivals if you weren't!
Back in 2020, shortly after cancelling the physical Book Festival for the first time in its history, we set about realising a plan for our first ever fully-online event. Using Zoom and live-streaming platforms, we brought authors and audiences together in their homes around the world, with a small studio set-up in the Assembly Rooms on George Street strictly for the few local authors and interviewers who could attend in-person, and key staff required on the ground to make it work (the rest of us worked from home, using all the new tools we've picked up throughout the pandemic to stay in constant contact and keep the Festival running as well as our regular audiences would expect).
Hopefully you joined us last August and enjoyed some of our events – we were thrilled by the response we had from viewers in Scotland, across the UK and around the globe, and received overwhelmingly cheering feedback from viewers who had taken the opportunity to watch our entirely free events, often for the first time, made use of our BSL and Live Captioned streams on certain events, and connected with fellow book lovers in spite of the lockdown with our new chat function.
We knew that 2021 would be different again, and we had to make an incredibly tough decision to ensure the Book Festival could work in our new circumstances. As a team we decided to move our Festival site for the first time, departing our long-term home at Charlotte Square Gardens and setting up anew at Edinburgh College of Art; the start of a new long-term partnership with the University of Edinburgh. The availability of ready-made indoor studio spaces allowed us to focus less on building our Festival village and more on making the site work for all potential visitors and eventualities — we were planning without certainty around social distancing measures, or whether audiences would be allowed to attend in-person at all. As a result we adopted a hybrid model, enabling us to stage events with physical audiences (luckily permitted by August) while continuing to broadcast the entire programme online for those who could not or would not attend in person, and offering a flexible Pay What You Can ticket model for online viewings so people could find entertainment and inspiration no matter their circumstances.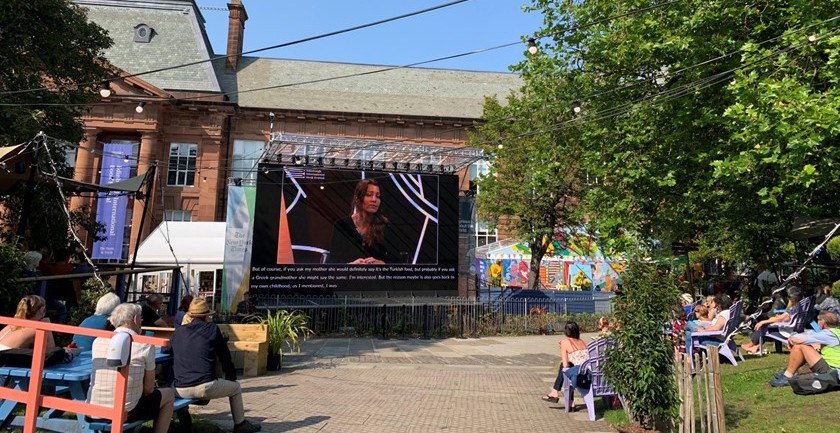 Photo of: The courtyard at Edinburgh International Book Festival.
As ever we offered BSL Interpretation and Live Captioning both in-person and online, and helped audiences with mobility needs by allocating appropriate seating in our new venues — something we'd long offered at the old Book Festival site. Of course, a new Festival Village meant new potential accessibility concerns, and so we booked in a consultation with Euan's Guide's Paul Ralph early in the process! Having the knowledge of a power chair user and accessibility expert allowed us to correct some potential hazards before opening to the public, and we're glad to have received positive feedback from attendees about how safe and comfortable they felt on-site, especially with our Covid safety measures in place.
While offering online events on a Pay What You Can basis enabled many people to attend who might not have been able otherwise, we are mindful that others are not able to easily enjoy digital events, and so we are exploring way to make our Festival sessions accessible in new ways through our Communities programme, which has seen events be screen live or as-live in venues including rural cinemas, community art centres, prisons and hospitals. Our journey through Covid isn't quite over yet, but we're excited by the innovations we've been able to make so far and delighted we've been able to continue welcoming thousands of people to the Festival across the past two years, whether online or in-person.
The 2022 edition of the Edinburgh International Book Festival takes place from 13th to 29th August. Find out more information about the event here, and await access information from Euan's Guide next summer!