Vaccination Centres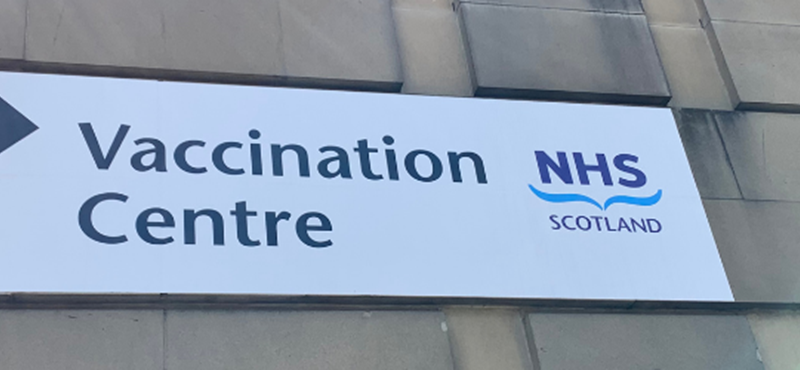 With Covid-19 still spreading across the world, getting vaccinated is looking like the best way back to some sort of normality again. At the time of writing, in the UK there have been over 71.3 million doses of the vaccine given and 29.8 million people have been fully vaccinated. Over the course of the rollout of the vaccinations at Euan's Guide we have been receiving accessibility reviews for vaccination centres that our reviewers have visited.
TinaHodgkinson shared her experience through a Voices of Covid blog post of visiting the King George V Building at London's Barts Hospital to get her 1st Pfizer vaccine. In her blog she describes her whole process of booking an appointment slot, what measures were in place when she arrived and how she felt after getting the vaccine. Generally, she "was very impressed with how the whole thing was organised."
Dundee's Caird Hall is also being used as a Vaccination Centre and Hollie_Morrison review said she was "initially reluctant to go to a vaccination centre" but was "pleasantly surprised" by her visit. She was greeted by friendly staff and felt safe as everything got cleaned between each person getting vaccinated.
Msjay248 shares a review of St George's Church Hall in Dumfries where she received her Covid-19 vaccination. She says that "all staff were friendly" and explained the process and one way system to her. Within her review Msjay248 lists all the safety precautions that were in place during her visit.
To date, Edinburgh has received the most reviews for Vaccination Centres. KayFergOne shares a review on behalf of her mum for her visit to Ravenscraig Regional Sports Facility in Motherwell. She mentions that staff "all kept a safe distance" and held doors open which meant she "did not have to touch handles" which made her feel safe.
KayFergOne also shares her own experience of visiting the Edinburgh International Conference Centre (EICC) "It was an overwhelming experience in terms of why I was there but the assistance, and in terms of disabled access, was very relaxing and ran smoothly.". SarahMarieMather also visited the EICC for both her jabs and titled her review "Safe and secure!" and pavement_boy agrees saying "I was worried that it would be disorganised but it was well thought out and I felt safe."
Reviewer DaisyDoo shares her experience of visiting the Royal Highland Centre for her vaccine. She explains that the "overall process was pretty stress free", staff were very helpful in directing you on where you had to go and there was regular cleaning.
Also in Edinburgh is garys review of The Younger Building for his Covid-19 vaccine. He mentions that "at all times I felt safe and at ease" and praised the staff who got him to the front of the queue and then showed him the most accessible way back to his car safely even though it was against the one-way system.
As well as other Euan's Guide users benefitting from this information, we share all reviews with the venues themselves. So, we were really pleased to hear from one of the venues reviewed who told us "Thank you so much for sending on this review. It will be shared with the full team and used to help promote the access available at the vaccine centre."
Thank you to everyone who has submitted a review of a vaccination centre so far, and please keep reviews coming! The overall consensus is that, everyone has felt like the process is very well organised and they have felt safe whilst getting their vaccine.
This is part of our Voices of Covid blog series, where disabled people share their stories and raise awareness of topics that are important to them. Please contact us if you would like to take part or find out more.