Happy New Year, Our Disabled Wisdom Will Get Us Through This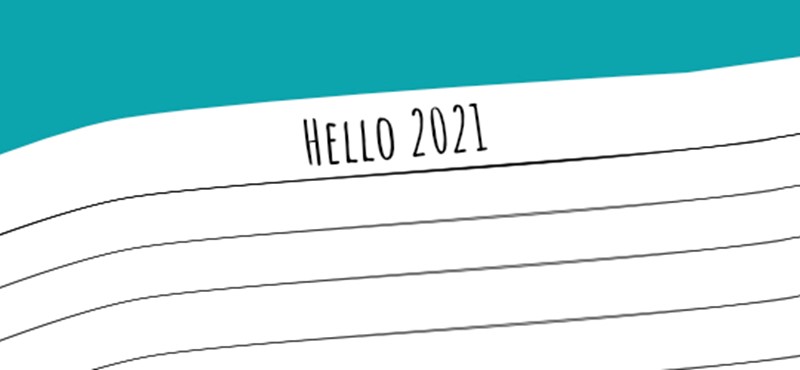 Euan's Guide Ambassador Tina reflects on last year and shares her plans for the year ahead.
The New Year is often seen as a fresh start and usually by now my diary is beginning to fill up with meet ups with friends, holidays and other events. In comparison, my 2021 diary is still looking relatively pristine. For many of us who are shielding, it feels a continuation of 2020. The announcement of the latest lockdown will have very little impact on our current lifestyle.
While the start of the roll out of vaccines is good news, given that the decision has been made to blanketly prioritise by age, rather than pre-existing health needs means that many disabled people's lives are yet again, not seen as a priority. I feel very let down by the UK government and the opposition parties in almost equal measure, as none of them have addressed that two-thirds of the people who died from covid were disabled people, or the eroding of our access rights that have taken place during the pandemic.
Covid has seen our disabled community at its best. I love how our community has come together and is supporting each other. For me it's the chatting with friends who are also shielding and sharing photos of what we see on our walks or our latest cake baking. All this helps me feel connected. Talking to others who are in the same boat and have similar dilemmas to what I have, makes me feel less alone. Knowing that friends regularly make time to talk, listen and share, even though they are going through a hard time too, has created an even stronger bond of love and friendship.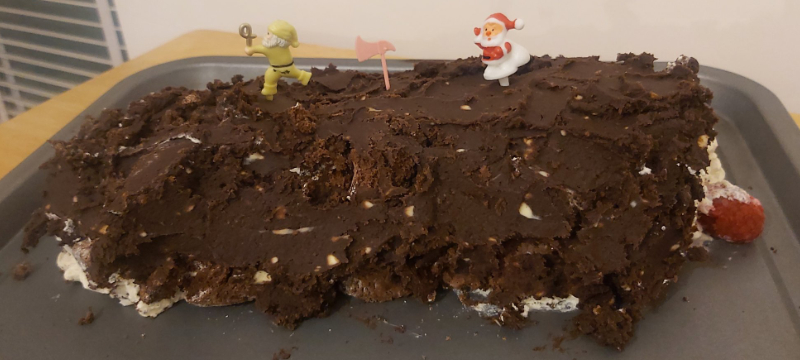 Image of: Tina's homemade Buche de Noel
Covid has seen our community using our disabled wisdom. Prior to covid's arrival many of us knew what it's like when life puts our plans on hold. For some it's been the lack of disabled access which stops us being able to visit a venue, for others it's managing daily chronic pain or un / planned hospital admissions.  We're already experts in acceptance, acknowledging a difficult situation and understanding that we need to do things differently. We know how to adapt and our resilience enables us to achieve that.  It is these qualities that are helping us get through the pandemic and shielding. While the government and society have labelled us vulnerable, many of us have quietly been getting on with the new normal, stronger than many non-disabled people who have never had to face difficulties of this kind before.
During covid our disabled wisdom has helped to keep us safe. We've educated ourselves about the virus, as we know that with knowledge, we can make the best-informed decision about keeping ourselves and our families safe. For example, I watch the weekly Indie SAGE updates and decided to cancel my Christmas trip to Nice in October, when I could see that it wouldn't all just go away by December. This made being on my own for Christmas a little easier, as I had a plan which I stuck to, and this gave me time to accept the situation, instead of the last-minute cancellation of plans many had.
There are many more difficult months ahead, and to help me get though I've started journaling. I did a few writing workshops last year and I found it really helpful. I really enjoyed taking part in the "Dear 2021" writing workshop led by Nik Perring for Sheffield Libraries. Thanks to them my writing about disability is now on YouTube. I've picked the theme of gratitude for 2021, as in October I had been in remission from cancer for 1 whole year. In my 2020 diary, my wish was for the cancer not to return and I've achieved that, and I am so relieved. I've got myself a notebook and every evening I'm going to write about my day and also at least 3 things that I am grateful for from that day.
Please keep safe, and even if you don't feel it, remember your disabled wisdom has got you through 2020 and it will get you through 2021 and beyond. May the New Year bring you health, happiness and all that you need.
Thank you Tina for sharing your experience with us. This is part of our Voices of Covid blog series, where disabled people share their stories and raise awareness of topics that are important to them. Please contact us if you would like to take part or find out more.