Wac Arts: Top 5 accessible music apps

Our friends at WAC Arts love music! They've shared this blog featuring their favourite accessible iPad instruments 'for the modern day digital orchestra'. Do you use any of these apps?
1. Keezy - Free
This free app from Elepath Inc. is a super easy to use and accessible musical instrument that can provide you with hours of entertainment. A sound board with 8 colourful panels, you can record an array of samples and play them back to create your very own innovative drumbeat, animal beat or even digital poem.
Provides excellent accessibility for the reading impaired with it's easy to follow symbols and colourful panels. Furthermore, the easy to use interface makes it accessible for people with limited dexterity as each panel replicates the functionality of a switch.
Watch WAC Arts demonstrate Keezy >>
2. Bebot - £1.49
This synthesiser app has a beautifully simple interface with a charming robot buddy. Hiding underneath its exterior lies a powerful sound design tool that can emulate classic analogue synths to crazy digital noises. You can go quite deep with the parameters, adding effects and key signature boundaries so you never play out of tune!
It's intuitive and easy to use interface makes creating a variation of pitches and tones easy for people with limited mobility of dexterity. Furthermore, the excellent relationship with sound and touch makes it an easy to access instrument for people with visual impairments.
Watch WAC Arts demonstrate Bebot >>
3. AirVox - £2.29
This app is an innovative and easy to access musical instrument, with a bank of exciting and fun sounds that will dazzle anyone. With its motion sensor technology, you simply just have to move your hand up and down, left and right and suddenly you are playing a tune. A Theremin for the modern ages.
The relationship between movement and sound makes AirVox an excellent and easy to access instrument to use for people with visual impairments. Be aware, setting up the motion sensor can be a challenge though.
Watch WAC Arts demonstrate AirVox >>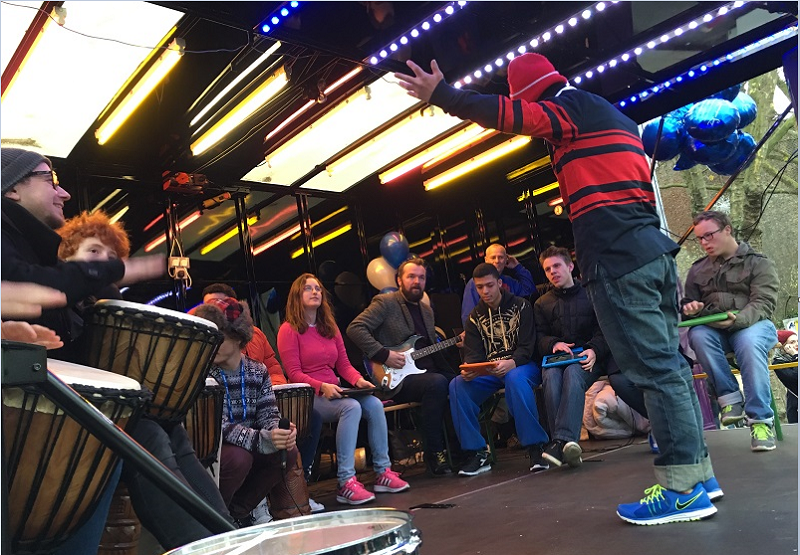 4. Figure - Free
This app from Allihoopa software puts electronic dance music at your fingertips with a vast of array of synths and drums sounds. It's simple yet powerful built in sequencer can record performance data to create dynamic tracks very quickly. Instant rave in your pocket!
With easy to follow symbols and a colourful interface, Figure is accessible for people with a reading impairment. Furthermore, it's adaptable interface that accommodates a larger screen and it capacity to maintain consistent beat based on the BPM allows people with limited mobility to access this dynamic instrument.
5. Noise - Free
This relatively new app is another powerful synthesiser with a huge bank of presets to get you going. The on screen controls, whilst fiddly, allow you to go wild with experimentation.
You can hook up, via Bluetooth, hardware peripherals such as the Skoog 2.0, to play with even more expression using it's squidgy, inclusive interface.