What we learnt from our User Survey (and how you can help)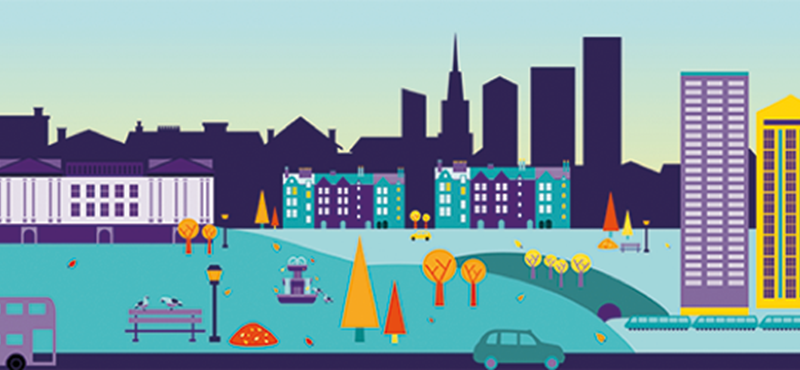 Earlier this year we asked our website users to take part in a user survey to tell us what they thought about Euan's Guide. There was a great response to the survey, it has helped us understand how you currently use Euan's Guide and how the website could be improved in the future. Here are just a few of the things we discovered…
The top 5 places people like to read about on Euan's Guide.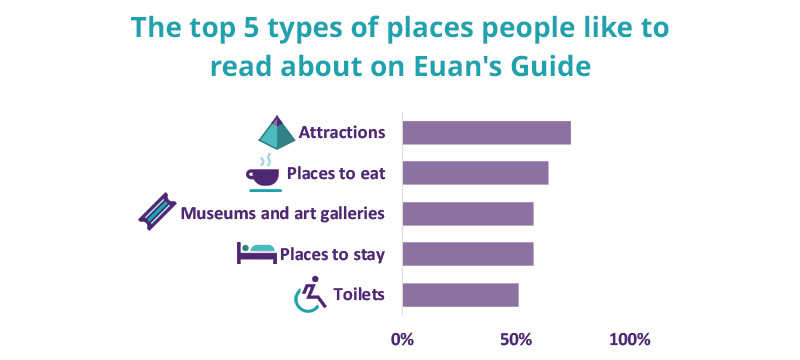 When it comes to finding disabled access information for certain types of places, the most common places people like to read about are:
1. Attractions
2. Places to eat 
=3. Museums and art galleries
=3. Places to stay 
5. Toilets  
Using Euan's Guide
A massive 42% of people who took part in the user survey have never actually left their own review on the website. While the vast majority of these people are using the website to find disabled access information, they are not sharing their own experiences by leaving reviews for the places they visit. A number of these people indicated that they would like to start contributing but that they weren't sure how to get started. Some also asked for additional guidance and information to enable them to start contributing. If this is the case for you then please take a look at the following link which should help to make leaving your first review easier.
Getting started – leaving your first review
We'd encourage everyone using our website to leave their own reviews as it is only by doing so that the site can grow and become more useful for everyone across the UK. A complaint which appeared in the user survey was the lack of coverage across the UK and the limited number of reviews. While we're delighted to hold thousands of disabled access reviews, we know that the website could be a lot bigger if more people across the country got involved and wrote reviews. Reviews can be for all kinds of places, you are certainly not limited to the top 5 list showing above! To give you an idea, Euan's Guide has the following categories for the types of places people review: attractions, socialising, activities, accommodation, events and other. So from everyday places you visit, like your local supermarket, to the places you visit less frequently, like a theatre, the review opportunities are endless! 
Improving your reviews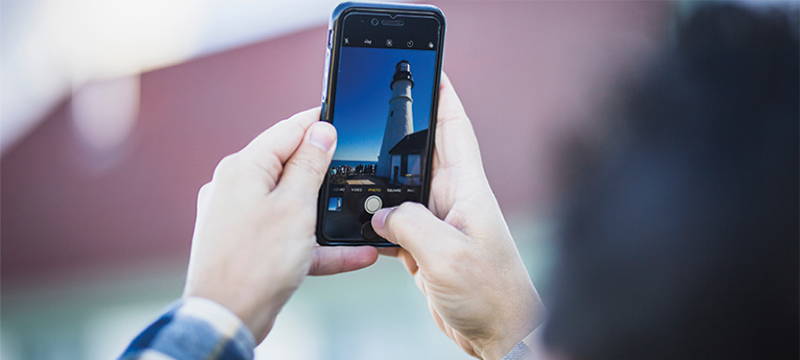 If you already review on Euan's Guide then you might be interested in some of the great suggestions we received for possible ways to improve your reviews. One suggestion was to include more photos in reviews. Photos for the entrance, accessible toilet and main space can all be very useful for someone considering visiting as it gives them a clearer idea of what to expect. There was also the suggestion to consider including information on a place's noise level and visual stimuli. If you feel somewhere is particularly noisy or has strobe lighting don't forget to mention it in your review. 
Thank you!
Thank you to everyone who took part in the user survey, your feedback is important to us. We work hard to make sure our website is usable and accessible, so we were delighted to find out that 85% found Euan's Guide easy to use. If you didn't have a chance to take part in the survey please feel free to send us your feedback by email (hello@euansguide.com) or you can call us on 0131 510 5106.
Take part in the 2019 Access Survey
The Euan's Guide Access Survey is the UK's longest running access survey. You can take part to share your opinions on disabled access in the UK. You can also enter into the prize draw to win one of four £25 Amazon vouchers.