Resources for Health and Social Care Professionals
We've launched this this resource page for professionals to find out how you can get involved and help the disabled community find great accessible places to visit. We are trialling sending out these packs with useful resources which you can share to introduce people to Euan's Guide and support them in finding accessible reviews. We are keen to get your feedback on these resource packs and ways you think we can improve. If you have any suggestions or feedback you'd like to share please email us at: hello@euansguide.com
Pack for Community Services
If your service is visiting disabled people in the community or working with their family and carers, this pack provides you with handouts you can share to introduce people to Euan's Guide and explain how the website can help them find disabled access reviews and recommended venues. 
Pack for Health Centres and Disabled Living Centres
This pack is designed for outpatient services, and includes posters as well as handouts. These are designed to direct people to EuansGuide.com so that they can find places that have be rated as accessible by other disabled people.
Red Cord Cards
In addition to our review website, we run a safety campaign trying to reduce the number of red emergency cords which are too short, cut off or tied up and can't be reached by someone the ground. Our solution was to design Red Cord Cards which easily attach to the cords and reminds everyone how the cord should be left. Individuals, health professionals and social care professionals can all order these cards free of charge.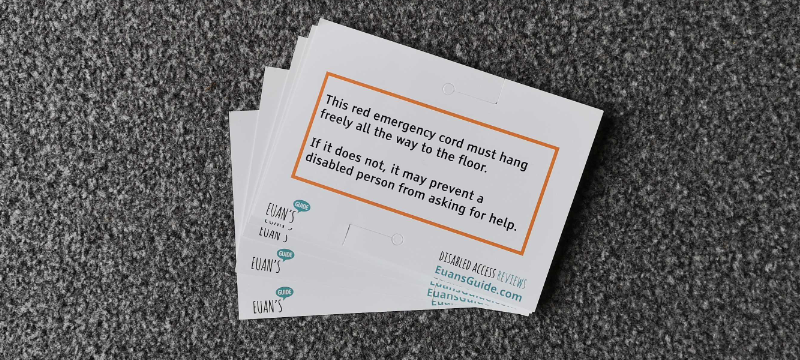 Together, supporters of our Red Cord Card campaign have helped us distribute over 60,000 Red Cord Cards, making thousands of accessible toilets across the UK safer. If you or any of your service users would like to get involved and help make more accessible toilets safer then please request your cards today. Add Red Cord Cards to every red emergency cord you see (good and bad), that way it will remind everyone to leave correctly positioned cords as they are, and it will alert venues and staff to cords that are not safe and need to be fixed.
In-Services and CPD opportunities
We are always delighted to speak to people and services about the work and goals of Euan's Guide and explore collaborative working opportunities to promote disabled access. If you would like to arrange for us to speak at an in-service program or wish to discuss CPD opportunities, please get in touch at hello@euansguide.com  and we will do our best to accommodate your request.
News
Sign up to our quarterly eNewsletter for health and social care professionals to stay up to date with the latest Euan's Guide news, blogs, surveys and more.
We regularly share news and blogs on our website. Click here to see curated content we feel is particularly relevant for health and social care professionals.
Each year we also conduct the UK's longest running access survey. Click here to access the results of the latest survey and to see research from previous years.