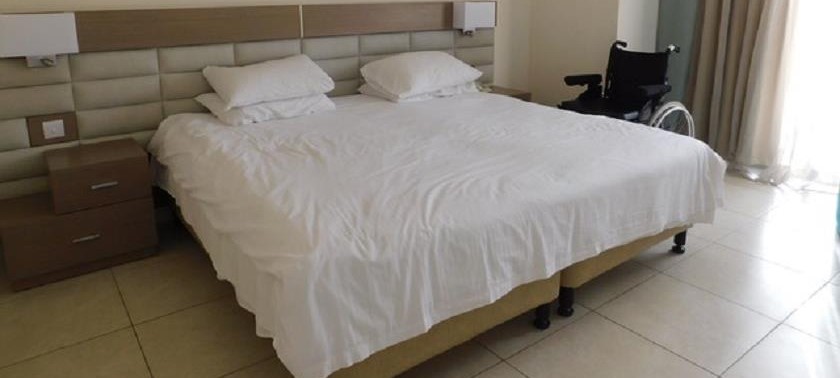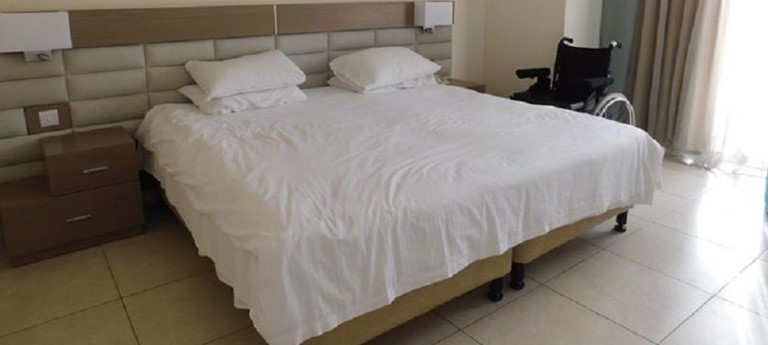 Very helpful staff and a Disabled friendly hotel (other than the pool)
4 likes
Visit date:
This review is especially helpful for those who have or use the following: Wheelchair
Overview
Having not been to Cyprus for over 23 years and my disability now requiring me to use a wheelchair as well as a wet room and disabled toilet, we have to do our research before selecting a hotel. The room itself was a joy and one of the largest we have ever stayed in. As I had requested the beds were formatted into a very large double rather than singles. There were sufficient clothes hanging and drawer space for all our bits and pieces. A useful table and chairs were in the room and it had a spacious balcony, again with table and two chairs. As the norm, there was also a hairdryer, Glasses, tea/coffee making facilities. The sizable fridge was a bonus. We also made use of the chargeable safe. There was a large flat screen giving English channels although reception was a bit varied as it came through the internet. We do not go abroad to watch television though. The bathroom is a very important place to the disabled traveller and this one nearly ticked all the boxes. Before going out to Paphos, I had requested a plastic outdoor chair to use at the basin in the Avanti. This turned out to be a low stool so I just used my wheelchair at the basin. No big deal as the stool was useful for toiletries beside the shower. The shower itself had a powerful main head as well as a hand held one. There were grab rails in the shower area. Although designed for right handed use (I can only use my left hand) I managed okay. The pull-down seat was very secure although I do query having a handrail on the wall behind it making one have to sit forward on the seat. As the seat was sideways on to the shower, perhaps it could have been wider? I thought the shower area to be a bit dark but near the end of our holiday we spotted a light that was not working and therefore our error for not reporting it. Silly us, we thought it was a fan! The toilet had a good pull-down grab rail, although I found it to be a bit high. Had the toilet been raised, this would have been a fine height. The Housekeeping team kept our room spotless with fresh towels and such replaced daily. Although there was not much of a view from the balcony, it was very spacious and had two chairs and a table. There was not much of a 'lip' at the door, making it easy to get the wheelchair onto it. Early during my holiday, I fell in the bedroom and my wife could not get me up. After a quick call to reception, a kindly maintenance man appears and I was soon back on my wobbly legs. The friendliness and helpfulness of all staff came over day after day. No request was turned down and information/help was always given, no matter how silly it have been. There were ramps or very low thresholds throughout the hotel and grounds for wheelchair users with the gradients quite manageable. Some of the doors required a bit of a push to open, but that was all. We found the pool area, garden and plants very well kept and one easily got the wheelchair round the pool and gardens, with a full ramp access onto Poseidonos Avenue. With regards to the swimming pool, unfortunately I did not use it as I felt that getting in and out would be too difficult. Although there were walk-in areas to the pool I felt the handrails either 'ran out' or there was quite a drop on the last step. One set of handrails appeared to be a bit wobbly. Perhaps this is something that the Hotel Management can look at as I don't think it would take much to either extend the handrail further or reduce the height of the step. I am not suggesting installing a hoist, although that would be ideal. The swimming pool at the Avanti Village, the self-catering part, appeared to have better access to the pool for disabled guests. Indeed, the whole access around the village was really good. Although we did not use them, the Avanti Hotel also had an indoor pool, Sauna, Gym, Table Tennis and other sports facilities. Breakfast was served in the 'Coffee shop area' where one could sit inside or out. The choice was vast with different fruit juices, fresh fruit, cooked breakfasts including eggs cooked to order in various forms, toast, cheeses cold meats etc. and choice of hot drinks. Even Porridge was on offer! The staff were very efficient, helpful and friendly, efficiently organised by Renata. In the evening, we found that the restaurant had different themes menus for each night. Like most hotels nowadays, service was self service. With me being in a wheelchair, the manager, Mr Fanne Karagiannis, always found us a table near to the buffet to make things easier for us. He also kindly 'parked' my wheelchair each night after I had transferred from it. From the extensive buffets, I always found something I liked to give me an enjoyable meal although I did think the options for a vegetarian (my wife) was a bit restricted. She says that it was fine though. There was a sizable disabled toilet in the lobby.
Transport & Parking
Whilst we did not have a car in Cyprus, there was disabled parking beside the entrance to the hotel
Access
The hotel itself was very accessible with ramps where needed and the lifts were good. the external doors to the pool area needed a push but not much
Toilets
Thge Disabled toilet in the reception area was large and had handrails as well as a raised seat. The one in my room also had handrails but the seat was not raised
Staff
We found all staff to be friendly, helpful and some even into Hugging you! Early in our holiday, I fell whilst in our room. My wife call to reception got a maintenance man to our room and I was soon on my feet again
Anything else you wish to tell us?
The location of the hotel was good. Near bus stops with the bused accommodating wheelchairs. I did not use the pool as I thought I would have difficulty in getting out. The number of repeat guests tells me the hotel is doing something right
Photos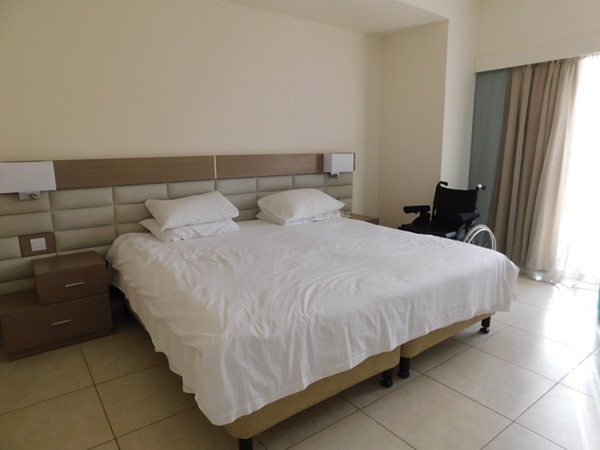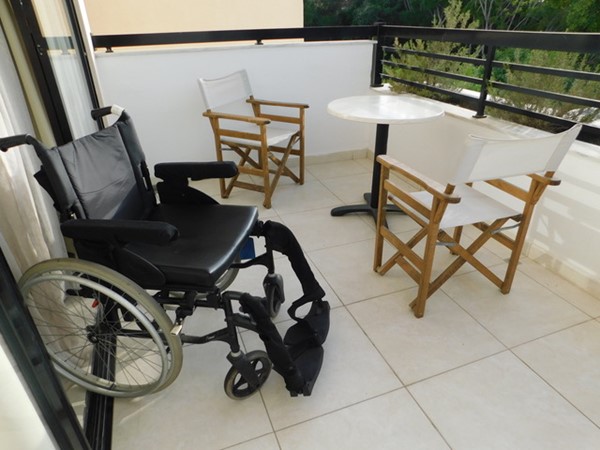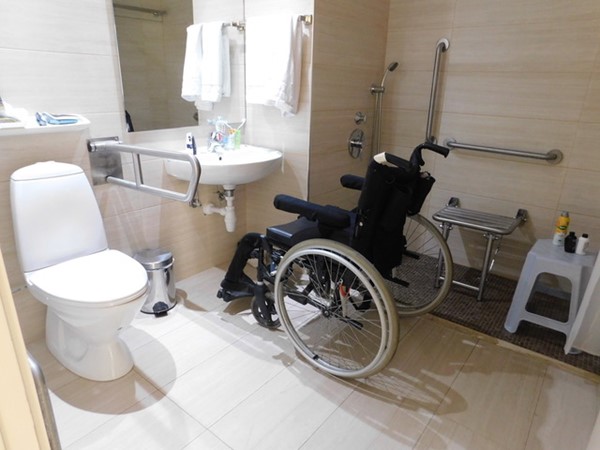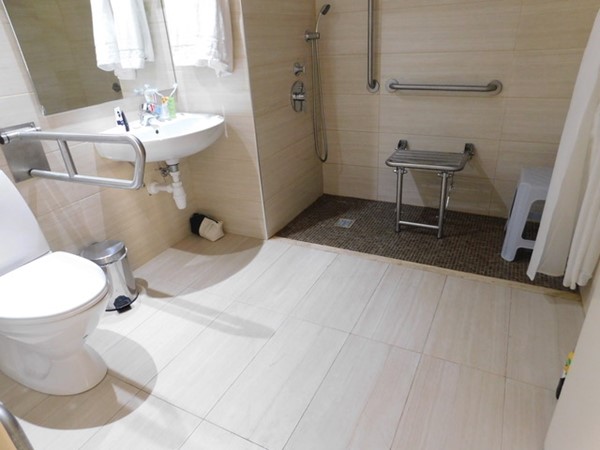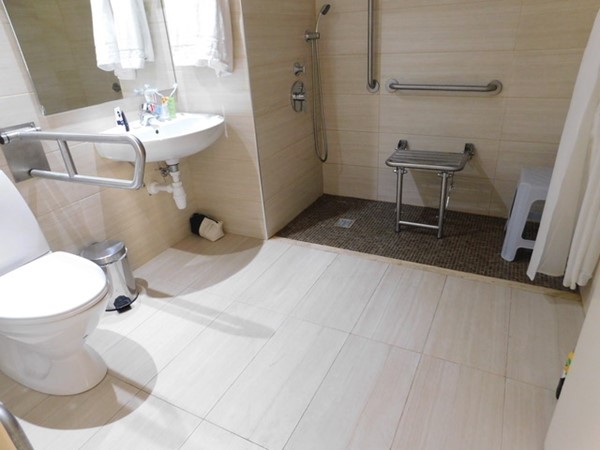 We've had 1 review for Avanti Hotel