Moor Hall Hotel & Spa
Moor Hall Drive, Sutton Coldfield, B75 6LN, United Kingdom
|
0121 308 3751
|
Website
Disabled Traveller at Moor Hall hotel
3 likes
Visit date:
This review is especially helpful for those who have or use the following: Walking Aid, Wheelchair, Powerchair, Mobility Scooter
Overview
A very pleasant experience enjoyed at this hotel, but it's the history of the land and original house that is very interesting. A bishop, John Vesey, had the the first hall built on 40 acres of land in 1527, and it was built of bricks. Here he entertained King Henry V111 on many occasions, and it is thought that because of this friendship that the small town of Sutton Coldfield in Warwickshire, was given the royal charter, and to this day it is known as "Royal town of Sutton Coldfield." During 1528, one year after building Moor Hall, and after several successful and important journeys made for King Henry V111, that the King gave him thousands of acres of land, which today form part of Sutton Park. Little is known about this first hall, but believed to be of a grand Queen Anne styled building. The bishop survived the fall of Wolsey in 1529, prospered under Cromwell, then lost his right as a Bishop in 1551, but restored as Bishop again in 1553. Two years later, he died at the ripe old age of 103. By 1671 the hall was in the hands of John Addyes, and the Addyes family remained here until 1762, but apparently it had not been well looked after, and was in a sorry state. It is believed it was rebuilt sometime in the 1800's. It was later bought by a Colonel Edward Ansell, (Ansells brewery) who promptly had the hall demolished, and had a new hall built in 1905. Parts of this mansion can still be seen today, the lounge has its original fireplace bar, dated 1905, and a glass stained window still shows 1906. The Ansell family lived here until 1930. It was later bought by a local man, a builder, Robert Streather, and he converted the hall into a guesthouse with 17 bedrooms. Then in 1961, the property was sold, and additions were added to now make Moor Hall a 83 bedroom Hotel. It was opened in 1961 as a private members hall, then in 1972 it was named as Moor Hall Hotel and country club. During 1991 the fitness centre and indoor swimming pool were opened, then later the sunken gardens was listed to protect this historical site. In 2003 it became the first UK hotel to have the Best Western Premier status. As you approach the hotel, along a lovely driveway (photo 1) you see the golf course and you pass a few of the greens. Then there are two disabled bays for you (photo 2) The entrance into hotel is on the level (photo 3) with an automatic door for wheelchair use, standing next to revolving door, and you enter into the reception area. (photo 4). It is very nice, with a pleasing colour scheme, and was easy to move over the hard surface floor. From there we went along a corridor (photo 5) to the lounge bar and Oak room. The bar was small, but very pleasant (photo 6) with a reasonable choice of drinks , but we enjoyed a cup of coffee in the Oak room (photo 7). The toilets are close to the Oak room, back along the passage, the disabled toilet had a push door, (photo 8) quite wide, and a scooter would get into toilet. The toilet itself was not very big, but you could swing your chair in there. It had a very nice colour scheme also. (photo 9). A very pleasant conservatory overlooked the gardens (photo 10) and the terrace is a delightful spot to sit on a warm day, (photo 11) again it looks so nice with rattan furniture to relax on. The entrance from the bar to the terrace was through the lounge bar, which overlooked the golf course. (photo 12). A short corridor lead to the only disabled room, no 78, (photo 13) which is on the ground floor. Spacious room for your comfort, with two single beds, two chairs, and one arm chair for desk, (photo 14) and the usual facilities. The bathroom, beautifully tiled in pale blue, (photo 15) had grab rail and pull cord, and the luxury of a heated towel rail. A walk in shower (photo 16) with a chair, and the shower itself is a hand held one. The corridor then led you back to the reception. (photo 17). The Oak room restaurant (photo 18) was very elegant, with Oak panels, but the tables were not yet laid, as it was early morning. Further along was the very large pleasant function room, which would make any occasion very special. (photo 19). Our final thoughts We were both very impressed with this classy hotel. All rooms were easily accessible, with a large disabled room. We would highly recommend this hotel.
Transport & Parking
Reasonable sized car park, with two disabled bays, and easy to push along to hotel entrance.
Access
Access into hotel is on the level, with an automatic door, leading to a pleasant and inviting reception area, then all areas are on the level for you. Terrace garden is also easily reached, and pleasant area to sit on a warm day. Disabled room is on the ground floor, and large, with walk in shower. We saw no lifts, but not needed anyway. We saw everything we needed to see, and seating areas are available to rest.
Toilets
Nice disabled toilet, but not that big, but you can turn around in there.
Staff
Pleasant enough, willing and supporting.
Photos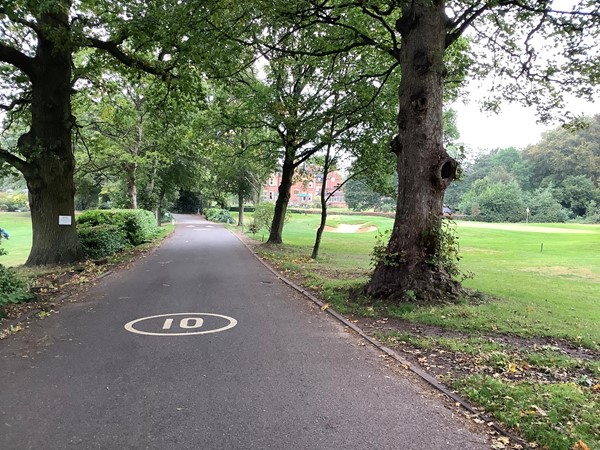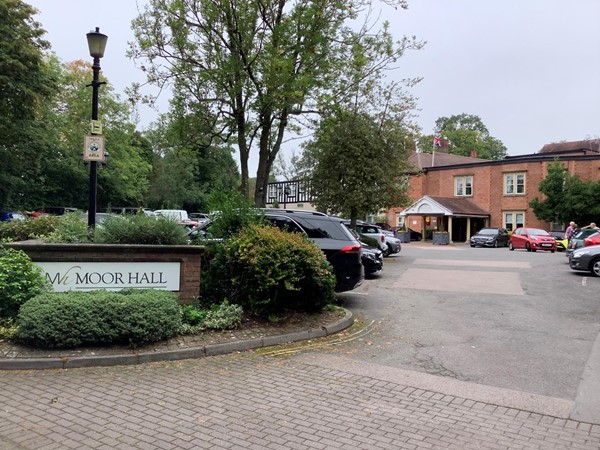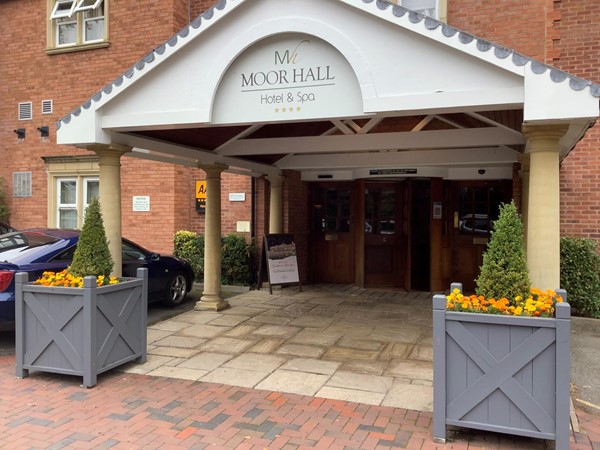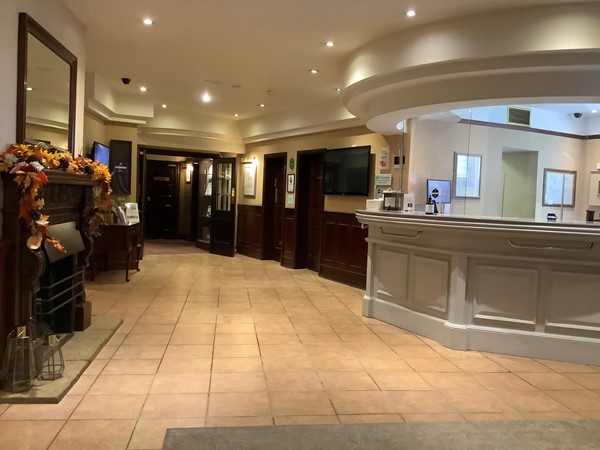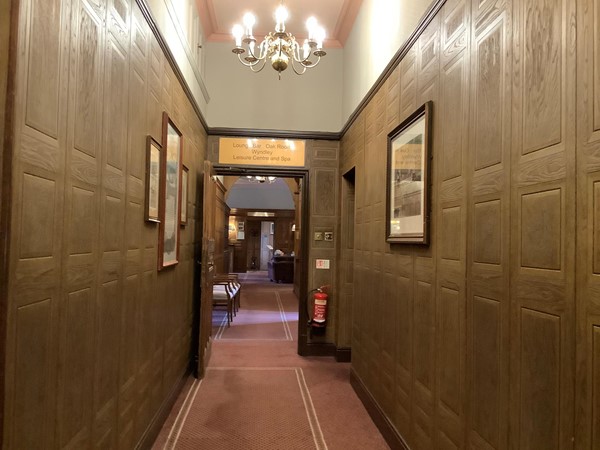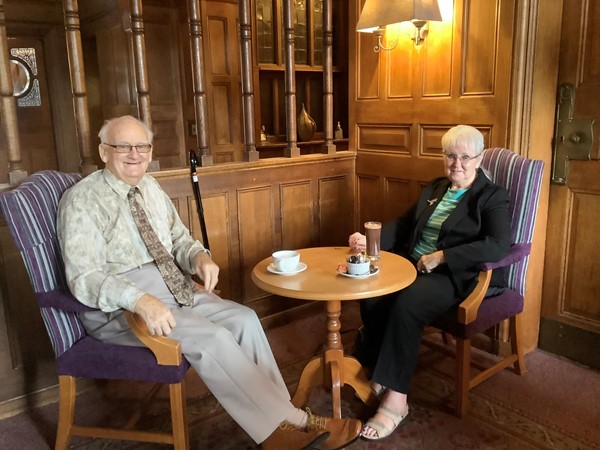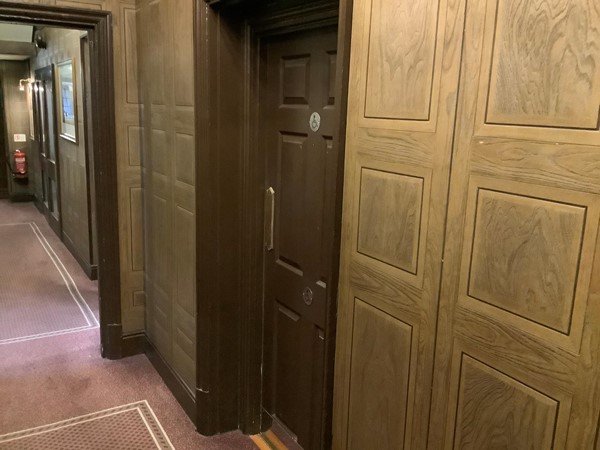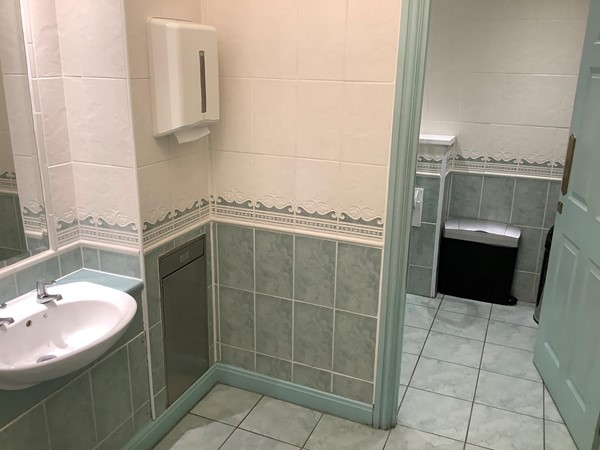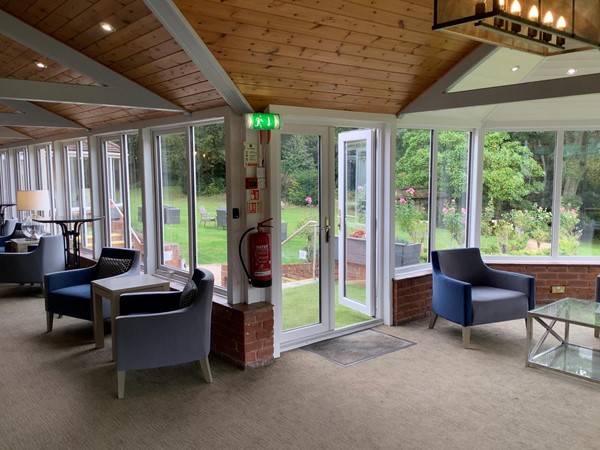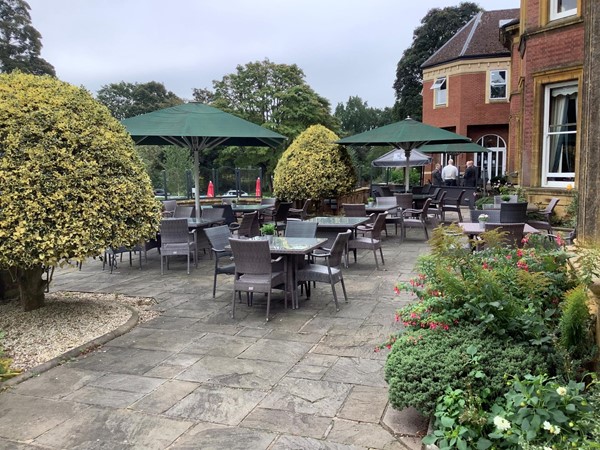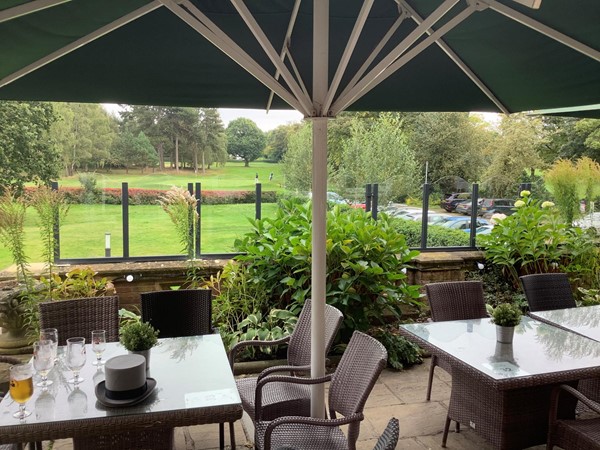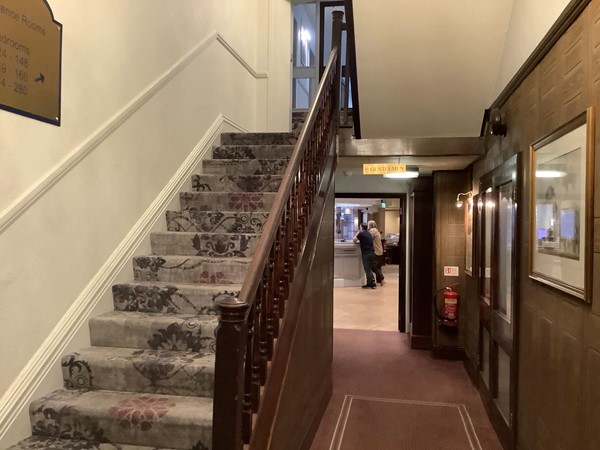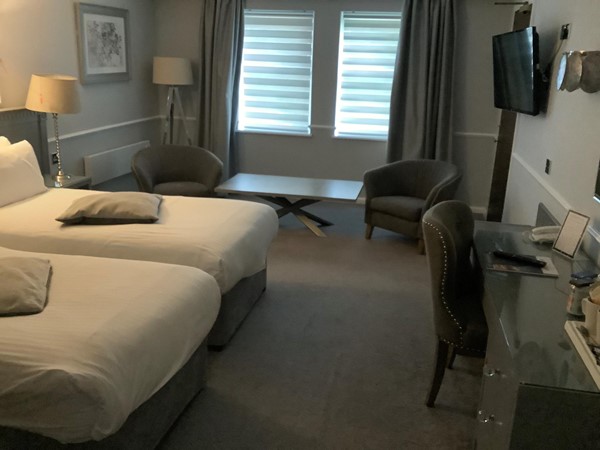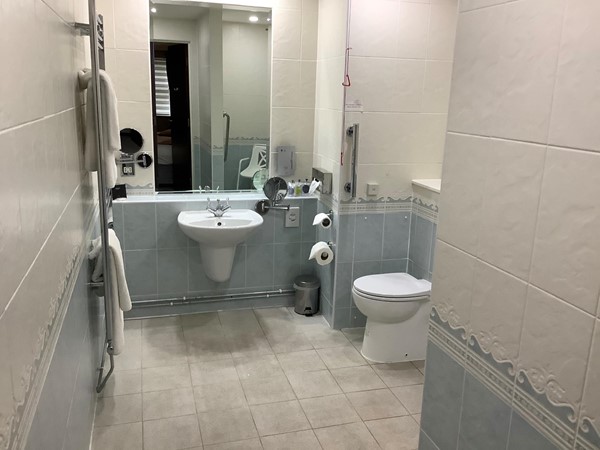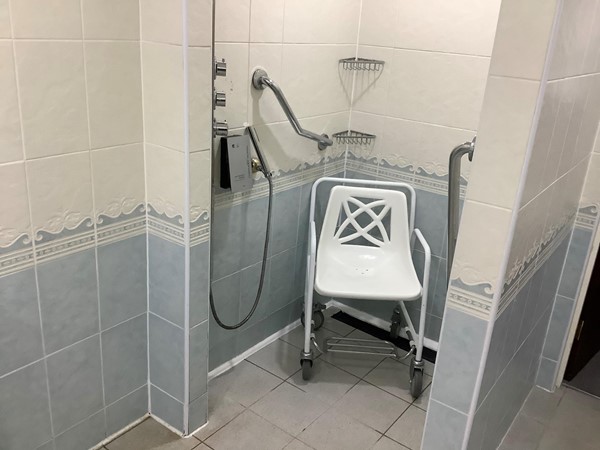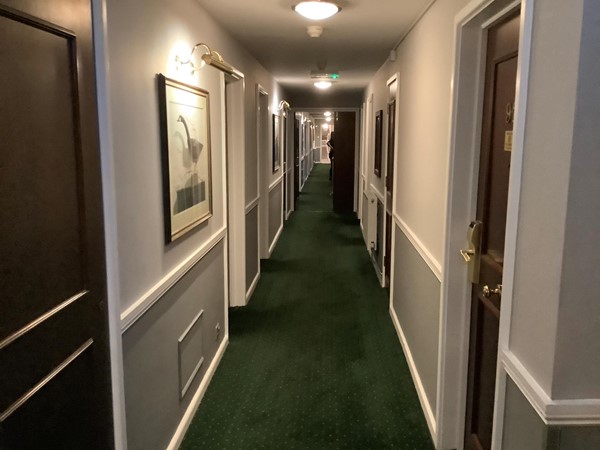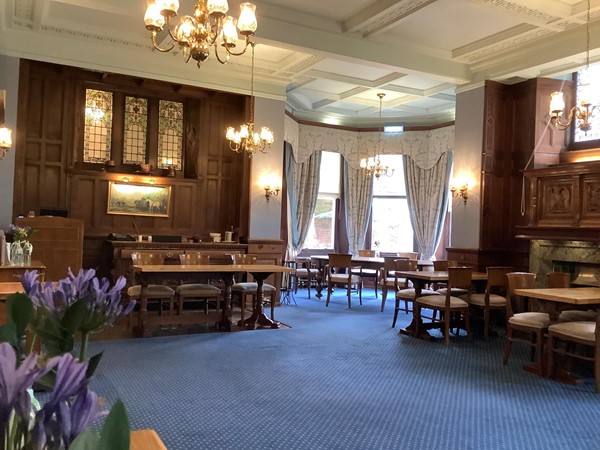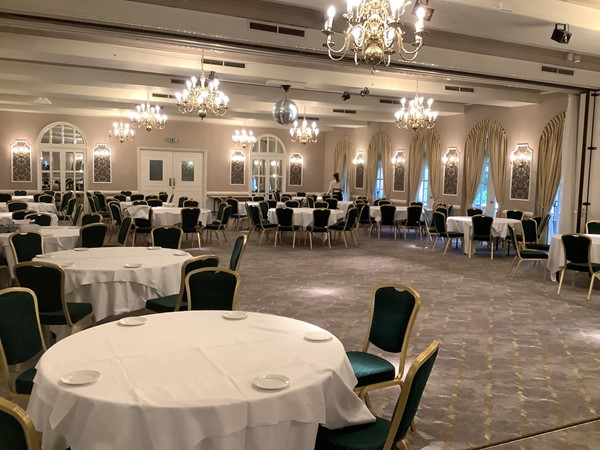 We've had 1 review for Moor Hall Hotel & Spa