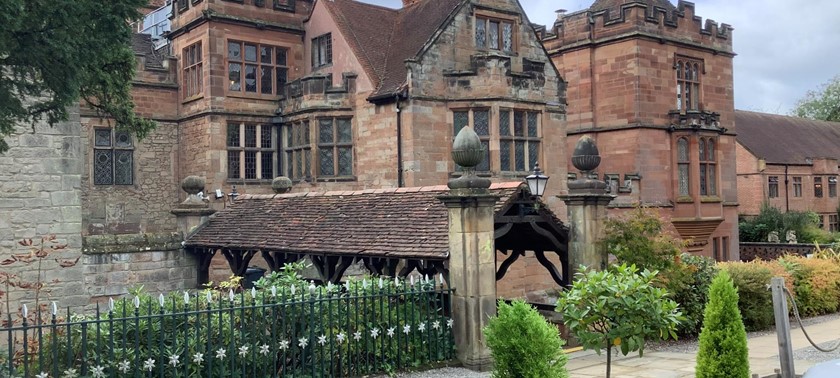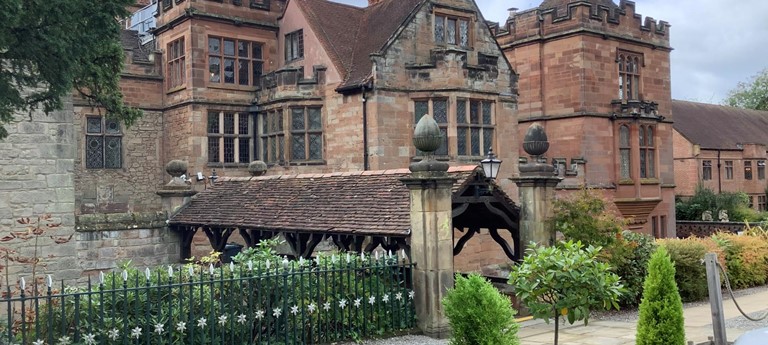 New Hall Hotel & Spa
Walmley Road, Sutton Coldfield, B76 1QX, United Kingdom
|
0121 378 2442
|
Website
Disabled Traveller at historic 13th century moat house hotel (1of 2 reviews )
Visit date:
This review is especially helpful for those who have or use the following: Walking Aid, Wheelchair, Powerchair, Mobility Scooter
Overview
The history of New Hall, Sutton Coldfield, Warwickshire, dates from records and shows that this is England's oldest Manor House, (photo 2) and first referenced in 1435, built by the Earl of Warwick as a hunting lodge. But it's history starts long before. During the time of the Norman conquest the land was owned by Edwin of Mercia, who was then executed by William the Conqueror in 1071, and the land taken over by the Crown. In 1126 Henry 1st gave the land to Roger de Newburgh, the then Earl of Warwick. During 1341, it was the home of a Knight, Sir John Lizours, who used the name NEW HALL for the first time. The moat, (photo 3) is fed by seven springs, and the terraces south of the moat are 16th and 17th century, (photo17) the gardens added later from 18th century. The 15th century saw the building up of "The Great Chamber" originally built in 1542, with the walls of the Great Hall lined with Oak panelling. The Fine mullioned windows have Flemish glass,(photo 14) the windows glazed with leaded quarters, and the moulded stone fire place is of the 17th century. A descendant of one of the knights inherited the estate in 1715, Charles Sacheverall Chadwick, and remained the possession of the Chadwick family until 1897, although used as a school from 1885 for some years. During 1903 it was restored as a residential home, and in 1923 Alfred Owen bought the house, and it remained in the family until 1985, when then bought by the Thistle Hotels group, then in 2008 it became part of the Handpicked hotel group, which gave us an opportunity of visiting the NEW HALL HOTEL. Our review of this old Moated Hotel, starts with our approach (photo 1) along a very scenic drive to the hotel. A large car park with no actual disabled bays but plenty of spaces awaited us. (photo 2). However it is on a thick layer of chippings and is very difficult to push a wheelchair across. A very impressive moat, well maintained, looking across towards the new section of hotel, (photo 3) but blends in well with the keeping of the old part of the building. A very characterful old bridge running across the moat towards the hotel entrance (photo 4) greeted us, and easy to push over the flagstones, (photo5) to reach the heavy double doors, which have to be pulled open. There is a small intimate reception area (photo 6) and this is where you would book in for overnight stop (photo 7) or in our case to order our mid day drinks break. We sat in a comfortable Tapestry room, (photo 8) which can get busy and fills up quickly. Alongside the reception there is a hallway to exit so as to get to the Spa building, (PLEASE READ SEPERATE REVIEW FOR SPA), and next to this is a corridor to bedrooms. (photo 9). Along the corridor there are disabled toilets, (photo 10). This is very small , very basic, toilet with grab rails and pull cord (photo 11). You would not get a wheelchair in there on your own. To reach the Bridge restaurant, a separate reception area awaits (photo 12) where you will be shown to your table. The Bridge Restaurant is an old Oak panelled room, a very intimate room to enjoy your booked lunch. (photo 13). A very enjoyable meal, served to us by willing staff, (photo 14) washed down with a glass of cider for my husband, and a glass of wine for myself. A small cosy Bar lounge for inclement weather (photo 15) is also the exit for the terrace garden (photo 16). This is a beautiful garden terrace looking back towards the New Hall hotel (photo 17) delightful place to sit and relax. Our final thoughts A very enjoyable visit to this Elizabethan building with pictures of the Queen on some of the rooms. Very friendly and helpful staff, and we felt very welcomed. The dark wooden panelling gave such character to the hotel. As far as recommending this hotel, you would need a strong care to pull your wheelchair over the chippings to get onto the paved areas, but after that it is easy to get around. But for us, a thoroughly enjoyable hotel, and following our earlier visits, we will certainly be returning.
Transport & Parking
After a long driveway, we arrived at a reasonable chipping car park area, no actual disabled bays, but lots of other bays. Difficult to push wheelchair over as deep chippings have to be crossed before reaching paved areas. Entrance to hotel over bridge has a heavy push door to open, but main entrance is reached further along over a paved area, much easier, then door needs to be opened both sides to get in as narrow.
Access
Access is via narrow doorways above the moat, no problems if both sides are opened for you. We encounter no steps to worry us in main part of the hotel, a ramp is available in place ready for you. There are no lifts as this is a grade 1 building, bedroom will be on ground floor. We were able to see everything we needed, ( except the spa and pool areas ). ( ALSO SEE NEW HALL SPA SEPERATE REVIEW )
Toilets
The disabled toilet is along a passage by reception desk, but it is small in there, and you will need to be able to stand to use it.
Staff
We found all the staff very willing, most are young, but really kind and helpful. They all made sure we could have any support needed, so thank you to the staff.
Photos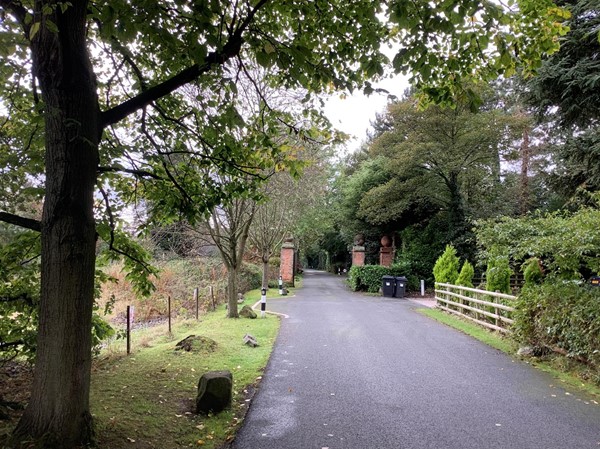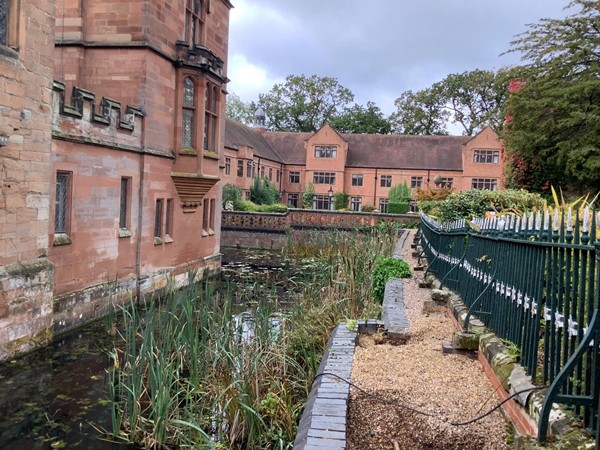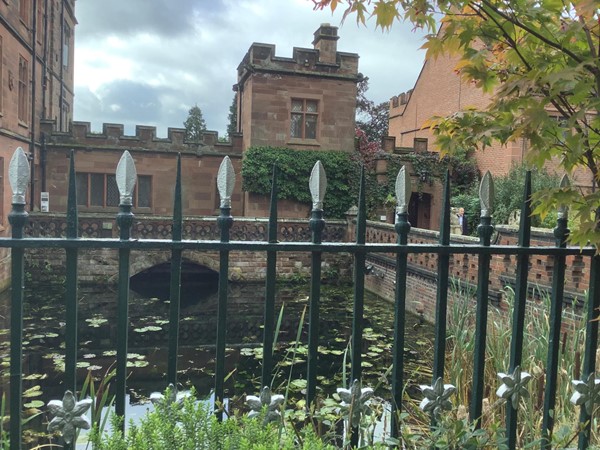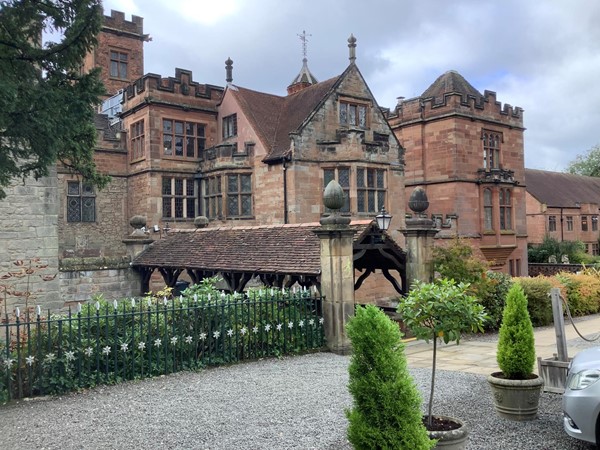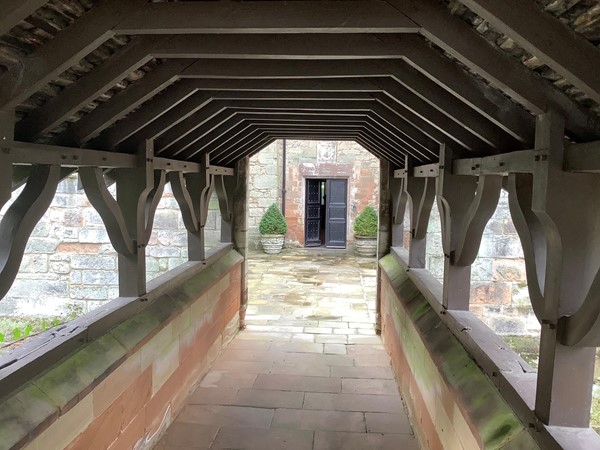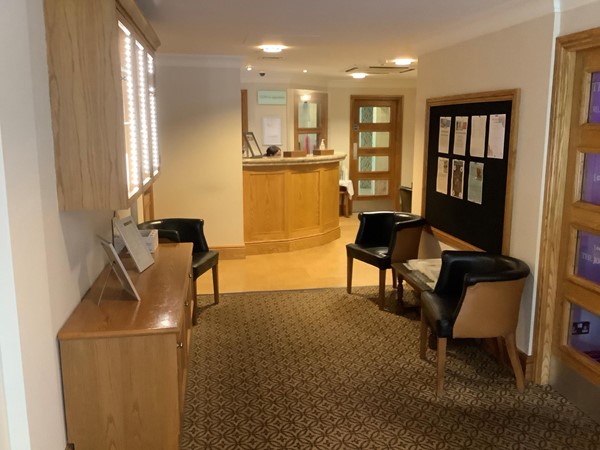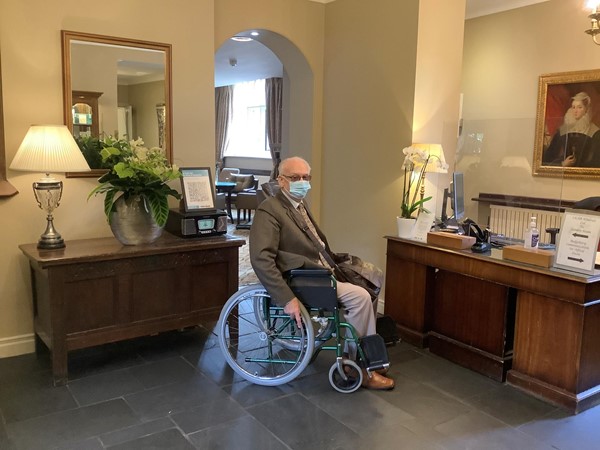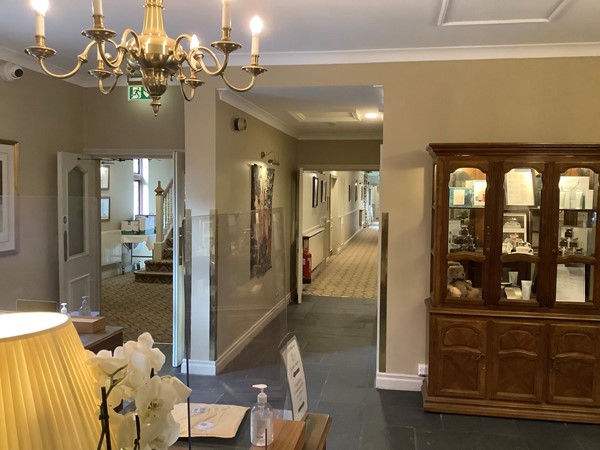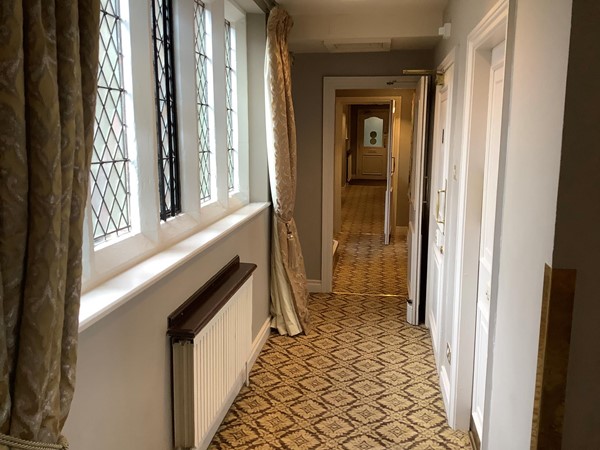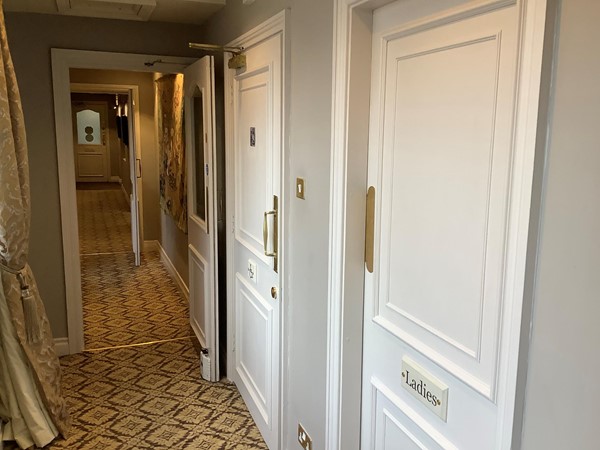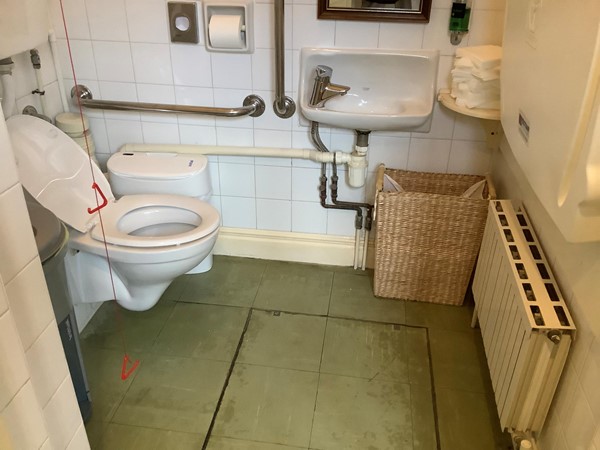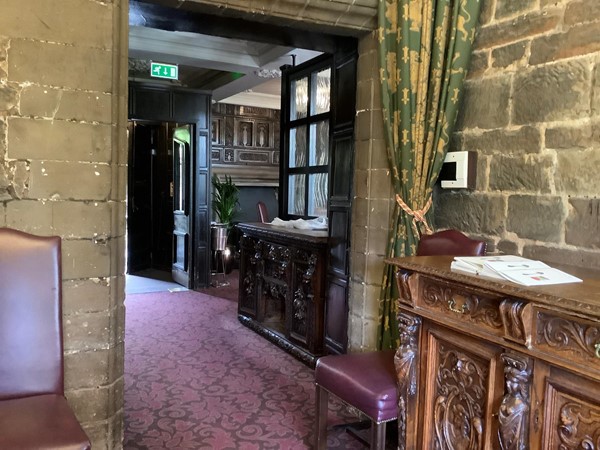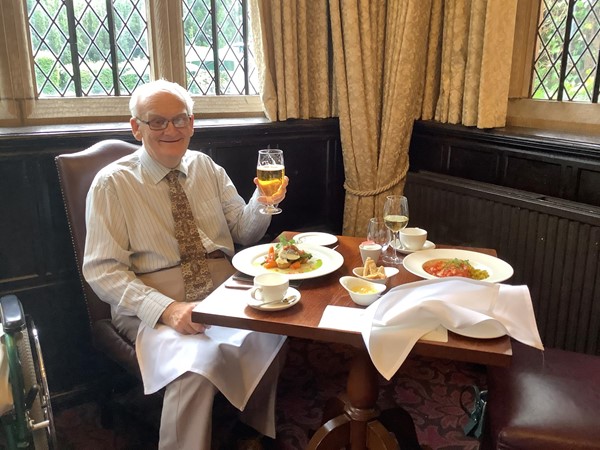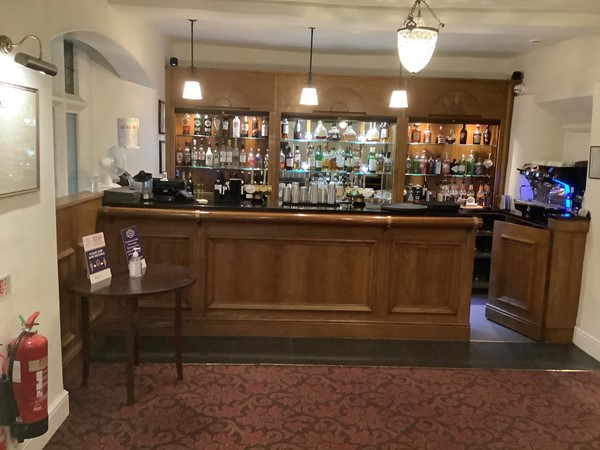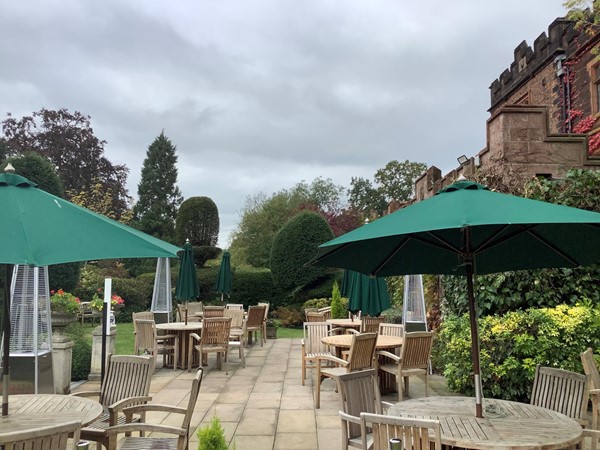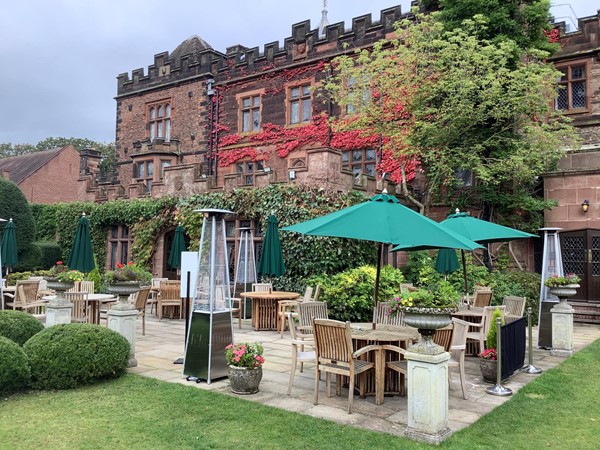 We've had 2 reviews for New Hall Hotel & Spa