Interview with Euan
Where do you come from? How old are you?
I'm Edinburgh born and I recently turned 40.
What is your background?
I studied at St Andrews and Edinburgh University before moving down to London for 6 years where I worked in the financial services industry. In 2003, I noticed a loss of power in my thumb when trying to change gear on my bike. It seemed innocuous at the time but 2 months later I was diagnosed with Motor Neurone Disease. Since then I have moved back up to Edinburgh with my family and tried to fundraise for MND research, working closely with Edinburgh University. I now use a wheelchair and ventilator but my condition has progressed slowly. I am one of the lucky ones.  
Why have you created Euan's Guide?
Quite simply because I wanted to go out for a drink with some friends, I wanted to go somewhere new and I couldn't find any information on accessible bars in Edinburgh. I had lots of information about local places with disabled access that I did visit however and thought that I would like to share my knowledge and figured that there must be thousands of people like me who have the same issues. Coincidentally my sister Kiki was thinking the same thing at the time and we decided to take this a step further and create a website that will benefit the whole community.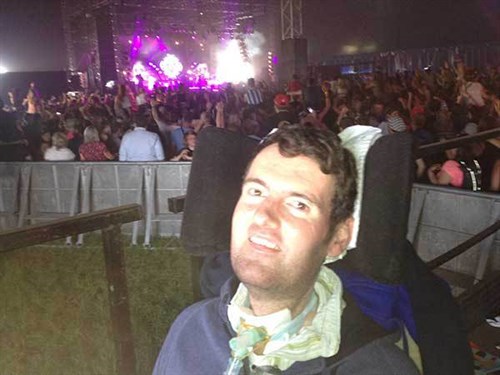 What does that mean to you? 
For me, a site like Euan's Guide will remove the fear of the unknown. If I can read some reviews from people who have similar accessible issues, I'm much more likely to trust them than a venue website which just displays a disabled badge. Euan's Guide is designed to provide an accurate preview of the venue and should remove the element of surprise when you arrive somewhere. It is really important to me that barriers such as these are removed so I can get on with leading my life.
What do you want to achieve with it?
I want to create a resource to serve people with access requirements. I would love it to be a place where we can routinely help each other by recommending places to go or suggesting improvements to venues. I want Euan's Guide to become a useful part of people's lives.
What is your experience with accessibility?
I've had some brilliant experiences…and some dreadful ones! The worst was a well known venue in Glasgow (that shall remain anonymous but that should know better) that had sold me accessible tickets. When myself and my carer arrived, the manager offered to carry me up the stairs - when I politely refused I was offered £200 to go away! That was definitely a one off though, some of my best experiences have been the most surprising such as T in the Park (a Scottish music festival - see next question) and some of the venues in Edinburgh that you think will be terrible as they are in old buildings but you find that although the physical accessibility isn't great the staff more than make up for it. Rewarding these types of venues is another reason behind Euan's Guide.
What was T in the Park like? 
In a word? Brilliant! This was the third year that we've gone - and once again we were massively impressed by the disabled access and the accessibility platforms and in particular the staff. When we first went to T in the Park we were apprehensive about what we might find. Each year the staff strive to make the experience as easy (& fun!) as possible and actually listen to our suggestions - issues that we'd pointed out on Friday night were fixed by the time we returned on Saturday. And the music isn't bad either..!