Covid-19: Supporting your disabled customers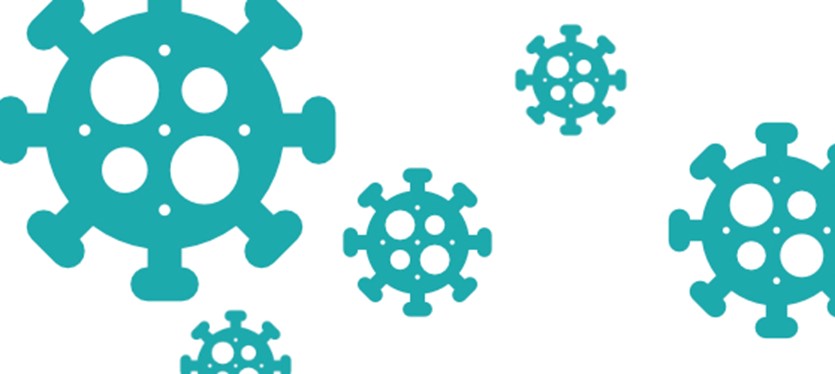 Euan's Guide top 10 tips to help venues to support disabled customers during the Covid-19 pandemic.
1. Share information
Research shows that the vast majority of disabled people try to find disabled access information about somewhere before visiting for the first time. The first place they are going to look is your website, so make sure it is easy to find on there!
Right now people are even more likely to look for information before they visit. Make sure the information on Covid preventative measures is accurate and easy to find, and make sure you check all the disabled access information is kept up to date and includes Covid information within it.
Our Covid research showed that 50% of participants would look to find disabled access and Covid information on Euan's Guide before they visit. Venues can list their disabled access information and their Covid precautions on Euan's Guide for free. As the disabled access review website used by disabled people, their family, friends and carers, listing on our website can help make sure potential visitors know that you are welcoming and care about your accessibility.
Find out how to list on Euan's Guide
2. Make it easy to visit
While places need to control numbers right now, having only one way to book is not going to be accessible for everyone. Not everyone can or is comfortable using a phone or the internet, so by offering a range of ways to book you are letting more people participate. It also helps to have a clear way to get in touch if potential visitors want to ask specific questions and to give advice of what to do if someone needs to cancel or change their booking last minute.
Some people simply won't be able to book in advance, can they still visit?
Companion tickets should always be available. It is likely that right now more disabled people will require a companion ticket as they might not get or feel comfortable getting the assistance they normally would from staff members. Try to make this easy to book no matter what method they choose to book through.
3. Don't forget about their journey to you
Covid-19 can impact how people can get to you so it should be something you cover in your pre-arrival information.
Please leave your accessible spaces free from obstruction. Unfortunately there have been a number of instances where accessible spaces have been blocked off at venues to make way for queues. Accessible spaces on some streets have also been lost so that pavements can be widened or cycle paths added. This is a huge barrier to access.
We've also seen new street layouts causing bus routes to be diverted and taxis having to park further away. Many quick or temporary changes to the streets and pavements can also miss the appropriate tactile paving and dropped kerbs. These can all cause problems for visitors and so it is worth considering how the travel options to your venue have been affected and communicating any changes in the information you share.
4. Get in the habit of asking "is it accessible?"
When making changes, like introducing a one way route or adding sanitisation stations, ask yourself if it is accessible.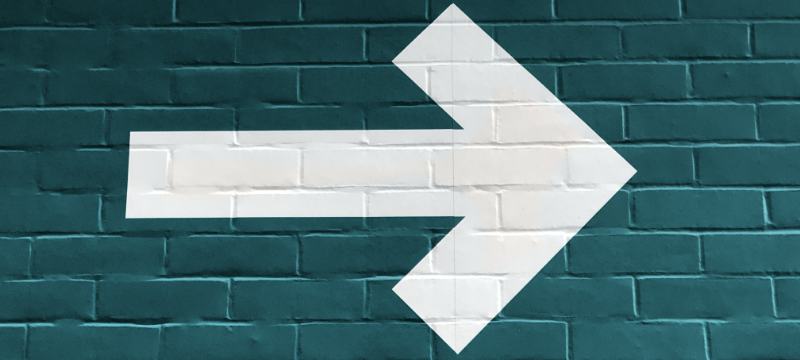 Image: A teal brick wall with a white arrow painted on pointing right.
There are lots of different access requirements people might have, when it comes to one way routes, consider how a visually impaired person meant to know, understand and follow the route. Large, clear signage and staff able to verbalise the information can help. And if the one-way route does not have level access how is a wheelchair user meant to navigate around the space? If you know that some people will need to travel against the flow, make sure all staff and visitors know about this. It can help to share information on one-way routes in advance and to include this information on accessible alternative in your signage to make everyone aware.
We have seen examples of sanitisation stations that are too high and foot operated dispensers, both of which can't be used by wheelchair users. Having sanitisation stations at an accessible height was the top requirements from our survey participants.
5. Be visible and vocal
Staff can make all the difference and it is really important that they are there to help.
Staff can be hard to spot, so if it looks like someone needs help, staff can introduce themselves and ask if they can be of assistance.
Our survey showed that disabled people's biggest concern was people not respecting and honouring social distancing. Try to position staff at pressure points where a build up of people is likely and where social distancing might be hard, like at lifts. Visitors are unlikely to want to confront each other, so having a staff presence and appropriate signage can help to remind everyone to keep a safe distance apart.
6. Don't neglect your queues
If people are queuing outside staff should be visible, explaining the changes and available to answer questions. Consider what shelter you can offer if they are queuing outside in poor weather. Not everyone can stand for extended periods of time so it can be helpful to offer seating. There may also be situations where someone needs to jump the queue and having staff that recognise this and can offer appropriate assistance can be the difference between visiting somewhere or not.
7. Talk about toilets
One of the top concerns in our Covid report was the concern that toilets are going to be shut. Before visiting somewhere people want to know that there is going to be a suitable toilet they can use. Some people will be looking for an accessible toilet, other people will require the facilities found in a Changing Places toilet. Make sure you let people know if your accessible and Changing Places toilets are open. If they are shut or if you don't have one, let them know where the nearest ones are, when they are available and how to get to them.
8. Consider your signs and directions
Your signs need to be large, with contrasting text and background colour and readable from different heights. Make sure you are covering any inaccurate signage or remove signage which is currently not relevant and replacing it with other signage, directing people to parking, the entrance, the key points at your attraction, and the toilets. Remember, even with the best signage, not everyone will see or understand it so please educate staff to be supportive to people who are unintentionally breaking the rules.
9. Be informed on face covering guidelines
While we encourage everyone who can wear a face covering to wear one, we do also want to make sure everyone knows that the Government has identified individuals who are exempt from wearing a face covering. In many cases, their reasons for being exempt will not be obvious. All staff should know that there are exemptions to the face covering rules and that people should not be harassed or denied entry for not wearing face coverings. It also helps to incorporate the exemption message into your signage or announcements so that other visitors are also aware of exemptions too.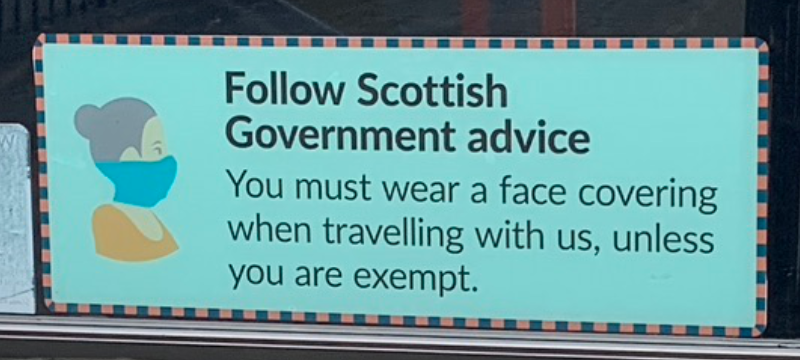 Image: A sign on a bus window that reads "Following Scottish Government advice. You must wear a face covering when travelling with us, unless you are exempt."
There are lots of resources out there that people who are exempt may choose to use to help indicate their exempt status. These are entirely optional and should never be a requirement. It can be helpful to make your staff aware of these resources, like our Face Mask Exempt badges.
10. Make your information accessible
While some people might find detailed information on your disabled access and Covid precautions really useful, others might find it overwhelming or hard to digest. By offering information in a range of formats you can make sure everyone understands the changes and knows what to expect. You could try doing a video walk through or virtual tour to show what the venue looks like before they visit. You could also create an Easy Read guide or social story to highlight some of the important changes.
Sharing images and videos of key points in your venue and of any accessible features can be a useful way to give people the information they need so that they can easily decide whether or not to visit. That's one of the features our users love about Euan's Guide – how quickly you can browse through the images left by venues and visitors to decide if a venue will be accessible for them.
Download our top tips as a one page PDF
Download our top tips as a word document
Reference material