Access Statement for Euan's Guide HQ
We've moved!
Euan's Guide has moved to a new address from February 2018. We are now based in CodeBase at 38 Castle Terrace, EH3 9DZ.
The following information is for our old address. We will be updating our new Access Statement shortly. Please contact us for information about disabled access if you are visiting our office. Our phone number is 0131 510 5106, or you can email us using hello@euansguide.com. 
Introduction
Euan's Guide HQ is situated within the Creative Exchange in Leith, Edinburgh. The office is 3.1km (1.9 miles) from Waverley Railway Station. It takes around 42 minutes to walk here from the station or 8 minutes driving. We look forward to welcoming you. If you have any queries of require any assistance, please phone us on 0131 510 5106 or email hello@euansguide.com
Download the Access Statement as a Word document.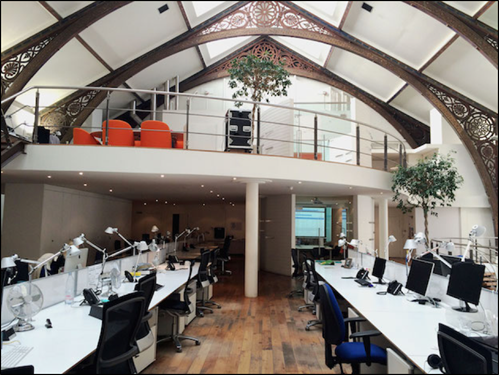 Arrival
Euan's Guide is located at 29 Constitution street, a spur off Bernard Street where the nearest bust stop is located. The Lothian Buses, part of Transport for Edinburgh, number 16 bus stops here and is equipped with a ramp and has space for one wheelchair. All Lothian Buses are wheelchair accessible. The pavements in the immediate vicinity are level with dropped kerbs in the appropriate places, and the road is cobbled.
All licensed taxis are wheelchair accessible and taxi drivers have undergone accessibility training.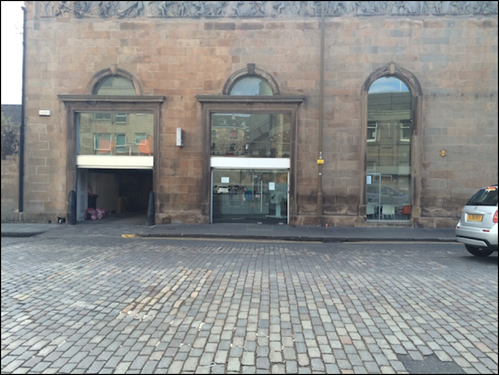 Car parking and drop-off facilities
On-street parking is available and it is usually possible for find a space near the office. The Creative Exchange also has a private indoor car park which you may phone ahead to use. The kerb is 14 cm (5.5") high in the street. Visitors can be dropped off outside the office. Wheelchair users may find it easier to be dropped off by the front door access where there is a dropped kerb.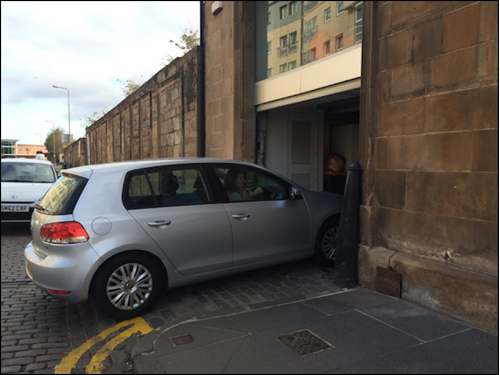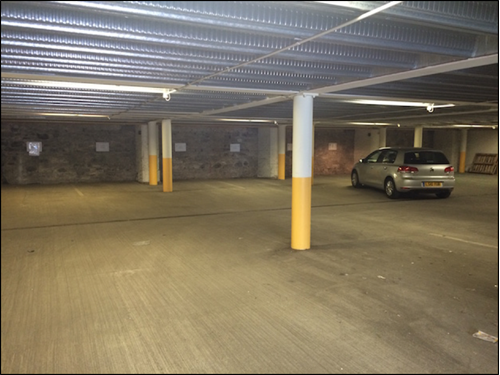 Entrance
The main entrance is barrier free and the door is clear glass and quite heavy. To enter the building, there is an intercom set-up at the right-hand side of the main entrance. The receptionist is able to see visitors as they approach and can help with the door. There is a second clear glass door upon entry which leads you to the front reception desk. The receptionist will escort you to the Euan's Guide office or somebody will come and meet you.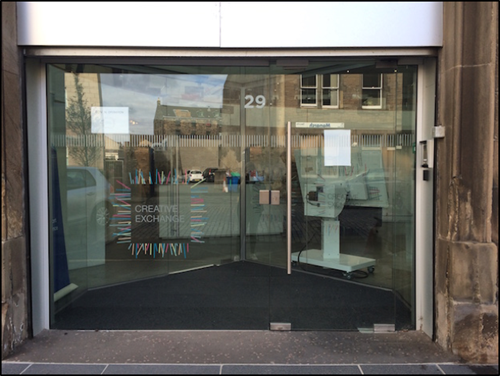 If you have arranged to use the indoor car park, somebody will come and meet you at the interior entrance to the rear of the car park.
Inside the office
Euan's Guide HQ is a spacious room with desks positioned in the middle of the room. The floor is carpeted and level throughout and there is ample circulation space around the desks for more than one wheelchair user. The main office is lit by fluorescent lights. Staff are happy to assist visitors where necessary.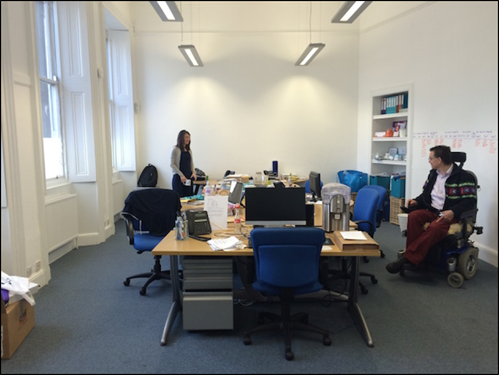 Meeting rooms
Meeting rooms and spaces are available on request throughout the Creative Exchange. Meeting rooms on upper levels may be accessed via stairway or lift. There are meeting spaces in the reception foyer on the ground floor.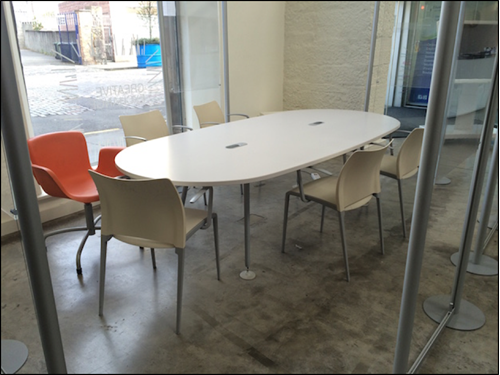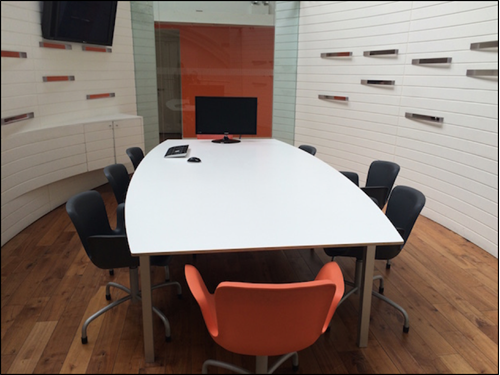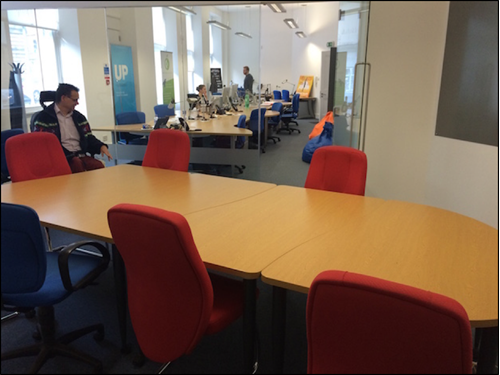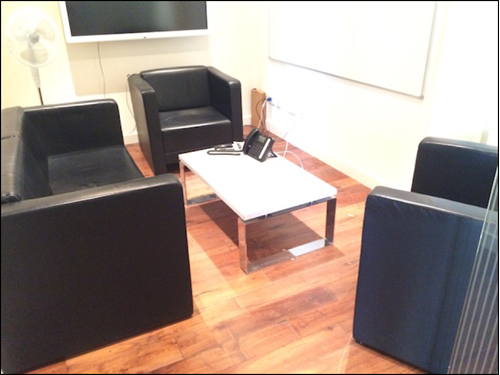 Accessible toilet
There is an accessible toilet on the ground floor. The door clearance is 85cm (33.46"). The room length is 210cm (82.67") and the width is 150cm (59.05").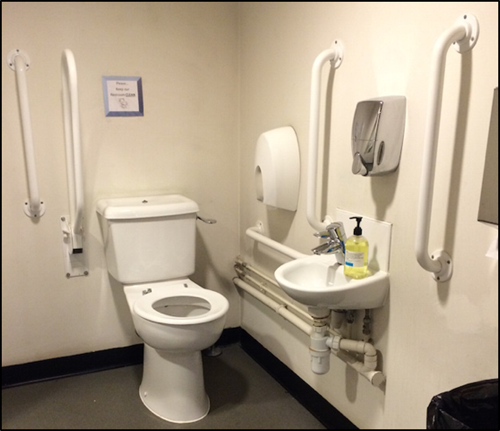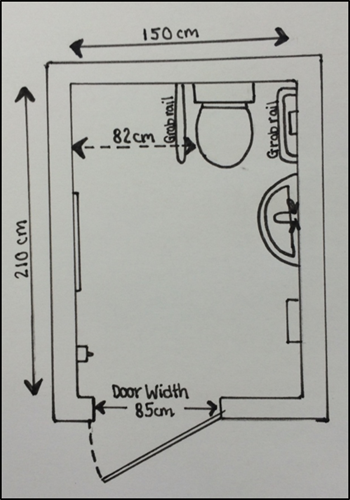 Lifts
There is one lift in the building which covers the first and second floors where meeting rooms are located. The door clearance on the lift is 80cm (31.49") and there are side rails within the lift.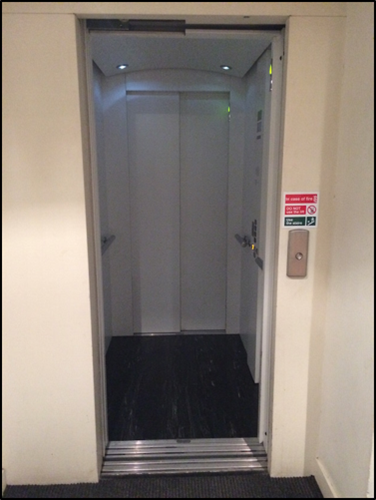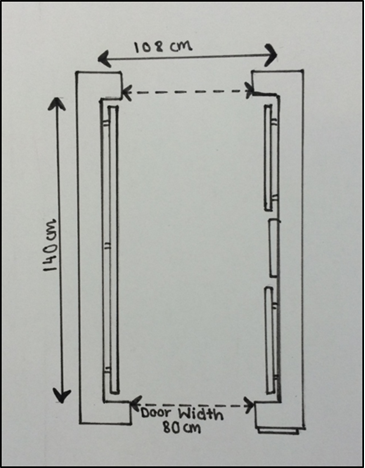 Additional Information 
There are power points for electronic devices, should they be required by visitors.
A power point is available for powerchair users who wish to plug in their battery charger.
We welcome assistance dogs and water bowls can be provided.
If you require any of our information in an alternative format, please contact us.
Contact Information
Address: 29 Constitution Street, Edinburgh, EH6 7BS
Telephone: 0131 510 5106
Email: hello@euansguide.com
Website: www.euansguide.com
Hours: 10am - 4pm Monday – Friday
Transport contacts
City Cabs: 0131 228 1211
Central Taxis: 0131 229 2468
Local Bus: Lothian Buses number 16
This access statement does not contain personal opinions as to our suitability for those with access needs, but aims to accurately describe the facilities and services that we offer all our guests/visitors.
If you require this information in an alternative format, please contact us at hello@euansguide.com or telephone us on 0131 5105106.
Last Updated: August - 2015