12 disabled bloggers to add to your reading list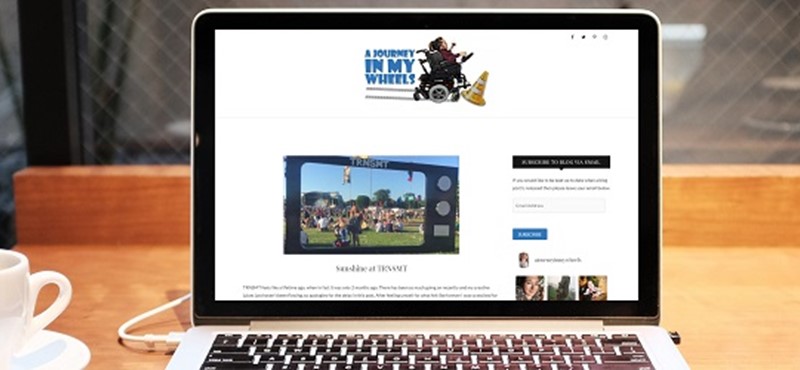 The internet is home to some incredible disabled bloggers who are covering everything from assistive technology and accessible travel to health and disability awareness. If you're in the mood for a good read, we've picked a few of our favourites (only a few!) to introduce you to today.
Writing about wheelchair access and tea, Gemma is a blogger from Norfolk who started Wheelscapades to tell stories of her 'laughs, adventures and frustrations' when visiting places as a wheelchair user. Her blog is full of cool places to go around the UK and we love her descriptions of the accessible loos she encounters!
Elin is a visually-impaired blogger who writes not only about lifestyle, beauty and fashion, but also about disability awareness. With great tips about blogging, Elin's posts are extremely helpful if you're thinking about starting your own blog!
A marvellous Euan's Guide reviewer, Kristina writes her blog from the west coast of Wales! Apart from Kristina's stories and love of ruins, our favourite thing about her blog has to be her photography. Look out for Kristina's reviews on Euan's Guide too!
We love Ruth's blog! We first discovered Mum Making Lemonade after Ruth praised the accessibility of Storyhouse in Chester and became a Euan's Guide reviewer. Her blog is dedicated to her daughter Elin who has Cerebral Palsy, and the family recently wrote a brilliant post about their trip to the Edinburgh Festival Fringe!
Holly first created her blog in 2015 to share her experiences of being visually-impaired and to educate people. We love her posts about assistive technology the most, but Holly also writes about travel and gigs, and has recently started her own YouTube channel!
We're big fans of Chelsea's rugby-inspired blog! Chelsea is a wheelchair user and Euan's Guide Ambassador with a passion for rugby, and you can follow her adventures as she travels far and wide to support her favourite teams. Check out her Euan's Guide reviews.
You might know Sarah better as the writer behind Sarah in Wonderland, but her blog has evolved into From Sarah Lex where she writes about disability, beauty and lifestyle. We especially enjoyed her post which explored wheelchair accessible vehicles (WAVs) earlier this year.
Anthony is on a mission to be the first wheelchair user to visit every country in the world, and it's nothing short of exciting to follow his posts along the way! Also a Euan's Guide Ambassador, we love catching up with Anthony in unexpected locations around Scotland. You can read his reviews here.
Blogging from Milton Keynes, Kerry started her blog to share her stories and what she sees from her 'Go-Kart (wheelchair)'. Her blog is packed full of interesting stuff including Changing Places chat and why Aloe Vera is so good.
Forever writing about gigs, travel and adventures, Emma's posts are so very readable. We'll never forget that post about wheelchair accessible alpaca trekking! Emma's also a Euan's Guide Ambassador and you can check out her reviews here.
Glen is a visually-impaired London-based blogger who write about tech, disability and entertainment on his blog Well Eye Never. We've really enjoyed reading Glen's Mobility & Travel and London Adventures posts!
Claire's posts are always great fun and if you haven't already been following her accessibility pub crawl, we highly recommend it! Based in Dundee, Claire is on of our amazing Ambassadors and writes super helpful reviews on Euan's Guide which you can check out here.
There are so many amazing bloggers out there that we couldn't list them all at once! We'll be back in autumn with more disabled bloggers for you to follow and read during winter. Watch this space!