Access Survey Insights - Ross Calladine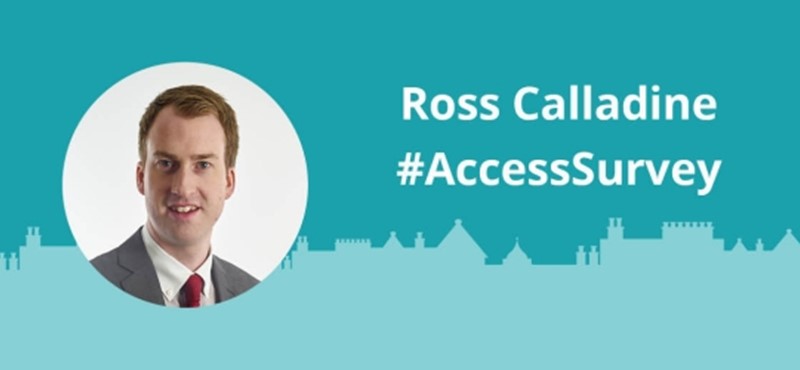 Ross Calladine shares his insight into how the tourism industry sees accessibility as it survives the pandemic and some very welcome good news stories. The 2021 Euan's Guide Access Survey supported by Motability Operations ran in Autumn 2021 with results published in March 2022. Over 2400 disabled people and their friends, families and carers took part.
Do you think access in the tourism industry has lost momentum due to the pandemic?
Tourism and hospitality businesses were amongst the first and hardest hit by the Covid-19 pandemic. We have forecast an estimated loss in domestic tourism spending in England, in 2020 and 2021 combined, to be about £77 billion. Extending the season through the shoulder months and continuing to build confidence in taking domestic trips is critical for the millions of jobs and local economies that rely on tourism across the country. Businesses and attractions have worked flat-out to welcome customers back, adapting and innovating to meet new ways of working and still providing a great visitor experience. As the industry builds back and continues on its road to recovery, we also have a valuable opportunity to improve accessibility for disabled people. Through my new role as Disability and Access Ambassador for Tourism (appointed by UK Government) I will be further assisting tourism businesses to welcome and support disabled people and others with accessibility requirements.
We're told by disabled people that they are struggling to find out if tourism destinations are still open - what would you say to those people?
During the COVID-19 pandemic and as the industry reopened VisitBritain's 'Know Before You Go' campaign supported domestic and international visitors by encouraging them to check that core facilities including for example public toilets were open before they set off.
How does the tourism industry see Accessibility as it struggles to survive the pandemic?
It is key for tourism businesses to see accessibility as part of the solution as they rebuild their business. Detailed and accurate information, disability-aware staff and accessible facilities and services will all help to drive footfall and in turn revenue, now and into the future. VisitEngland is committed to the UK Government's ambition for the UK to become the most accessible destination in Europe (as outlined in its Tourism Recovery Plan page 54).
Our survey suggests access is poor but are there any good new stories from the tourism industry promoting access?
There are some really good news stories concerning accessible venues. Hotel Brooklyn won the 2021 Accessibility Catey Award for accessible provision that includes 'Liberty Suites' that are inspirational not institutional. The UK Government has recently announced Round 1 funding allocations for the £30 million Changing Places Fund and one of the first Changing Places toilets in a hotel has opened at Marsham Court Hotel in Bournemouth. VisitEngland has continued to highlight accessible tourism with its second 'Mission: Accessible' social media series with Channel 4 in autumn last year. And VisitEngland is also currently leading an exciting project to develop accessible tourism itineraries for visitors to the North York Moors.
What do you think are the easiest things the tourism industry can do to overcome the nervousness disabled people express about getting out and about again?
Throughout the pandemic, it has been key for tourism businesses and destinations to provide reassurance to people around hygiene and safety. This is particularly important for disabled people who are more likely to be on the Government list of 'vulnerable people' due to underlying health conditions and impairments. Whilst all remaining restrictions have now been removed in England, the virus is still circulating so information such as quieter times will remain valuable. VisitEngland provides direction and support to businesses and destinations on harnessing the valuable and growing accessible tourism market with dedicated guidance and resources on its Business Advice Hub.
Ross Calladine is Head of Business Support at the national tourism agency VisitEngland and was appointed by the UK Government as the Disability and Access Ambassador for Tourism in January 2022. You can follow them on twitter @RossCalladine
For full results of the Euan's Guide Access Survey supported by Motability Operations, please visit www.EuansGuide.com/AccessSurvey