Dream Toilets!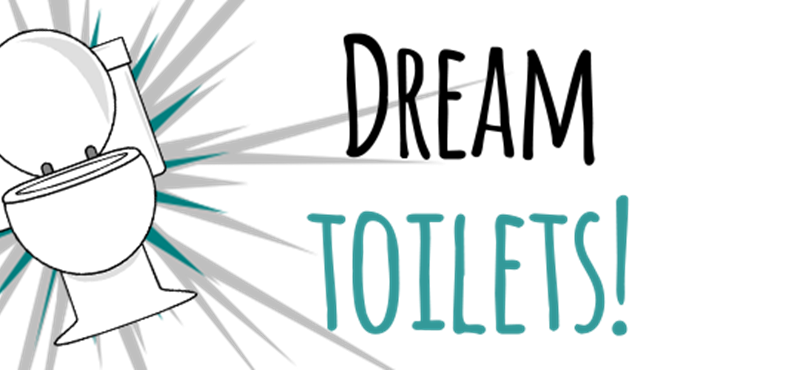 World Toilet Day is just a few days away, and we've been dreaming of the many ways that accessible loos could be made magical – and much more pleasant to be in! Last year, we shared our top five toilets on Euan's Guide. We had a luxury loo, a rural toilet and even a sky-high bathroom – but we figured that the sky doesn't have to be the limit! We asked a few friends, and some of our top reviewers what their 'dream accessible toilet' would be.
Gadgets and waterfalls
For many folk, it may be the sparkly chandelier, the flock wallpaper or the retro paintwork. For me it's about the coming together of technology and convenience (excuse the pun). Bright, with good contrast and loads of chrome … Just imagine the waterfall hand basin where taps are replaced by a waterfall of water you place your hands under, a hand dryer that emulates the wind across a Caribbean island and lights that shine as if beckoning a rising sun.
The more gadgets the better with automatic doors and taps or waterfalls that flow with the approach of a person. Lights that burst into life when doors are opened and stay on long enough to be useful. Bins that hold the waste of modern life built in to the walls with automated lids or flaps. Emergency alarms that sense a person on the floor and of course, décor that delights the eye. A shelf or two for placing those essential bits and bobs when you need to. The crowning glory being space to 'dance' and a touch of luxury like self-selected aromas to tantalise the senses, some lovely towels with a soft touch, and of course that feeling of this is a 'dream loo'. - Baffles
Music and a disco ball
As humans, we spend a fair bit of time primping and preening in bathrooms. Wouldn't it be a dream if we could make this experience more of a party? Imagine a room with a sparkly disco ball way up high, and music just loud enough to overcome the issue of stage fright! The dancefloor would be clear, spacious and inviting; the lights bright and the mirror long enough to check my entire outfit; not forgetting the designer soap…
Alas, the dream vanishes as soon as you hear someone tugging impatiently on the bathroom door. The ultimate dream toilet would have to have the clearest, large print and contrasting vacant and engaged signs – because you don't want gatecrashers to this party. – smithling
Game, set and match!
Let's get down to business. I've got a game to watch, and the cold air has got me racing for the loo. Brr! Give me an accessible toilet that's close to my seat; you'll get a penalty if I have to race to the opposite stand. Once I'm there, I don't want to miss any of the action! A jolt to the toilets isn't always a quick affair, so I need live game updates every step of the way. That means in the queue and in the loo. I'm talking speakers, live footage – even better if I can have a one-way window to the pitch! Now let's get one thing straight, sports stadiums can be baltic, so my dream toilet would have to be heated 24/7; I don't want any unexpected drafts… - macd123 
High Tech Heaven
Gadget Boy (aka the Accompanist) dreams of doors that slide open as you approach them, a music system that responds to requests like his new phone does, with helpfully stimulating tracks to suit all tastes, whether it's Springsteen's The River or Handel's Water Music. And how about the capacity to say "OK, loo. Flush" and a soap dispenser and hand dryer that work in the same way? On a more serious note, he's a great fan of those continental alarm cords that run round the room where the skirting board would be if there was one, so that wherever the user falls, it's within reach. He also fantasises about a system which detects anyone capable of using an ordinary loo who is trying to enter the accessible loo and then plays the chorus of 'Wrong Place, Wrong Time' very loudly.
Wheelchair Girl dreams of a loo paper dispenser where you don't need to be Twizzle to reach the paper. And how about hand-dryers close to washbasins? Centrally heated loo seats would be nice, and the music system should definitely have an off switch. And how about an intercom so that you can tell those irritating people who rattle the door handle where the nearest alternative loo is? As for those jacuzzi-loos that offer a vertical cleansing shower and air drying, it would be reassuring to have a temperature control. – warnesdj
Perfumed Paradise
Can we get some flattering lighting in here? A toilet isn't just a place you dart in and out of. It's a space to pamper yourself and touch-up your beautiful visage! Imagine a star-studded dressing room – it's got shelving either side of the sink for me to rest my cosmetics bag within easy reach. There are the easily forgotten essentials, stacked neatly and regularly topped up – I spot cotton ear buds and hairspray, a little deodorant and maybe even a jar of fluffy cotton balls.
In an ideal world, this toilet would be strikingly pink, with not a piece of clutter in sight. High-chairs don't belong in an A-list dressing room! Finally, as I glance upon my frizzy hair in the mirror, I'd like to be able to pluck the pay-as-you-go straightening tongs from the wall to remedy the situation – so please don't fix them too high out of my reach! - DaisyDoo
Painting by numbers
As a wheelchair user, painting is not the easiest thing to do (apart from focusing on that perfect central chunk – right at my eye-line so easy to avoid mistakes and rehearse my 'colouring by numbers' technique…) I spend so much time daydreaming about colour and pattern, and only wish I could hope for a height-adjustable toilet that could lift me up to the ceiling to paint from my wild imagination whilst also doing my business. Envisage a big, blank, white bathroom wall, free to paint, design, sketch and scribble on. Each week, the wall would get brighter, more vivid and be filled with colours and characters from the minds of those who'd sat on that height-adjustable throne, wherever they may have been visiting from in the world.
A bit of a beauty obsessive, it would be incredible if, after constructing my artistic masterpiece, I was able to powder my nose (literally!) in this bathroom, where mirrors, shelving and products would all be perfectly positioned within my reach. And hey… it'd be a stunning AND a great-smelling room. Who wouldn't want that? – Emily_Yates
--
What would be your dream toilet? Comment below or share with us on Facebook or Twitter. If you've already found a toilet that's out of this world, write a review!
How to review a toilet on Euan's Guide >>