Euan's Guide and Motability Operations partner on the Access Survey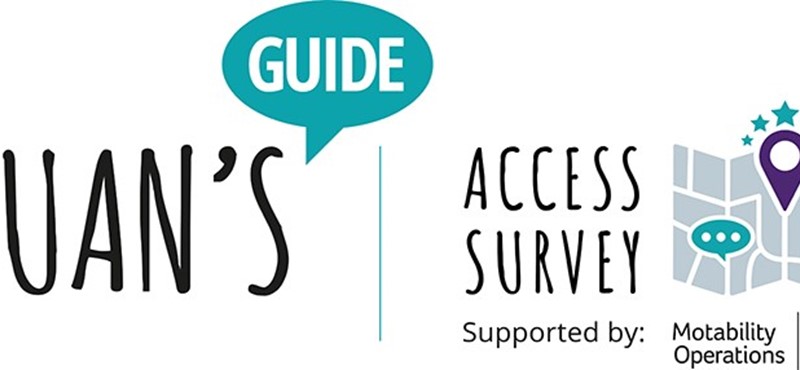 Disabled Access – is it better or worse in a post-lockdown world?
Press release
The impact of the pandemic on disabled access is going to be the key focus of the 2021 Euan's Guide Access Survey, the UK's largest and longest running survey of its kind. The survey, running in autumn 2021, will attempt to discover how lockdowns and COVID measures have impacted those with accessibility requirements.
For the first time, the survey will be supported by Motability Operations, the company behind the Motability Scheme. The Motability Scheme supports disabled people in achieving greater independence and everyday freedom through access to affordable, worry-free mobility. The organisations are uniting to ask everyone who has ever had to consider disabled access to share their opinion on accessibility in 2021. And with all the changes in this post-lockdown world it's more crucial than ever that people take part this year.
The survey has previously found that respondents rate historic castles as more accessible than pubs, 93% of respondents try to find disabled access information before they visit somewhere new and 79% of respondents have had to change their plans at the last minute because of poor accessibility. 
Euan MacDonald, co-founder of Euan's Guide, said: "2020-21 has been a massive period of disruption for everyone but it is particularly affecting disabled people, their friends, families and carers. From extended periods of shielding through to COVID-measures that make access more complicated, the pandemic has potentially pushed back the progress of accessibility by years.
"Our Access Survey asks people for their views of disabled access at all types of venues, from restaurants to theatres to stations to shops and many more. This will be the seventh year of the survey and we feel that it is important to find out just how the pandemic is impacting accessibility.
"It is fantastic to have support from Motability Operations and we look forward to hearing the views and opinions of their customers. We hope that this is just the start of a great partnership to amplify the voices and experiences of disabled people and their friends, families and carers." 
Delia Ray, Head of Marketing at Motability Operations said "Like Euan's Guide we are great believers in the benefits of getting out and about, which is why we're putting our support behind this year's Access Survey. We hope our customers will enjoy sharing their thoughts and feedback to help venues enhance their accessibility, especially as the country begins to open up after the challenges of Covid-19." 
The Euan's Guide Access Survey supported by Motability Operations will launch in the autumn, capturing the opinions of disabled people, their friends, families, and carers on disabled access across the UK. To learn more and register your interest, please visit www.EuansGuide.com/AccessSurvey. 
Euan's Guide
Euan's Guide is the award-winning charity making it easier for disabled people to find great places to go. EuansGuide.com is the disabled access review website where disabled people, their family, friends and carers can find and share reviews on the accessibility of places around the UK and beyond. Having access to good quality disabled access information inspires confidence and removes the fear of the unknown. It breaks down the barriers of exclusion and makes it easier for disabled people to find great places to go.
The charity was founded in 2013 by Euan MacDonald MBE, a powerchair user and his sister Kiki after Euan was diagnosed with Motor Neurone Disease and a lack of disabled access made everyday experiences stressful. The website now holds thousands of reviews and is an invaluable tool for many disabled people.
Euan's Guide will be speaking about the Access Survey at Motability's The Big Event on 7th August. Visit https://thebigevent.motability.co.uk/for more information. 
About Motability Operations and the Motability Scheme
The Motability Scheme is the UK's leading car scheme for disabled people. It provides affordable, convenient, worry-free motoring to over 630,000 disabled customers and their families. Scooters and powered wheelchairs can also be leased through the Motability Scheme. 
The Scheme is available to anyone who receives the Higher Rate Mobility Component of the Disability Living Allowance, the Enhanced Rate of the Mobility Component of Personal Independence Payment or the War Pensioners' Mobility Supplement or the Armed Forces Independence Payment. Customers transfer their mobility allowance to Motability Operations Ltd to lease a car, scooter or powered wheelchair. 
When leasing a Motability Scheme car, insurance for three named drivers, servicing and maintenance, full RAC breakdown assistance, tyre and windscreen replacement and 60,000 mileage allowance over three years are all included in the cost of the lease. A range of popular car adaptations are also available at no additional cost. 
When leasing a scooter or powered wheelchair, insurance, breakdown assistance, servicing, maintenance and repairs and tyre and battery replacement are all included in the cost of the lease. Pricing is standard nationwide. 
A wide range of 'green' vehicles with emissions of 100g of CO2 per km or less are available through the Scheme. 
Motability is a Registered Charity in England and Wales (number 299745) and is authorised and regulated by the Financial Conduct Authority (reference number 736309). Motability provides a range of grants to individuals and organisations, including Scheme customers, who would otherwise be unable to afford the mobility solution they need.

 

Motability Operations Ltd is an independent company that operates the Motability Scheme under contract to Motability (the charity). Any profits are non-distributable and are reinvested or donated for the benefit of disabled people. Motability Operations Ltd is authorised and regulated by the Financial Conduct Authority under reference number 735390.