Euan's Guide Forum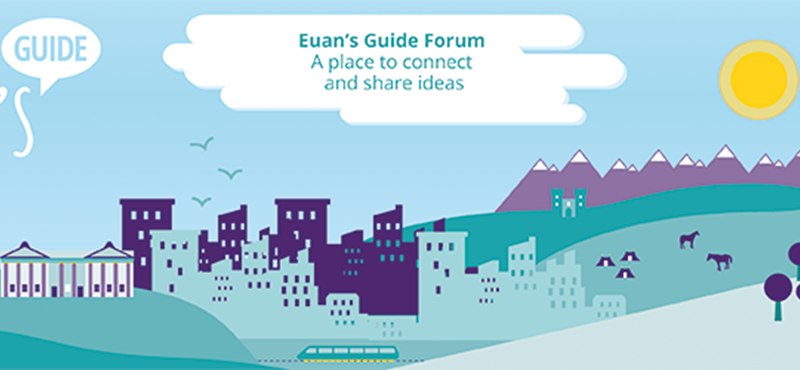 | | |
| --- | --- |
| | Written by Abby Richards, Communications Manager  |
A new way to stay connected and find things to do
As you'll all know, Euan's Guide is all about helping make it easier to get out and find accessible places to visit. However, over the past few weeks, our attention has turned to supporting individuals while they are staying in and self-isolating. 
It has led us to launch a new online community, Euan's Guide Forum, to help people stay connected. It has been designed to be a positive space to share advice, ideas, suggestions and support. We hope that Euan's Guide Forum will be your go to platform to beat the boredom and escape the news. There you'll be able to discover some of the wonderful things taking place online and join discussions around your favourite offline activities too.
Interested in joining? Visit EuansGuide.com/forum to register to join Euan's Guide Forum!
Like our review website, this online community has been designed for disabled people, their family and friends. Users will be able to contribute their own ideas and discussions and shape the platform to work for them. We can't wait to hear ideas from the community and see how the platform grows and evolves. 
This is a new step for Euan's Guide, but rest assured, we will continue to operate the popular disabled access review website. We hope to have Euan's Guide Forum continue alongside Euan's Guide long after Coronavirus has passed.
Euan MacDonald, Co-founder of Euan's Guide, said: 
"It can be easy to get bored or feel lonely when your opportunities to get out and about are taken away and the purpose of the forum is to avoid that, both during Coronavirus and beyond. We'll continue to help people find accessible things to do through our review website and our new online forum."
Paul Ralph, Access & Inclusion Director at Euan's Guide said:
"It can be easy to feel anxious or upset reading the news or scrolling on social media, instead we wanted to create a space where people can find and share fun things to do. People can choose to engage in the dedicated Coronavirus section of the forum to offer support and share advice, but, more importantly, we want them to be able to use Euan's Guide Forum as a place to escape the Coronavirus news."
Tina Hodgkinson, Euan's Guide Ambassador and forum user said: 
"As disabled people, we are often portrayed negatively or underrepresented by news outlets, and social media users can sometimes lack empathy or even be offensive towards us. This negativity can knock our confidence and impact on our emotional well-being. The forum is a welcoming, safe and positive space for disabled people to come together and share ideas. As one of the Euan's Guide Ambassadors who have been trialling the forum for the last few days, I'm very excited that it's now going public."