Is this Derbyshire's quirkiest accessible cottage?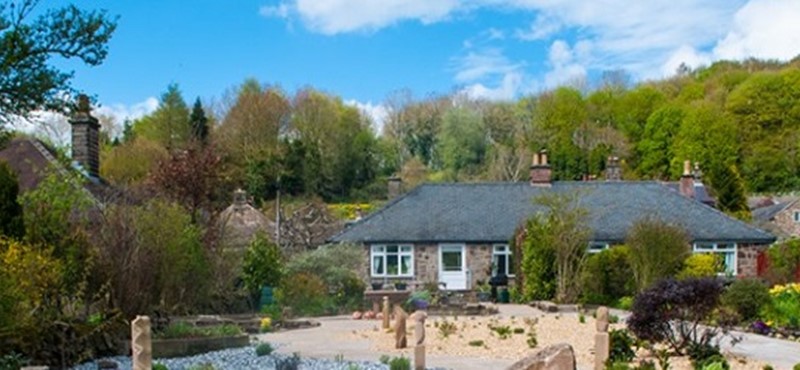 This little cottage sleeps four people in the Peak District, but there's something different about Croft Bungalow. Converted to make disabled access easier, the cottage has wide doorways, ramps, a high-contrast colour scheme and a wheelchair accessible wet room, but look a little closer and things get even more interesting.
Have you ever stayed in a house with a 'wheelchair safari path' winding through a sensory garden? Or how about a holiday cottage with a pop-up sensory room? Croft Bungalow has it all, and it's about to become even more unusual with cookery, nature and a bonsai surprise. We caught up with Steve to find out more!
The accessible sensory garden at Croft Bungalow looks amazing! What inspired you to create this garden, and who designed it?
After adapting the bungalow for guests with accessibility needs, the garden had been neglected and was a bit of a jungle. So, we decided to complete the project and go the extra mile with the garden. When we were planning it, we decided to make it a sensory garden as the perfect complement to the adaptions in Croft Bungalow.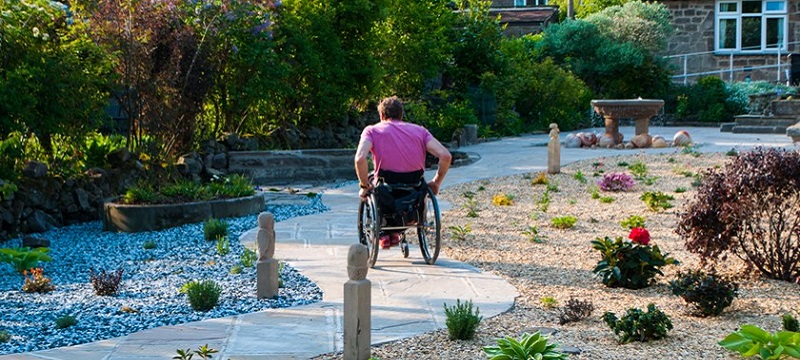 We designed the layout, but we had a lot of input and advice from people with autistic and learning difficulty caring knowledge, and Accessible Derbyshire gave us a lot of advice too. The five tactile statues were donated by Access For All UK and have been set next to the wheelchair path so that guests in wheelchairs with visual impairments will be able to enjoy them too. The plants were selected to provide scent and colour all year round, and the plant list was put together for us by a very keen gardening friend down the road who was keen to help with the project.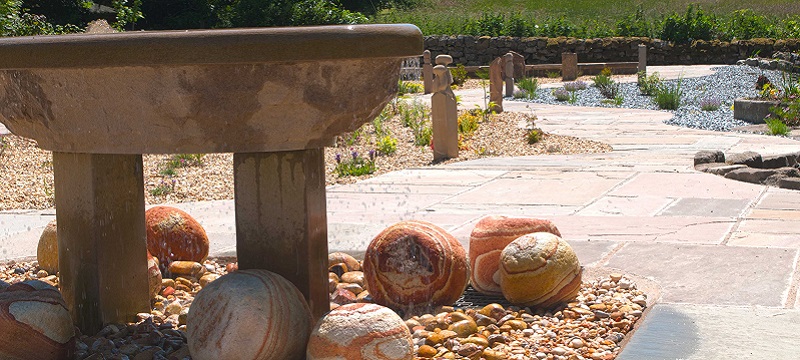 The key piece in the sensory garden is the water feature. It was carved by a local master mason Mark Eaton, who normally only works for local stately homes like Haddon and Chatsworth who keep him busy on restoration work. Mark kindly agreed to build a water feature for us and was given the following brief: it's got to be made from local Birchover stone, it must be wheelchair friendly, simple in design and provide the sound backdrop to our sensory garden.
Four months later it arrived on the back of a lorry and ticked every box. All our guests make a point of saying how lovely it is. The cascading water sound is very tranquil and soothing and if you close your eyes you could be in the rainforest.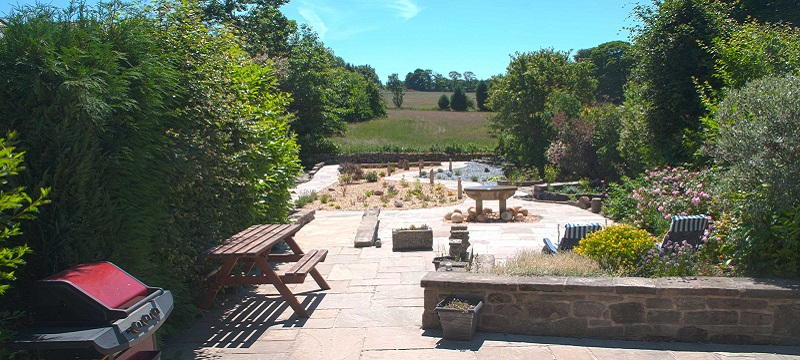 We started in December and we had guests in from 4th May - so we thought six months would be ample, but we lost over 40 days to snow.... So, in the end we had a frantic sprint finish - in the last four weeks I laid 30 tons of topsoil, 8 tons of gravel and moved 15 tons of gritstone, all by hand. The gravel went down five days before the guests arrived. The water feature went in three days before, and the last wheelbarrow full of tools left at 11am on the 4th, four hours before the first of our summer guests arrived.
See the before and after pictures of the garden transformation here >>
Can you tell us more about the pop-up sensory room inside Croft Bungalow?
Our single bedroom contains our electric profile bed and we can add some sensory equipment if requested. We have a bubble tube that changes colour, multiple strings of lights (and light ropes), a revolving disco bulb that cascades light across the ceiling, and a projector that can project moving patterns across the ceiling or walls. Along with the bed with cot sides, it can provide a very safe and warm environment to give carers or mum and dad a break and has proved very popular with some parties we have staying. Guests are welcome to use the equipment in any of the other rooms too. We just ask guests to advise us when they book if they would like us to set it up for their arrival - though they are welcome to ask for it at any time during their stay too of course.
How far in advance do guests typically have to book a stay with you?
That really depends. We have one or two bookings already for next year, though we also get bookings a few weeks before travel. Right now we are booked up until mid-October, but we have availability after that for this year and next.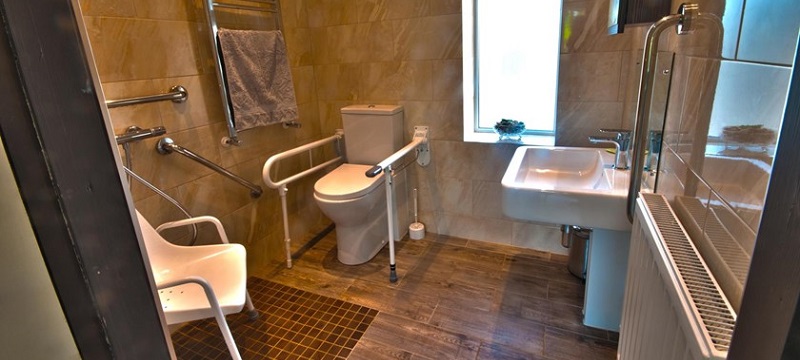 Is there anything that guests may need to request in advance?
We can put guests in touch with local carers, and local scooter hire, but we do ask them to let us know when they book so that we can pass details on and make sure it's all sorted for them without issue before they arrive. We also loan guests a hoist, wheeled showerchair/commode and a static shower chair if they wish - but they can advise us of that when they arrive if need be.
Where do you recommend guests visit in Birchover and the surrounding area? Are there any places with particularly good accessibility?
There are so many fantastic accessible days out that are within very easy striking distance of Birchover. We are in the perfect place to base yourselves to explore the Peak District. We invite guests to fill in an 'activity' sheet to recommend any good (or bad) experiences for future guests and this is on display in Croft Bungalow for guests to peruse at their leisure - but firm favourites are Chatsworth House, Bakewell, Matlock, Peak Village all a few minutes' drive away. Then Carsington Water, Buxton, Chesterfield, Heights of Abraham, Derby have all received thumbs up from guests.
There are country trails that are accessible too, all very close to Birchover. The pubs in the village are 50m and 100m away and both do food and take guests in wheelchairs. The Red Lion, 50m away, also makes its own cheese and brews its own beer. We point guests at Accessible Derbyshire's website for up to date accessible ideas.
What's next for Croft Bungalow? Do you have any more upcoming projects?
Now the garden landscape work is completed and being enjoyed by guests, we have a new initiative underway and will be ready (hopefully) before the end of 2018. We are developing a handful of experience activities that we hope will appeal to our guests. I don't want to give too much away until it's all in place, but we have an extremely talented young chef who will come to the bungalow and do a pop-up hand-cooked five course meal to help guests celebrate that wedding anniversary or special event. She will bring everything with her. All guests need to do is drink champagne while she is busy in the kitchen and anticipate the home-cooked treat to come.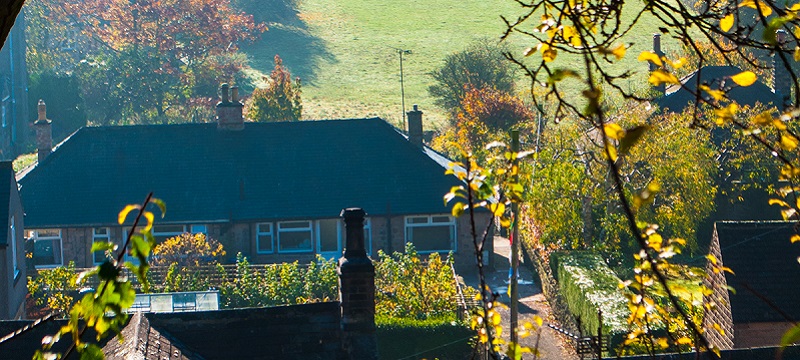 We are also planning a one to one photography teaching half-day especially tailored for wheelchair users. It's with a global award-winning nature photographer who has a passion for teaching and macro (very very close up) photography. Using their own or his borrowed equipment, guests will take a series of photos either out in the garden or inside with some of the wildlife (this could include stick insects, tarantulas or other insects…to be arranged that the photographer brings especially). Don't worry, they can't escape! He will then spend an hour or two teaching how to edit your image in Photoshop so at the end of the session guests will have a fantastic post-processed photo that they have taken all ready to print, all under the guidance of an award-winning professional.
We also have a charismatic bonsai expert (who has studied under the masters in Japan and is active on the 'bonsai scene' at national level in the UK) who can come in for two hours and teach a one to one bonsai for beginner's session. When he leaves guests will have their first bonsai all planted up ready for the window sill, two hours of anecdotes and banter, and an understanding of the art and practice of bonsai for them to continue their bonsai journey.
There are a couple more things in the pipeline too - equally diverse - but very early days, so I don't want to give any more away yet.
Can you add a review of Croft Bungalow?
If you've stayed at Croft Bungalow, please review them on Euan's Guide! That way more disabled visitors will know what to expect before they arrive. Write a review >>