Meet the Team: Kayleigh
Kayleigh joined the team as an intern in November 2019, but she is no stranger to Euan's Guide! She has been reviewing since 2015 and she loves sharing the message around accessibility and safety for disabled people. She joins us whilst in her final year of her Bachelor's degree and will soon be diving into a Master's degree. We interviewed her while she is working at home.
What have you been up to recently?
Resting. Relaxing. Oh, and more resting! As we're still under a lockdown I have had to adapt to a much slower and isolated lifestyle. I work from home three days a week, dedicate three days to university work and always take a Saturday off. In the evenings you can bet I am on the couch watching Netflix, reading, or Skyping friends. I'm in my final semester of my BA and finishing my dissertation so it won't be long until I get even more free time back! 
What is your dissertation about?
I'm writing about the social model of disability in the work of Christy Brown. He was an Irish author who painted and typed using his left foot. I just loved the way he spoke about disability and his identity, it really resonated with me, so I knew that I was going to use his work as soon as I started my BA in English. I'm using a lot of disability theory and arguing that Christy is an example of how disability is not a person's fault, but instead something that is negatively reinforced through ableism in society. Heavy stuff I know, I could talk about it forever, but I'll let you get onto the next question!
How do you balance university and work?
I wish I had a good answer for that, I really do!  I think for me it's all about prioritising, time management and being open when things do go wrong. There is nothing worse than feeling you have to suffer in silence. I'm grateful that my work and studies revolve around things I am passionate about, writing and analysing things, focusing on communication, so I see an overlap and use skills from both for each other.
You've been writing reviews for almost five years, where did you find out about Euan's Guide?
I was going into my last year of high school and I remember a lot of classmates and friends were getting to the age where going to a friend's house wasn't "cool" anymore so every day after school or on weekends everyone would go into the centre of Glasgow to hang around or head into Edinburgh for a day trip. I assumed that I couldn't do that because of my disability – that it just wouldn't be possible. I knew I could manage transport but the act of finding an accessible restaurant or shop felt like a treasure hunt. I'd go to the venue's website or call them and it would say "Yeah we're totally fully accessible" but I'd turn up and there's one step to get in and no accessible toilet! It was so disheartening. But then I tried searching the disabled access information for a museum, Euan's Guide came up and as quick as that I found the information I needed. The rest is history! 
What does a typical day in the Comms team look like?
Every morning I have a call with Abby who is the Communications Manager. She gives me tasks for the day, and we talk through our plans of what we want to do and how we want to say it basically. I do a lot of social media posts, blog writing, uploading content. Sometimes we have workshops to talk about campaigns, and every day we have our team catch up which I look forward to. Every day is different depending on what's going on so it's very exciting when the team all work together.
What's your favourite memory whilst working at Euan's Guide?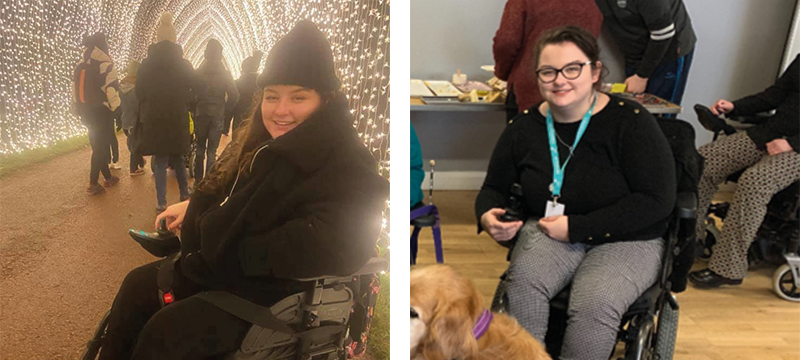 Probably the Christmas night out to the Royal Botanic Gardens in Edinburgh. I got to meet a few Ambassadors and enjoy the beautiful lights with friends. A close second favourite was when Ian Rankin retweeted a post about my blog: A Disabled Student's Guide to Edinburgh. When it's safe to do so I am so going out to buy a frame and putting it on my wall!
Do you have your own favourite accessible venue?
I always find museums to be the best for accessibility no matter where I go. I really like the Glasgow Museum of Modern Art, and over in Ireland my favourites are the Free Derry Museum and The General Post Office (GPO) in Dublin.
Do you have any exciting goals for the future that you'd like to project into the universe?
My next step is getting a Master's and who knows, maybe a PhD after that. I love education, learning and the power it can bring. I love Irish studies, disability theory and accessibility so I most likely will stay in those fields. In terms of goals I would really love to get my own writing about disability published. It's been a dream of mine to have my own book in the front window of Waterstones. More than that I'd love for younger disabled people to read my work, look at me and know that everything will be okay – the same feeling I have when reading Christy Brown.
Meet the Euan's Guide team!