Our Red Cord Cards in action!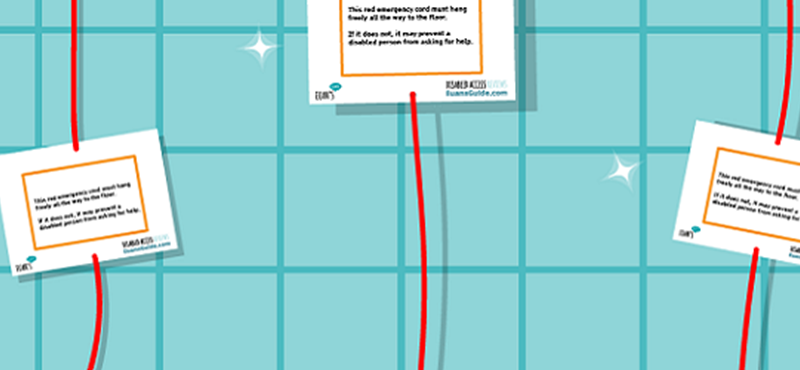 Red Cord Cards help to show the importance of leaving emergency red cords in accessible loos untied and easy to reach. The cards easily slide onto cords, and they'll stay there for all to see. Here are some of our Red Cord Cards in action - send us your pictures using #RedCordCard on Twitter, Facebook, and Instagram! You can order your Red Cord Cards here.

Here are our friends at Sandcastle Waterpark, who have the UK's most popular Changing Places toilet, showing off Red Cord Cards in their loos. We love this loo's bright and colourful jungle theme!
Hey @Euansguide!! Greetings from Sandcastle Waterpark where we've just installed our new delivery of #redcordcard. pic.twitter.com/p3XNH17Odb

— Sandcastle Waterpark (@SandcastleWater) November 2, 2017

Aberdeen Airport is doing a great job at keeping their airport loos safer by highlighting the importance of red emergency cords. Take a look at their post on Facebook after attaching their new card.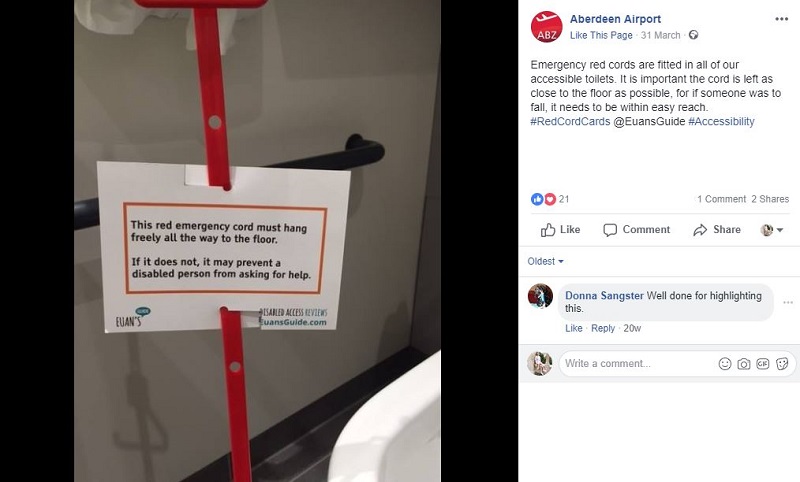 Clackmannanshire Tenants and Residents Federation, an organisation which promotes the rights of tenants and residents, have posted on Twitter about how glad they are to have received and set up their Red Cord Cards!
Making sure or #RedCordCard is making people aware why its needed. Thanks to @euansguide for sending them on :) pic.twitter.com/gbKZNXsi31

— ClacksTRF (@ClacksTRF) June 14, 2018
Here's Waddesdon Manor, a country manor house in Buckinghamshire, attaching their Red Cord Cords in their Changing Places toilet. Did you know its grand architecture was built to look like a French château for Baron Ferdinand de Rothschild?
We've got our #RedCordCards out to raise awareness in our accessible loos and #changingplaces facility. Thanks @EuansGuide for this great initiative! pic.twitter.com/wU88Efj86C

— Waddesdon (@WaddesdonManor) August 17, 2018
One of our Ambassadors, Karine, posted in the Red Cord Cards Facebook group about the good condition of an emergency cord at Glasgow's Kelvingrove Gallery. Have you seen it?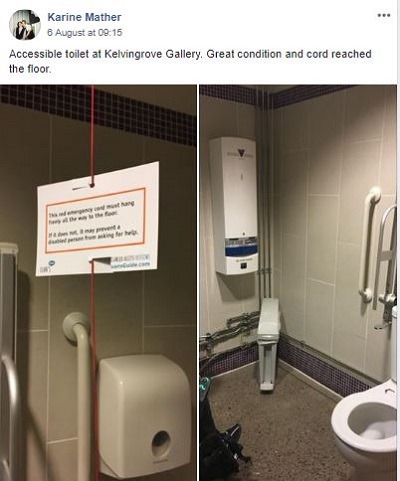 Doncaster Community Arts, a community-led team which runs visual arts, drama, dance, and music, have attached some Red Cord Cards in their Changing Places toilet. Looking good!
Our two @EuansGuide #RedCordCards in place! One in our wonderful #ChangingPlaces facility providing adjustable equipment, hoists and adequate space for people of all ages with additional needs @CP_Consortium #DoncasterIsGreat pic.twitter.com/LyKCS5vVys

— darts at The Point (@darts_ThePoint) March 20, 2018
This blogger and disability rights campaigner attaches Red Cord Cards whenever possible – here she is posting about how useful the Red Cord Cards have been for her.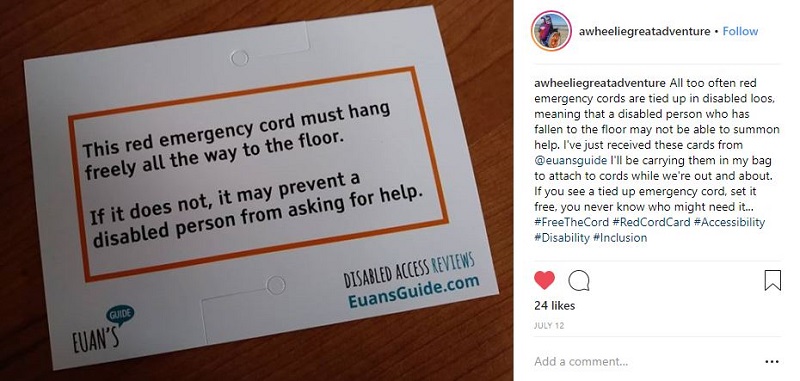 Red Cord Cards are quick and easy to attach – here's our Ambassador Claire posting sharing her Red Cord Card in an accessible loo at Crowne Plaza in Glasgow after a great couple of days out.
Great stay @CrownePlaza Glasgow the past 2 nights, couldn't leave though before I hung #RedCordCards for @EuansGuide. Reviewing coming soon. pic.twitter.com/HsW1MV01pV

— 🍷 a journey in my wheels â™¿ï¸ (@clairedall) October 6, 2017
This post is by another of our Ambassadors, Sarah, who spotted this Red Cord Card in an accessible toilet while at Edinburgh's annual Festival Fringe.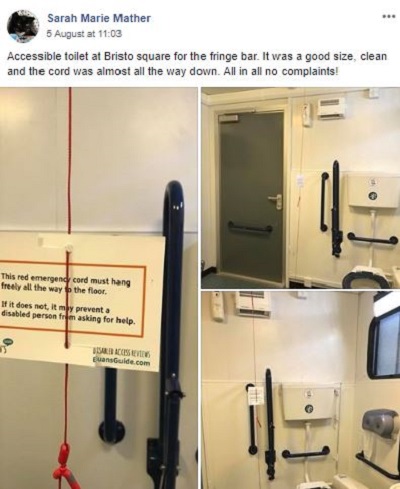 Headingley Enterprise and Arts Centre – a community centre and café which runs events for all ages - have attached Red Cord Cards to their emergency cords to stress how useful it is to have the cord untied!
.@EuansGuide #RedCordCards are hugely helpful in reminding people of the importance of the emergency cord and how it should not be tied up! pic.twitter.com/Sf6hl9Eexn

— Headingley HEART (@HeadingleyHEART) August 29, 2017
Have you helped to set the cords free?
Tell us about your Red Cord Card finds and fixes! You can email us at hello@euansguide.com, Tweet @EuansGuide using #RedCordCard, or join our growing Red Cord Card community on Facebook.