Part one: A reviewer in Disney World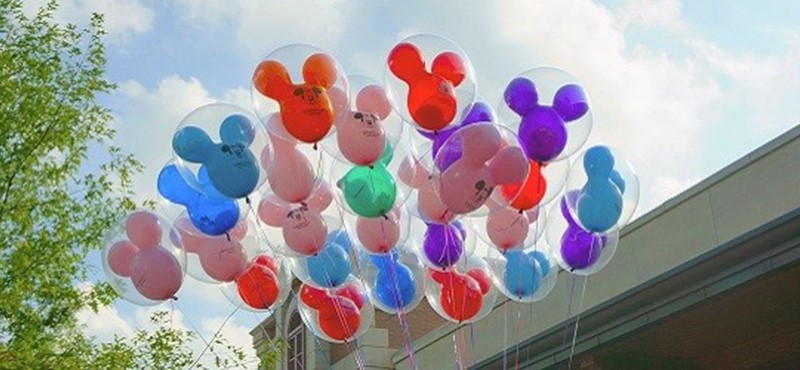 Neil McMurdo is one of Euan's Guide's top reviewers, and regularly writes about hotels and attractions in the UK and abroad. We're a big fan of what Neil writes, and were even more excited when we heard that he was going to be visiting Florida with his wife Brenda this spring! Here's Neil's two-part story about accessibility in the magical parks of Walt Disney World.
Part one – Getting to Walt Disney World
It had been five years since Brenda and I had visited Disney World in Orlando, Florida, so we thought we would have a 'one off trip' back, albeit with a few changes…
This time around it was only the two of us – no children. We also took my trusted wheelchair, rather than hire one out there as we had done previously. Some would say that at 58, I'm a bit old for Disney World (my wife is a bit younger), but we would differ and you may judge after reading this!
From our last visit, we knew that we needed an accessible room with a 'roll in shower' as is how Disney describes such facilities. Taking my wheelchair and having airport assistance were the other necessities.
For our last two holidays abroad, we have used a Glasgow based company which 'specialises' in arranging holidays for disabled people. However, on getting their quote, we felt it was a bit pricey. We then got a quote from an English based 'specialist' company which was even more expensive. The price from Thomson was £1800 cheaper than the Glasgow company and £2630 cheaper than the other.
We called into our local Thomson's travel agents to see if they could come up with the holiday we were after. Admittedly, it took nearly two weeks to get confirmation of the room with a roll in shower but we got one, along with confirmed assistance at both ends and acknowledgement that we were taking a wheelchair. The only difference in the holiday arrangement was that we would be doing a coach transfer between airport and hotels. Although I can manage to get onto the coach, I got a price of £320 for a wheelchair transfer both ways, still making it a less expensive trip.
I have to say that Thomson staff made things easy, such as completing the Advanced Passenger Information (API), arranging assistance at the Airports as well as pre-booking (paid for the privilege) seats near to the door and obliging as to what side of the aircraft we sat on for each flight.
Top tip: anyone going to America please remember that an Electronic System for Travel Authorisation – ESTA - (costing $14 per person as of May 2017) is required. Go to https://esta.cbp.dhs.gov/esta/ to arrange this.
On travel insurance, we found the quote Thomson's gave us to be quite expensive and, like most people with a disability/illness, opted to use a company who 'specialise' in this.
The plane was a Boeing 787 Dreamliner. The downside of having a seat near to the door is that the toilet we were to use was quite a bit away as the one nearest us was for those in the 'premium seats'. Fortunately, I didn't have to go during the 9 hour flight! Boarding was good in that one could take their wheelchair up to the door, with an aisle transfer chair available if required. Coming back the plane 'parked' a bit away from the terminal so we had to use the Ambulift which only slowed the procedure down a wee bit.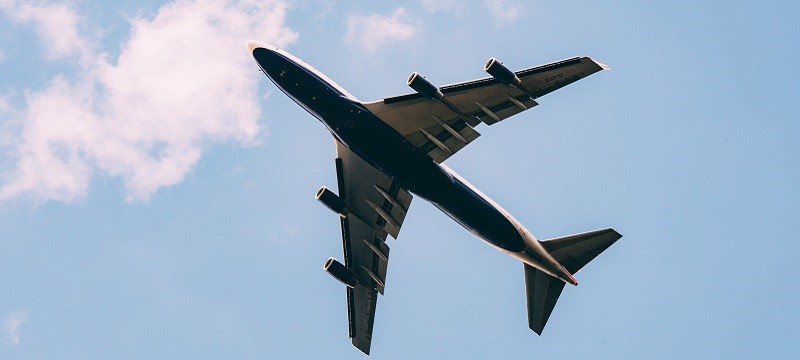 The assistance offered at both Newcastle and Sanford was very good although, with my wife in charge of the wheelchair and myself, we didn't need a lot of help.
Leaving Newcastle…
At Newcastle International Airport, we used the Meet and Greet Parking option. Although this is around £15 dearer than long stay, one parks right beside the terminal. On this occasion, my wife pushed me up the ramp then got the luggage. Last year a member of staff pushed the luggage up. I suppose it depends how busy they are. Coming back, the car is sitting ready for you just to load up and go.
Landing in Sanford…
On arrival at Sanford, we used the airport's wheelchair to get to baggage collection, where our wheelchair was waiting in good order. After a bit of delay in getting our luggage, we were guided to our coach for the journey of around an hour to the Port Orleans Riverside hotel, one of 30+ hotels within Disney World. Although there are steps in the coach, I managed with a shove from Brenda and was told to use the front seats.
Arriving at our hotel…
With over 2000 rooms, Port Orleans Riverside is made up of quite a number of blocks spread out over around 200 acres. Our room ended up a good 5 minute 'push' from the main part of the building but, for a $5 tip, our luggage arrived soon after us.
After a bit of difficulty in finding the ramped entrance, we found our room to be the same layout as 5 years ago. Two queen size beds, wardrobe, a table and chairs with plenty of space for a wheelchair to manoeuvre. Coffee making machine, TV, hair dryer and safe in the bathroom.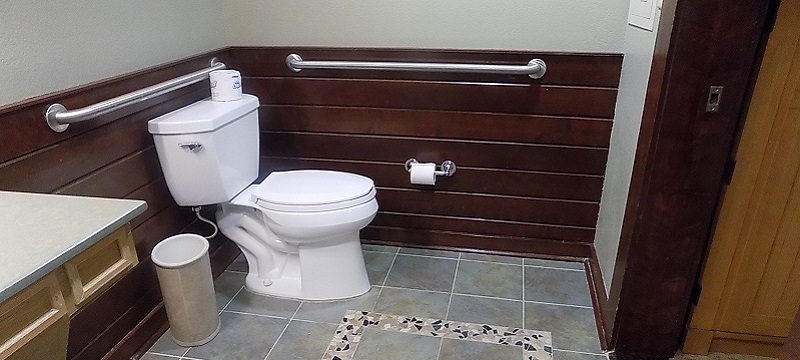 Photo: The bathroom in Neil and Brenda's hotel room.
I also would add that we found the hotel and grounds to be totally accessible wherever we went with low gradient ramps where required and 'push button' openings on doors into the main parts of the hotel.
The main pool and the 'satellite' pool outside our room both had hoists (as shown below) with the hot tub at the main pool also having a hoist. Towels were also available at the main pool. This was the same at the many other Disney World hotels we visited on this trip. Electronic hoist for both the pool and hot tub were available at all hotels we visited.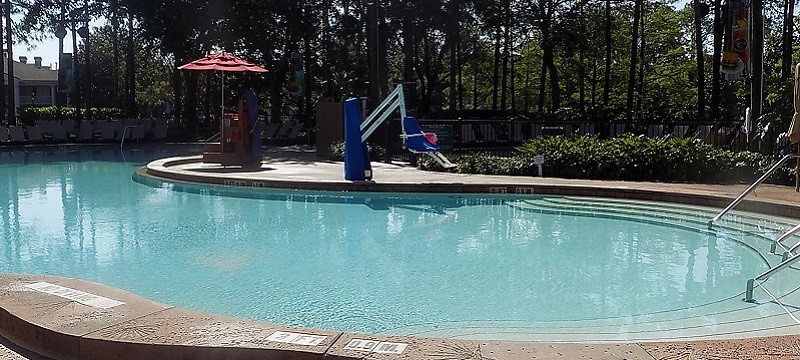 Photo: Swimming pool with electric hoist.
Next up is our time in the parks! Part two: Exploring Walt Disney World >>
Locations: Orlando